The Government of Canada has officially launched DeepSense, the Dalhousie-based world-class big ocean data innovation environment.
DeepSense is a unique ocean research partnership between industry, academia and government that will enable companies to benefit from technology solutions for real-world ocean related data challenges to help them make sustainable and better-informed commercial decisions.
World-class to world-leading

The Honourable Scott Brison, President of the Treasury Board and Minister of Digital Government, was on campus Monday to officially launch DeepSense. Joining Minister Brison was Andy Fillmore, Parliamentary Secretary to the Minister of Canadian Affairs and Member of Parliament for Halifax, and the Honourable Stephen McNeil, Premier of Nova Scotia.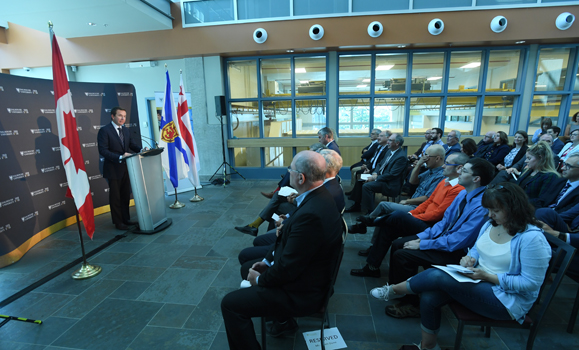 Hosted by Dalhousie's Faculty of Computer Science, DeepSense bolsters the growing expertise at Dalhousie and in Atlantic Canada in ocean research and innovation, with industry and researchers collaborating on commercially-focused big data analytics projects. DeepSense will also create a pool of highly qualified people with the expertise and skills to contribute to further growth in Canada's ocean economy.
IBM Canada is providing the high-performance computing infrastructure and personnel support that DeepSense will use to develop products and services for ocean industries, an in-kind contribution valued at $12.6 million. The Atlantic Canada Opportunities Agency's (ACOA) Business Development Program has provided $6.9 million in funding to help establish DeepSense and fund operations for five years. Dalhousie and the Ocean Frontier Institute (OFI) are also investing a total of $2,133,151.
Additional partners include the Province of Nova Scotia and the Centre for Ocean Ventures and Entrepreneurship (COVE).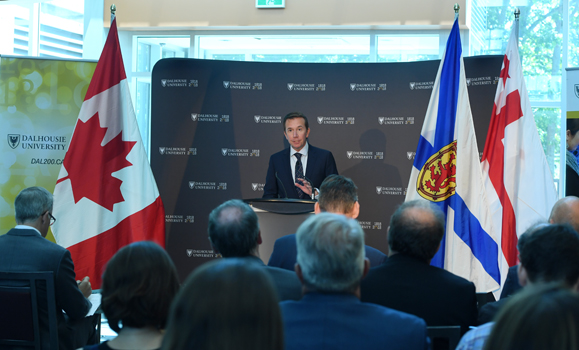 "These are exciting times for ocean sciences and the ocean sector in Canada," said Minister Brison, launching DeepSense on behalf of the Honourable Navdeep Bains, Minister of Innovation, Science and Economic Development.
As Minister Brison noted in his remarks, DeepSense will continue the "wave" of investment to take Canada's world-class ocean research and sector to world-leading.
"This is an important partnership of academia, industry and government focused on the ocean sector that will help transform the ocean economy into a digitally powered knowledge economy," said Minister Brison, who was introduced at the event by Andy Fillmore, Parliamentary Secretary to the Minister of Canadian Affairs and Member of Parliament for Halifax. "DeepSense is where big data meets big ocean research. It supports intensive data science research that drives innovation and new business opportunities.
"We know that improving our use of data can help our region and our country become a global leader in the knowledge-based ocean economy. DeepSense helps Atlantic Canada lead the way in data analytics for the new blue economy, assisting companies to expand their product lines, increase export opportunities, reach new customers and hire more people."
Connections across the ocean sector

Monday's announcement at the Steele Ocean Sciences Building saw speakers from Dalhousie including President Richard Florizone and DeepSense partners including Premier McNeil, representing the Province of Nova Scotia. Both stressed the importance of the ocean opportunity and collaboration, and thanked DeepSense partners.
Ayman Antoun, president of IBM Canada, took time to reflect on the company's 65+ year relationship with Nova Scotia as DeepSense launches.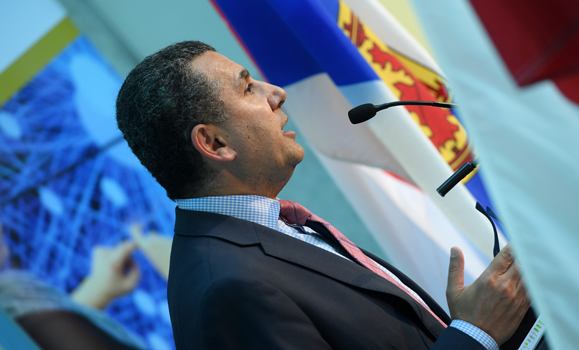 "I bring you the great and deep privilege and honour of 12,800 IBM'ers that are just as excited as I am for giving us the opportunity to be part of today's announcement," said Antoun. "DeepSense is a classic example of extending our partnership. It's not about the $12.6 million investment, even though that's important. I want you to know that the IBM company is into this heart and soul and money, and everything in between. This is going to be a relationship that I hope will be talked about for quite some time."
Over the next five years, it is estimated that DeepSense will be involved in 60 to 100 projects that address data analytics challenges faced by industry in the ocean economy. This includes a partnership with Irving Shipbuilding through an investment of $750,000 for projects that will use the vast amounts of maintenance and logistics data from its shipbuilding and ship repair operations. This funding is part of Irving Shipbuilding's Value Proposition commitment under the National Shipbuilding Strategy (NSS).
Kevin McCoy, president of Irving Shipbuilding, spoke to how DeepSense will help the company to reach its goals and the goals of its customers.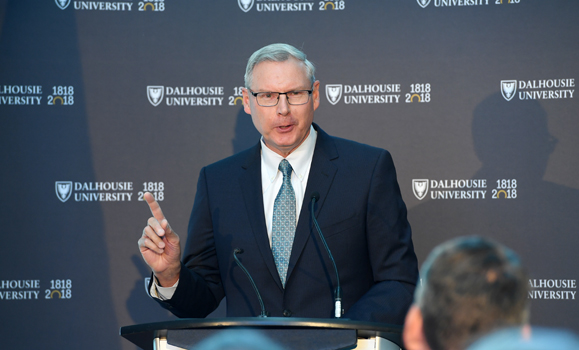 "Every day we are using data analytics to optimize or processes and our planning, which will lead to shipbuilding and ship repair efficiencies but there is much more that can be done to ensure the data we collect is used to its full potential," said McCoy. "The research and projects with DeepSense will have a significant impact on shipbuilding and the marine industry, and also on our primary customer the Royal Canadian Navy."
The power of an idea
Both Kevin Dunn, Interim Executive Director of DeepSense, and Jim Hanlon, CEO of COVE, thanked Andrew Rau-Chaplin, Dean of the Faculty of Computer Science, as a key driving force behind DeepSense. Hanlon noted the "power of an idea that stood the test of time" as he recollected the birth of DeepSense, two years ago in Rau-Chaplin's office.
Dalhousie's Faculty of Computer Science will be the lead DeepSense academic research partner, in collaboration with the Nova Scotia Community College and the Collaboration for Analytics Research, Education and Technology (CARET), and its member institutions to discover and attract academic research expertise, and develop curriculum and customized industry training.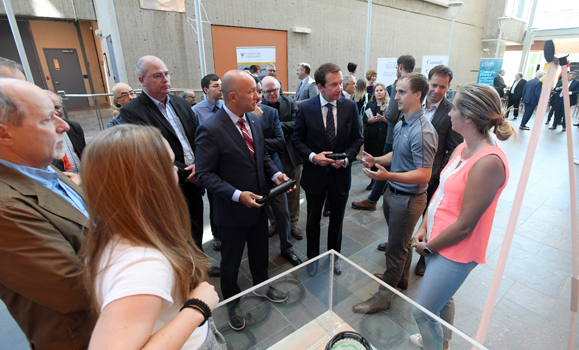 "Dalhousie is proud to be part of this unique ocean research partnership," says Alice Aiken, vice-president reserach and innovation at Dalhousie and master of ceremonies for Monday's event. "By providing a platform that can be used by universities, industry partners, and government to support intensive ocean data science research, DeepSense will help position Atlantic Canada as a leader in the ocean economy for years to come."
Following the formal portion of Tuesday's event, Minister Brison and others had a chance to explore first-hand how DeepSense will support industry and research with demonstrations from RealTime Aquaculture and Dalhousie's Department of Oceanography. Demonstrations gave interactive examples of the amount, and types, of ocean data being captured. DeepSense will provide the technology and expertise to manage and use this data more effectively.