Dalhousie University's Halifax campuses feel quite a bit younger in the summertime, as hundreds of children visit the university for a variety of summer camps.
Some of those are run by SuperNOVA, a Dal-led not-for-profit focused on providing youth in Atlantic Canada with fun, educational and inspiring STEM experiences (science, technology, engineering and mathematics).
A network member of Actua, a national organization that promotes STEM outreach across Canada, SuperNOVA reached more than 9,000 youth last year, and are on track to cross the 10,000 mark this year. It conducts outreach activities through the year in five provinces (the four Atlantic provinces and Quebec), prioritizing in its programming First Nations, girls, rural and remote communities.
The organization's busiest season is the summer, though, when they hire more than 25 staff — most of them Dal students — to deliver its camps to youth from ages 3 to 18.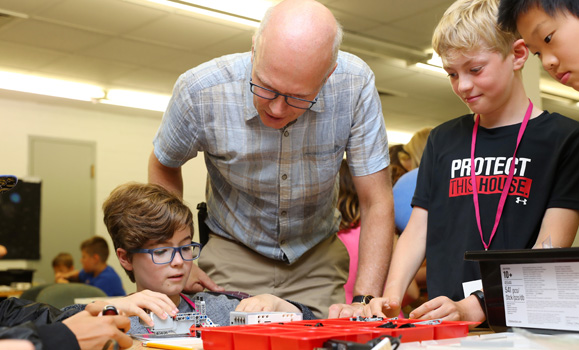 Regan helps campers with their LEGO Mindstorms.
Last month, Speaker of the House of Commons Geoff Regan (also MP for Halifax West) visited Dal to get an up-close look at SuperNOVA's Science, Oceans and Computer Science camps. Halifax MP Andy Fillmore also visited later the same day.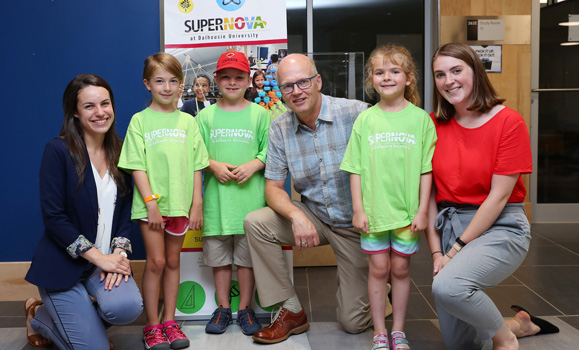 Regan with campers, SuperNOVA Director Alexandra Fenton and Program Coordinator Maya Potter.
To learn more about SuperNOVA, visit its website.