For many people, California's scenic vineyards are a dream vacation destination. For Zoë Migicovsky, they are an ideal spot to learn more about grapevine genetics.
Dr. Migicovsky, a postdoctoral fellow in Dal's Faculty of Agriculture, has been given the opportunity to head up part of a large multi-institution project called "Adapting perennial crops for climate change: Graft transmissible effects of rootstocks on grapevine shoots." With $4.6 million in funding from the National Science Foundation, the study aims to develop a version of the perennial crop that will thrive in a wide range of climates.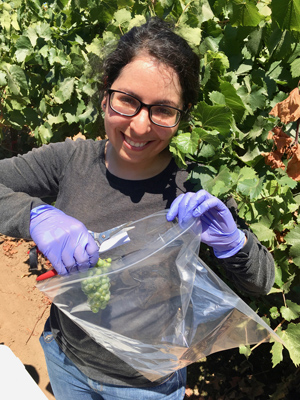 Over the course of eight weeks, Dr. Migicovsky will look at how grapevines made up of different root and shoot combinations behave from year to year. She will work with a team of students to examine vine physiology, berry chemistry, elemental composition, leaf shape and gene expression. These data will be linked with weather information, such as temperature, precipitation, and humidity at three environmentally distinct Central Valley vineyards.
"We're interested in the impact the environment has, how the roots play a role, how the shoots play a role, and understanding how that all fits together," says Dr. Migicovsky. "This project provides a great opportunity to take a look at what's going on underground, and figure out how it is impacting what's happening up top."
A wide-ranging collaboration

In addition to Dalhousie, it involves scientists from Saint Louis University (the lead institution), Michigan State University, Missouri State University, South Dakota State University, University of Missouri, and the United States Department of Agriculture (Agriculture Research Service). The other researchers involved will be conducting research similar to Dr. Migicovsky's in different locations throughout the United States.
"Getting to work with and learn from all these different researchers has been the highlight of the project," says Dr. Migicovsky. "Whether it's plant genomics, viticulture and oenology, plant morphology, grapevine breeding, or the study of perennial plant diversity and domestication, everyone has a different area of expertise, it's a very complimentary team."
The project officially kicked off in 2016, and will run until 2021. The first year was dedicated to scouting out vineyards, and the next two years will be focused on detailed study and sampling.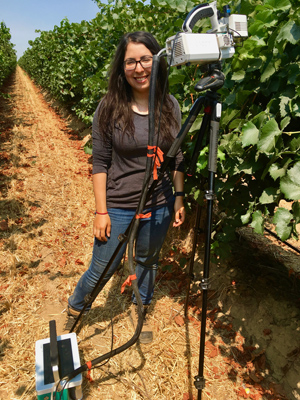 "Working on a perennial like a grapevine is always a long-term project," says Dr. Migicovsky. "You're harvesting it for multiple years, so it's really important to look at the year-to-year variation — especially with the changing climate. So, the big outcome of the project will be a few years down the road."
Informing an exciting and emerging industry

"I've always been interested in plant genomics, and there is a lot of great research happening in Nova Scotia on this topic," says Dr. Migicovsky.
After she completes her research in California, she hopes to continue doing science in Nova Scotia focusing on fruit crops.
"One of the incentives for me to work on this project was to learn more about a crop that is very important to Nova Scotia," says Dr. Migicovsky. "I'm excited to apply what I've learned in California to what we have happening here — which is a really exciting and emerging industry."
You can keep up-to-date with Dr. Migicovsky's work in California by visiting the project website vitisunderground.org or following the official Twitter account @vitisroots.