It was issues in his native Nigeria that inspired Master of Computer Science student Chinenye Ndulue, together with his supervisor Rita Orji, to develop an innovative smartphone game to tackle risky sexual behavior.
Recognizing the rise of HIV and other sexually transmitted diseases in West Africa, they looked to technology to create a tool to help young people navigate decision-making amongst the cultural and religious conflicts that sometimes prevent them from understanding the risks and consequences of risky sexual behaviours, like unprotected sex.
"Technology often has people from developed countries as the focus, different approaches need to be taken to be effective in other cultures," says Dr. Orji.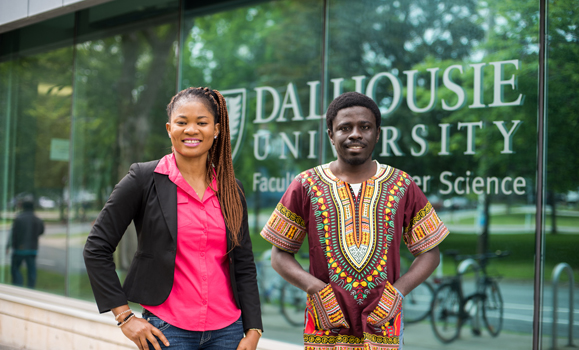 Dr. Orji and student Chinenye Ndulue. (Provided photo)
"Western ideas often don't align with some of the barriers to the education and sensitization of young people in Africa. This group are more prone to being exposed to risky sexual behaviors as it is not as culturally acceptable for parents or schools to have open discussions about topics such as this. Often, they end up relying on their peers for information that may not be accurate."
Trusted and relatable advice

One noticeable cultural similarity between West Africa and North America is the adoption of handheld technology amongst the younger demographic, with the majority of West Africans owning a smartphone.
Chinenye began considering how devices can be used to empower and motivate African youths to change risky sexual behavior that may lead to STDs such as HIV. With mobile applications, they can explore trusted advice and compelling facts about risky sexual behaviours in a safe and private manner.
This has formed the basis for Chinenye's work in persuasive computing, coming out of the Human-Computer Interaction research cluster at the Faculty of Computer Science. His project: "STD Pong," an easy to play game which navigates the user through defeating a number of STDs, collecting important information along the way.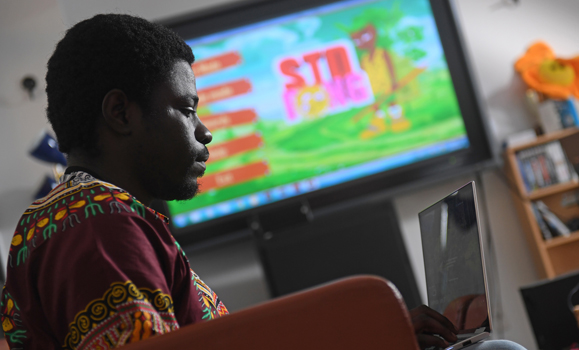 Chinenye Ndulue works on STD Pong.

"The power-ups the player receives include condoms and blood tests, giving the avatar strength and the ability to defeat infections," he explains. "Whereas, "STD bullets" reduce the avatar's life and come in the form of unprotected sex and unsterilized sharp objects, demonstrating how infections reduce the immune system in real life."
Western African culture has remained at the core of game research and development to ensure the product is approachable to its intended audience.
"We worked with African doctors in the early stages of exploration to establish the STDs used in the game. This expertise resulted in us highlighting the nine most common West African infections to ensure users receive the most useful information.
"We have also ensured the storyline and characters remain African-centric. For the game to be effective, it needs to be relevant and relatable to our intended audience."
Gaming that makes an impact


Chinenye's research is already gathering acclaim from his technology colleagues. Back in April, a paper presented by Chinenye and Dr. Orji  — STD PONG: An African-Centric Persuasive Game for Risky Sexual Behaviour Change — won best poster at the ACM Conference on Human Factors in Computing Systems (CHI) – HCI Across Borders in Montreal. CHI is the premier international conference of Human-Computer Interaction.
He was also awarded best presentation at the 2018 Persuasive Technology Conference, Personalizing Persuasive Technology Workshop at the University of Waterloo.
STD Pong is currently in the final stages of internal testing and will be uploaded to app stores soon. This will be followed by a launch to the African public.
Dr. Orji, also a Nigerian native, is using her connections with NGOs and universities in Africa to promote the app to young Africans.  
"We are in contact with a number of African organizations who are committed to this topic and confident that this is something that youth will engage with," she says. "Not only will users get to learn something, acquire skills that will empower them to adopt healthy behaviour, and avoid risk but the game is also fun. We want to use technology to engage in meaningful discussions and change perceptions, attitudes, and behaviors."
The STD Pong team also hope to apply for a grant to conduct a longitudinal study of the game in Africa to see how the app impacts people's behaviour in real life, once it is launched. The study will assess shifts in knowledge, attitude, and behaviors related to risky sexual behaviour.
"It's not just the short-term, but the longer-term impact we are interested in," says Dr. Orgi. "We want to be able to make the game available to the general public for free after evaluation to increase its impact"