Delainey Wescott is finally spending her first summer in Halifax. It's a chance for the new honours Neuroscience graduate to check a few things off her bucket list after a busy undergraduate experience at Dalhousie.
"I spent a weekend in Keji and have gone camping in Cape Breton," she says. "I'm definitely taking advantage of having weekends off to explore!"
For the native of Saco, Maine, the chance to explore Nova Scotia is four years in the making. Before she started at Dal she didn't know much about the province — or the university, for that matter. It was her father who convinced her to check it out after hearing about Dal's reputation during business trips to Canada.
"I was pretty hesitant at first," she says. "I had no idea what to expect when I first visited Dalhousie. I couldn't even place Halifax on a map! But I fell in love with the city and could feel myself being at home here. Plus, I thought it would be pretty neat to learn about an entire country while completing my undergrad."
The benefits of keeping busy
Delainey has made the most of her Canadian adventure, keeping busy juggling her studies, part-time campus jobs, and involvement in student societies and clubs. Her hectic pace has largely been the result of a decision she made shortly after arriving at Dal.
"I joined the Dal Student Life Street Team at the beginning of my first year to become more connected to the Dal community, and it worked," she says. "I was able to learn about events and societies I didn't even know existed on campus."
Delainey's part-time job as a content specialist for the Street Team saw her writing blog posts for the Student Life blog and student profiles for Dal News, as well as covering various student events and workshops on social media. The work connected her with myriad opportunities to get involved on campus.
She has been a member of the Golden Key International Honour Society, the DalDance Society and King's Dance Society, treasurer for the LeMarchant Place residence council, an engagement volunteer for Dalhousie Student Health & Wellness, and a peer mentor and mental health volunteer for the Dalhousie Medical Campus Response Team (DMCRT).
"I joined DMCRT because I felt that the mental health services available to students weren't being used effectively," she says. "Being a part of the team helped me gain skills through Mental Health First Aid and Applied Suicide Intervention Skills Training (ASIST), to become a better supporter of student mental health.
"I strongly believe that one of the ways to build a more supportive community is to start with checking in with your friends and classmates about how they're doing. It can be as simple as, "Hey, I haven't seen you in class for a few weeks — just checking in to see if everything is OK.'"
Supporting her peers
Mental health support has been a constant thread running through much of what Delainey has done while at Dal. During the winter semester of her second year, she went on exchange to Victoria University of Wellington in New Zealand. She had always planned to study abroad, and it turned out to be a life-changing experience.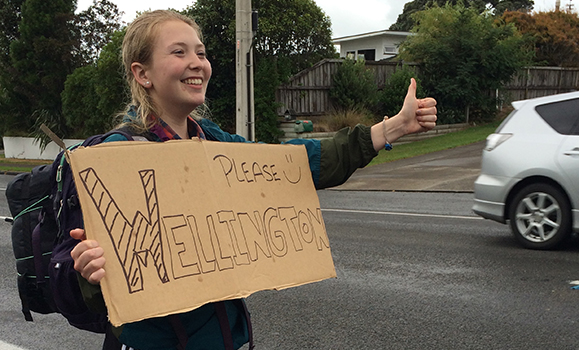 "I started to view the world and my place within it in a different light," she says. "A lot of our identity is shaped by where we come from, so it was important for me to try and disentangle that and question why I think and believe certain things. By interacting with a new environment and being critical of my default responses, I was able to get to know myself better."
Part of that meant relaxing a bit about her academics and placing more value on friendships. Delainey discovered that by "chilling out" she got a nice break from the "go, go, go, mentality of North America." But while she had the time of her life in New Zealand, returning home at the end of the semester wasn't as smooth.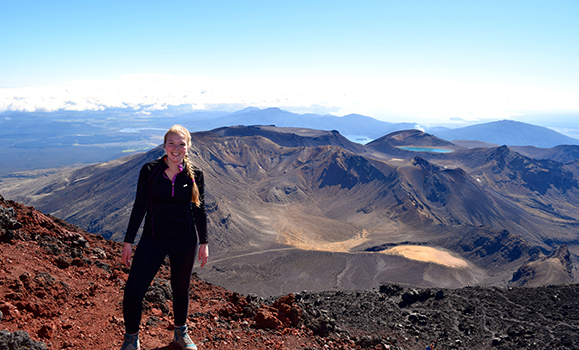 "After my exchange, I worked as the outbound exchange assistant at the International Centre where I helped other students plan their experiences abroad," she says. "I had a pretty rough transition back and decided to create a return volunteer program for other exchange students to ease their reintegration process and potentially combat mental health struggles associated with re-entry."
Mental illness and sleep
Delainey's interest in mental health support also weaved its way into her academic studies. While she became interested in how the brain works during high school biology, it was when she became involved with Aaron Newman's NeuroCognitive Imaging Lab during her second year that she really started to find her niche.
"It was a great way to get hands-on experience that prepared me for my future coursework, and this first research experience really helped me realize that kind of research I did and didn't like," she says.
After taking a Science of Sleep course and becoming fascinated with sleep research, Delainey reached out to researcher, Benjamin Rusak who introduced her to Rudolf Uher and Families Overcoming Risks and Building Opportunities for Well-being (FORBOW) project. It looks at the prevention of and early intervention for severe mental illness, and Delainey became involved in a part of the project that focuses on sleep in children and youth who are at high familial risk of developing a mental illness.
"The experience I gained with FORBOW opened so many more doors when considering what I wanted to do after graduation," she says.
The experience allowed Delainey to receive a summer studentship grant from the Department of Psychiatry to continue her sleep research this summer — something she's now able to devote 100% of her working hours to. It also helped her gain entry to the master's/Ph.D. Clinical-Health Psychology Joint Program at the Pittsburgh, which she will start after her Nova Scotian summer adventures.
After that, she says the options are wide open.
"I don't have any specific long-term goals right now," she says. "I plan to spend the next few years learning and growing not only as an academic, clinician, and researcher, but also as a person. And hopefully I'll be finished with school before I'm 30!