Nearly two weeks after a late-night fire devastated one of the Dalhousie Agricultural Campus's most important buildings, some faculty and staff got their first up-close look at the damage yesterday (July 4).
Others, though, will have to wait longer to see what — if anything — is left of their old workspaces.

The cause of the June 20 fire — in which no one was hurt — is still under review by the fire marshal, who completed his on-site investigation last week before returning the building to Dalhousie's jurisdiction for cleanup. Since then, contractor crews have been working diligently to remediate a building that serves as the Faculty of Agriculture's primary academic space.

Image of the fire from the night of June 20.
"Although damage to the building itself was expected after the fire, there is an emotional response we are all feeling as we navigate the second fire on our beloved campus in three years," says Dean and Campus Principal David Gray.  

"We are a small, close-knit community and this has hit our campus hard as we work to relocate office space, prepare for incoming students in the fall and try to salvage research projects for our grad students and faculty."
Significant damage to "Old Cox"

The Cox Institute is the Faculty of Agriculture's main academic building. (For context, it's larger than the Marion McCain Arts and Social Sciences Building in Halifax.) The Institute, first opened in 1968, has both "old" and "new" portions, and is home to more than 45,000 square feet of research space, nearly 90 staff offices and 37 classrooms/instructional spaces. It also houses the campus bookstore, the Dalhousie Agricultural Students Association and a small cafeteria.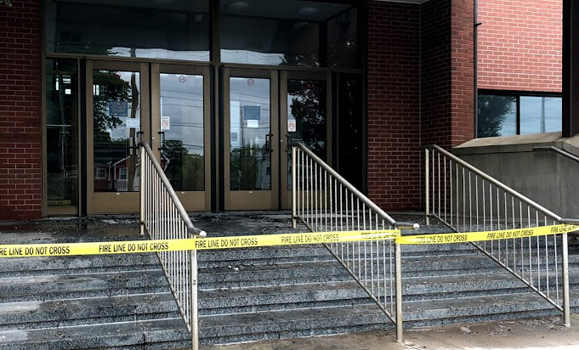 Yesterday, those who work in the new portion of the Cox Institute — dubbed "New Cox" — were allowed access to the building for the first time since the fire. They were only allowed to retrieve personal items, though, as well as items necessary to continue business and research operations, before returning to the various locations across campus where they've been working over the past two weeks. Computers and electronics still require further decontamination and cleaning before they can be removed.

The older portion of the building — "Old Cox" — is in worse shape. There are a number of high risks that have to be mitigated before any materials can be removed, a process that will require detailed engineering controls and decontamination, as well as the patching of the roof. Faculty and staff have been informed that room contents in Old Cox that were not in some sort of sealed packaging will almost certainly be heavily damaged.

"The old wing of Cox Institute was the most significantly impacted by the fire," explains Dean Gray. "While it remains structurally sound, it's unlikely much will be salvageable from this section of the building as it sustained heavy damage from smoke, soot, water and fire."

On the road to recovery

The university has been working as best as possible to accommodate displaced faculty and staff, acknowledging the difficulties that comes from losing such a large academic space. Business & Social Sciences has relocated to the Humanities House; Enrollment Services is in the Dairy Building; the vacant International House on College Road will soon house Engineering faculty, while office space is still being sourced for the Department of Plant, Food & Environmental Sciences.

The top priority is to have New Cox remediated and restored for early fall. Old Cox, however, is expected to be out of commission for some time. While it's still early days in what is sure to be a long process, the university is working diligently to anticipate any and all contingencies heading into the fall, when the majority of students will be returning to class.

The Faculty of Agriculture is providing updates directly to faculty and staff, as well as on its fire update website, and has provided contacts for people who have questions about specific issues.

"We are Aggies and, as such, will persevere," says Dean Gray. "Although disheartening to see one of our buildings so heavily damaged, we will continue to move forward together and come out on the other side of this tragedy somewhat bruised but stronger than ever."