Kate Pepler believes to effect real change, one must take action. Which is why this fall, she will open The Tare Shop, Halifax's first zero-waste café and store.
And along the way she hopes to inspire others to build their own habits that create positive environmental changes.  
Part café, part bulk-food and specialty lifestyle store, The Tare Shop, which will be in Halifax's North End, will provide items people need to help reduce daily waste.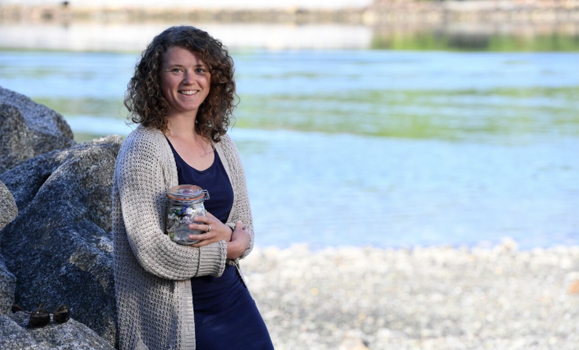 Something that Kate is no stranger to. For over a year and half now she has contained her garbage (a lot of which are those pesky stickers from fruit and vegetables) to a small glass container. It was during her studies at Dal where she got a first-hand look at the amount of plastics and waste that clutter our oceans and landfills.
Sparking conversation

A Sustainability, Environmental Science and Marine Biology graduate, Kate has also been doing her part to create conversation and action around environmental sustainability since she graduated in 2016. "I wanted to find a way to bring a positive angle to what can often be a 'doom and gloom' topic."
When it comes to stories about the fate of the earth, headlines typically focus on the bad. And with good reason: global temperatures are at an all-time high, oceans are becoming so warm that fisheries risk being lost, and food and water systems are on the decline. But negativity is often ineffective in inspiring action and change Kate explains.
"I was looking for a platform to share success stories and highlight individuals and communities creating change," says Kate who is from Toronto Island.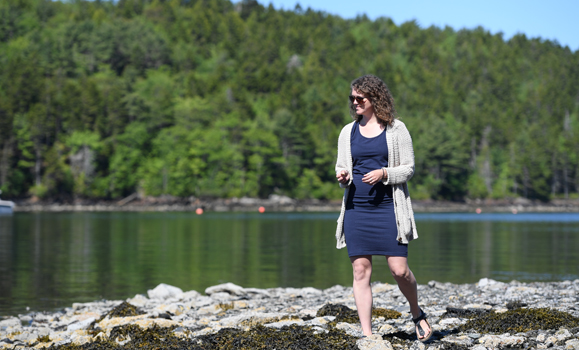 That notion sparked Our Positive Planet, a site dedicated to not only success stories, but also lifestyle tips and recipes to help people life a more environmentally-friendly life. Today, Our Positive Planet has more than 50 world-wide contributors who write and host outreach activities in their communities.
Taking action

And it was through Our Positive Planet where Kate was not only inspired to start living a zero-waste life, but ultimately open The Tare Shop. While the store front isn't ready yet, excitement has been building through community pop-up shops and The Tare Shop's online store. (She also plans to use the store as a community space for workshops, public talks, yoga classes and more.)
"People are excited to find these types of items locally", she says mentioning things like bamboo toothbrushes, bamboo cutlery, bees wax wrap, amongst many.
While she's thrilled to bring her vision to life, she says one of the biggest challenges has been getting over the fear that her idea won't work, but she's inspired by people she encounters who are making their own lifestyle changes or standing up for the environment in unique ways.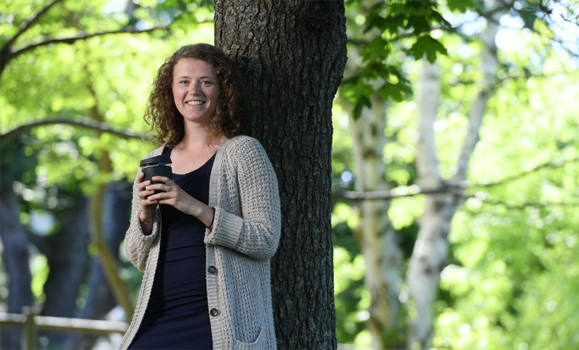 "One of the coolest things I have found about living a zero-waste lifestyle is that there is a bit of a ripple effect. I see some of my friends and family making their own daily changes because they see what I'm doing and become interested. I always encourage people to do what works for them."
She continues, "I read a quote the other day that said, 'The biggest threat to the planet is that someone else is going to save it.' We all have a role to play. By living my zero-waste life, I hope I inspire others to make a change; the changes all add up."
Starting small — Kate's advice for cutting down waste

If you're looking to reduce your waste, Kate's advice is to make small daily changes that will eventually become habit. Most importantly, don't try to change everything at once.
Here are three things to start doing today:
Bring a reusable coffee mug.
Make your own cleaning products (vinegar, baking soda work well) and soak reusable rags in the solution.
Start a weekly waste container and see what goes in there. This will provide insight into your biggest "culprits of waste", and a way to become more aware and accountable.

Interested in making a change this month? Join the Plastic Free July Challenge!