Dal celebrated dozens of long-service staff and faculty last Wednesday as part of its annual milestones ceremony.
The university hosts an annual recognition event for those who reach 25, 35 and 45 years of service, celebrating individuals who've made a significant impact throughout their Dal careers. They span the university's many faculties, departments and units. And this year one employee — Donna Shunamon, from Microbiology and Immunology — was celebrated for reaching 50 years of service.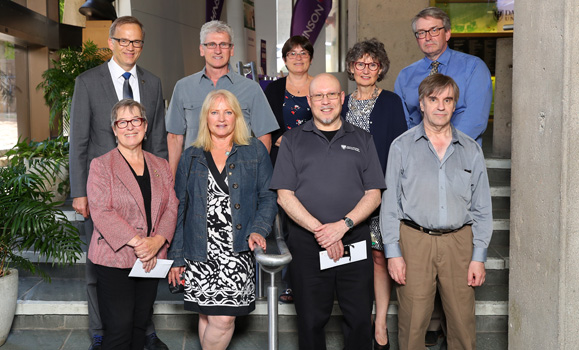 President Florizone with 35-year honourees at the milestones event.

The event, held this year as a pre-reception gathering ahead of the new Dalhousie Legacy Awards, offered a glimpse into some of the many individuals who have embodied ongoing service to the university and its mission over the years.
"At its roots, a great university is about its people," said Dal President Richard Florizone in opening remarks at the event. " We're a place of ideas, of community, and so it's people like you who have made the institution what it is."
Dr. Florizone presented each honouree with a letter of recognition and a commemorative pin to mark their extended service.
Leaving a lasting legacy

Maggie Lapp, a 35-year honouree who has worked in various admin support roles in the Faculty of Management, says what she appreciates most about working at Dal is that she gets to meet so many young people (it "keeps you young," she says) as well as individuals from around the world.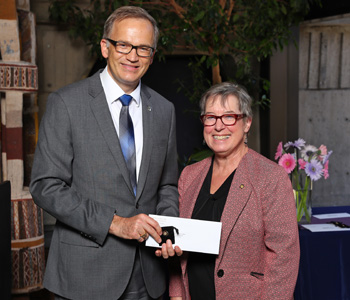 "Working here is an education because you learn so much about other cultures and other parts of the world," she says. "I really enjoy that."
She says the highlight of her time at Dal was when she got to sit on stage during convocation three years ago to watch Dr. Florizone present her daughter with her degree.
Computer Science Professor Srini Sampalli joined Dal 25 years ago in the Department of Mathematics, Statistics and Computing Science, later transferring to the Faculty of Computer Science when it was created.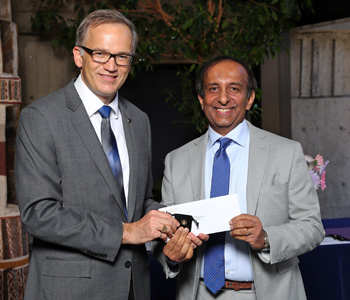 "Dalhousie really attracted me as a small but robust university, so a blend of both the big and the small," says Dr. Sampalli, noting that it has fed his love of students and teaching over the years.
Dr. Sampalli has received a number of teaching awards during his time at Dal, including the 3M National Teaching Fellowship award and an Association of Atlantic Universities Teaching award as well as several internal Dal awards. Students even went so far as to create a Computer Science teaching award named after him.
"That was really very touching for me," he says.
Below are the individuals recognized this year for their long service to Dalhousie:
50 years
Donna Shunamon

45 years

Hans-Gunther Schwarz
Richard Singer

35 years

Paul Amyotte
Prabir Basu
Vaughan Black
Stephen Brown
Catherine Currell
Michael Doyle
Paul Duffy
Frederick Fergus
Andrew Finch
Iraj Fooladi
David George
Geraldine Hammer
Ann Hawkins
Beverly Hubley  
Margaret Lapp
G Robert Laroche
Anne LeLacheur
Louise MacDonald
Brian MacKay-Lyons
Marilyn MacKay-Lyons
Ian Nason
John Pelham
Reginald Peters
Robert Scheibling
Glenn Shea
Heather Sutherland
D A Thompson
Keith Thompson
Jennifer Wallace
Joanne Wells
Deanna Wentzell

25-year honourees

Deborah Bright
Danuta Roland-Mieszkowski
David Black
Kelly Casey
Aldo Chircop
Stephen Clark
Margaret Conrad
Catherine Craig
Kevin Craig
Richard Devlin
Rob Douglas
Cecil Eisener
Heather Gallant
Jure Gantar
Elaine Gibson
Diana Ginn
Sharon Gosse
Jacquelyn Harnish-Grandy
Frank Harvey
Paul Hill
Michelle Hunter
Susan Kirkland
Peter Jones
John LeBlanc
Jean Lumsden
Susan Mansour
Michelle McDonald
Columba McParland
Lois Murray
Patrick Nearing
Cynthia Neville
Susan Robertson
Trevor Ross
Srinivas Sampalli
Phillip Saunders
Gregory Servant
Gary Sisson
Nicole Smith
Cara Tax
Jane Thorburn
Anne Weeden
Swarna Weerasinghe

This list was compiled by the President's Office and Human Resources in consultation with faculties and departments. Those guests who were invited but not able to attend the event will receive their letter and long-service pin in campus mail. Anyone with questions about the event can contact the President's Office at (902) 494-3804.