Dal President Richard Florizone's annual Inspiration & Impact: Our Year in Review town hall is meant to be an opportunity to reflect on the past year at the university and celebrate achievements across the university.

But sometimes breaking news takes precedence, which on Thursday morning (June 21) meant two things.

First was the previous night's fire at the Cox Institute on Dal's Agricultural Campus in Truro. Several members of the university leadership team who were originally expected at the year-in-review event were in Truro working to address the aftermath of the fire, in which thankfully no one was hurt. (For the latest, visit the Faculty of Agriculture website.)

"Thanks to the first responders, and our gratitude that nobody was injured," said President Florizone. "I've had the chance to speak to Dean Gray (Faculty of Agriculture) and offer all of our collective support — that the full administrative and financial support of Dal is behind him as we mitigate the impact."


The second news to be addressed before getting underway was Monday's big announcement from Board Chair Lawrence Stordy: that President Florizone will be leaving Dalhousie in the new year to lead the new Quantum Valley Ideas Lab in Waterloo, Ont. Described as "the opportunity of a lifetime," he'll be helping establish Canada as a global leader in emerging global field of quantum computing.

"It kind of takes me back to my roots as a physicist, and so I'm excited about it," President Florizone told the crowd gathered in the McCain Building's Ondaatje Hall, as well as those watching online via livestream.

"But I want to say it's also very bittersweet. I'm so proud of all the things we've done together as a community, and today it's so timely because I get to talk about some of those things."

Moving forward, guided by our values

With just over six months left in his presidency, Dr. Florizone plans to continue to help the university community push forward on the core areas of its current Strategic Direction, now in its final year. In Thursday's presentation, he shared insights on the plan's five pillars — Teaching and Learning, Research, Service, Partnerships and Reputation, and People, Infrastructure and Support — as Dal approaches its third century.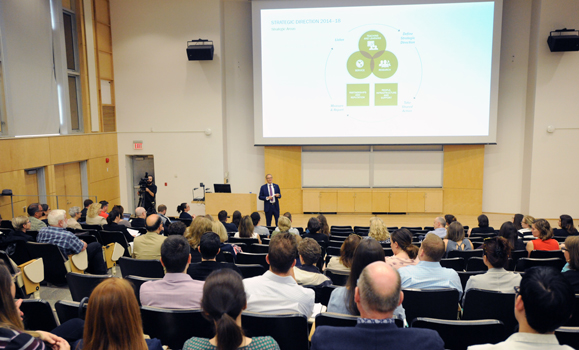 "For me, as I reflect on the last five years, we really put in a couple of years 'tilling the soil,' if I can go with an agricultural metaphor," he explained. "We had some challenges as a campus as well.

"But we addressed those challenges and opportunities in the very same way, which is to go back to our mission of teaching, research and service — our fundamental values like academic freedom, respect, freedom of inquiry, diversity and inclusion. And because we've met those opportunities and challenges in the same way, it's left us with some really incredible results, particularly in the past couple of years."
More on President Florizone's town hall: Watch the replay video and review the Powerpoint presentation

In Teaching and Learning, for example, President Florizone highlighted student award winners from the past year like Rhodes Scholar Nayani Jensen, 3M Student Fellow Martha Paynter and Top 8 Academic All-Canadian Anne Dunn-Suen. He discussed the early success of the On Track program to support student retention, which saw participating students continue in their studies at a rate 23 percentage points higher than those who didn't participate; and a litany of faculty awards, ranging from Jocelyn Downie's Order of Canada and Julia Wright's induction to the Royal Society of Canada, to Drs. Patrick McGrath and Patrician Lingley-Pottie receiving the Governor General's Award for Innovation — just to name a couple.

Research, innovation, impact

Then there's Research, in which Dalhousie received a record total of funding last year at $156 million — a testament, President Florizone explained, to the quality of Dal's faculty researchers. He also highlighted that Dal continues to rank third among Canada's U15 universities in industry-sponsored research per faculty member.

"That partnership is a really powerful base for us to build on, and it shows the potential of this institution to act as a catalyst for the social, cultural and economic growth of our community."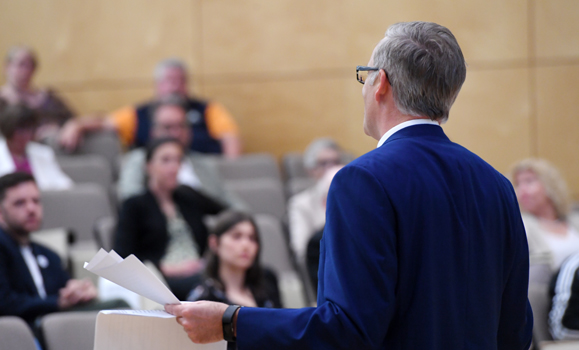 Under Service, President Florizone highlighted community clinics in Dentistry, Social Work and Law, as well and Dal's success in providing hands-on, real-world learning for students. Last year, 100% of direct-entry undergrads had access to experiential learning opportunities, with 89% taking advantage of them.

"We're giving our students not just a world-class, accredited, high-quality experience in the classroom, but we're giving them those experiential opportunities as well," said President Florizone.
Achieving momentum together

As is the case in previous years' presentations, President Florizone highlighted specific stories under each Strategic Direction area with a video. These included the new Aboriginal and Indigenous Law in Context course in the Schulich School of Law; Dr. Katherine O'Brien's pending arrival as the new Canada 150 Research Chair in vaccinology; and Dal's role in supporting the new Ocean Supercluster in the region.
Watch: Featured videos from President Florizone's presentation
"In the last two years, Dal has been a critical partner in attracting more than half a billion dollars in ocean-related research and development to our region," said President Florizone, speaking to both the Ocean Supercluster and funding for Dal's Ocean Frontier Institute. "It's a wonderful tribute, it fits with our mission, it strengthens Dalhousie. But, critically, it strengthens our city, our province and our region on a topic —ocean sustainability — that's important to the world."

Other videos highlighted Dal's 200th anniversary celebrations (for Partnership and Reputation) and the new Dalplex fitness centre (for People, Infrastructure and Support) — one of several exciting new spaces set to open on campus this year, alongside the Sexton Campus IDEA project, the new Ag Campus learning commons and others.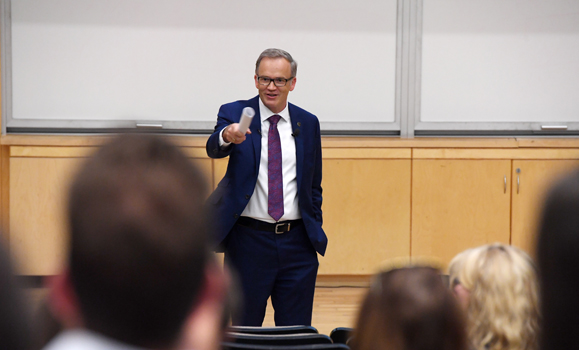 Additional items of note from President Florizone's included record success in Annual Giving fundraising ($4.5M) and that the university is nearing full labour market representation of Indigenous employees. And in the Q&A portion of the event he discussed internationalization, collaboration with the DSU and Advancement around upcoming Homecoming celebrations for Dal 200, and the role of MIT-REAP (Regional Entrepreneurship Acceleration Program) in inspiring of the sector-spanning successes Dal and its partners have seen in recent years like the Ocean Supercluster and others.
"I love the sense of momentum on campus," said President Florizone, concluding his remarks.

"I'll hope you'll take from this a sense of what we can achieve as a community, because that's is really what it's all about: we come together with a common cause around a whole range of initiatives that strengthen Dal, but also strengthen our region, our country and even the world."
More on President Florizone's town hall: Watch the replay video and review the Powerpoint presentation