Lucy Maud Montgomery scrimped and saved to study at Dalhousie College, starting classes in what is now the Forrest Building in the fall of 1895.

The woman who was to become one of Canada's most well-known authors had a thirst for knowledge; she came to Dal excited to learn and to perfect her emerging and considerable writing talent.

Now, the Faculty of Health has formally recognized this connection with a plaque in the lobby of the historic Forrest Building.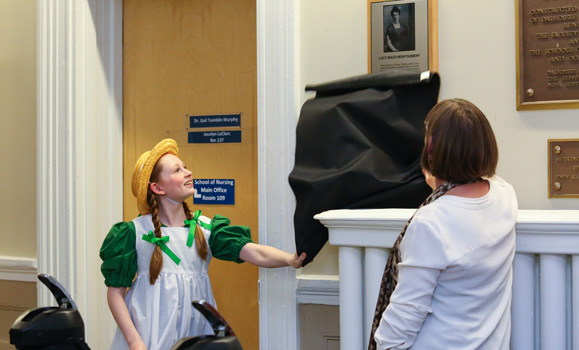 Adalia Wambolt and Dr. Cheryl Hubley-Kozey, dean of the Faculty of Health (Acting) unveil the plaque commemorating Lucy Maud Montgomery's time in the Forrest Building.
On Monday, June 18, Dr. Gail Tomblin Murphy, director of the School of Nursing, and Dr. Cheryl Hubley-Kozey, dean of the Faculty of Health (Acting), welcomed guests who braved the rain to hear about the beloved author's time spent at Dal.

Those insights came from special guest Kate Scarth, chair in L.M. Montgomery Studies and Applied Communication, Leadership, and Culture at UPEI. Guests also met Adalia Wambolt, a 12-year-old actor who portrayed Anne Shirley. She was accompanied by her mother, Dalhousie alumna Jocelyn Burke (BSc '93, Diploma, Dental Hygiene '95).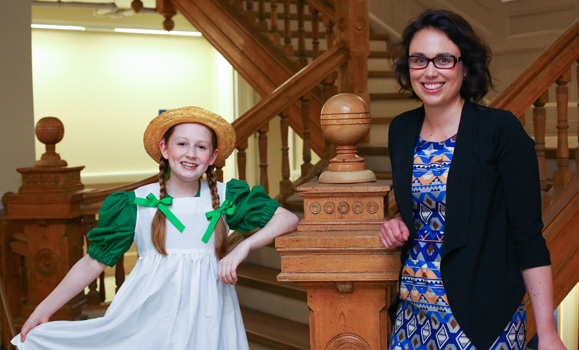 Kate Scarth, Chair in L.M. Montgomery Studies at UPEI and Dal alumna, chats with Adalia Wambolt as Anne Shirley.
How Dalhousie College became "Redmond College"

Dr. Scarth, a Dal grad (BA English), said Montgomery looked fondly upon her time at Dalhousie, highly valuing the chance to further her studies even though she could only afford to attend Dalhousie for one year. Montgomery fictionalized Dalhousie as Redmond College in her novel Anne of the Island, and Halifax became known as the city of Kingsport.

"It can be fun detective work going through the novel and trying to place Halifax landmarks," said Dr. Scarth.

Although the famed writer's time at Dal was short, she created through her character, Anne Shirley, the support for educational pursuits that she herself was unable to find.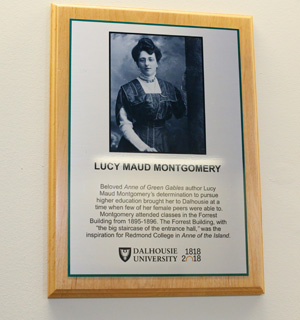 "To attend Dalhousie, Montgomery had to go against popular opinion back home, as her grandfather and the neighbours in her rural community did not believe in women being educated," Dr. Scarth said, noting that Anne was able to return to Green Gables with her full Bachelor of Arts degree.

Dr. Scarth said that despite common attitudes at the time, Dalhousie itself was a welcoming place for women. "Post-secondary education was a rare attainment for women back then, but Dal took an inclusive position — actively advertising to attract female students."

Montgomery's connection to Dalhousie is now formally recognized with a plaque in the lobby of the Forrest Building, near the staircase where she once travelled on her way to and from the classes she loved.

Quick Facts
Lucy Maud Montgomery enrolled at Dalhousie College in the fall of 1895. Being able to afford only one year of study, she chose to concentrate on English literature. Montgomery studied hard, honed her writing skills and published her stories, poems and essays in the Dalhousie's student newspaper, The Gazette.
Addressing the much-debated topic of women in higher education in her essay "A Girl's Place at Dalhousie College," Montgomery won the respect of the city's newspaper editor. Her article was published in the Halifax Herald in the spring of 1896.
Several years later while taking care of her ailing grandmother in Prince Edward Island, Montgomery spent her evenings writing Anne of Green Gables, completing the wildly successful story in just 18 months.
Dalhousie's Forrest Building was first known simply as the "new" Dalhousie College and housed Dalhousie in its entirety from 1887 until 1914.
In 1887, there were 191 students at Dal: 144 were in arts and sciences and 47 in law.
Stretching skyward 145 feet, 10 feet shy of the Citadel, the central tower of the Forrest Building was one of the first signs of Halifax visible to a ship coming to the harbour. The interior was spacious and bright and featured an arts library of 1,400 square feet and a museum.
Since 1985, the building has housed the Nursing, Physiotherapy, and Occupational Therapy programs.