This article is part of a series highlighting the Dalhousie Class of 2018 — the graduates of Dal's 200th year. Read more of our Spring Convocation grad profiles.
Jacquelyn Brokken (Jackie) had a degree in Psychology under her belt and wasn't quite sure what to do next, but she knew her education wasn't over.  As it turns out, it was her sister who inspired her next step, which took her to Dal's Faculty of Dentistry to study dental hygiene.

Jackie's older sister Katie has Down syndrome, a condition that is frequently connected to many physical vulnerabilities, such as heart defects, vision problems, hearing loss and infections. Gum disease and dental problems are also a risk, partly because of the irregular way teeth can develop in someone with Down syndrome, and partly because of difficulties in getting adequate oral health care.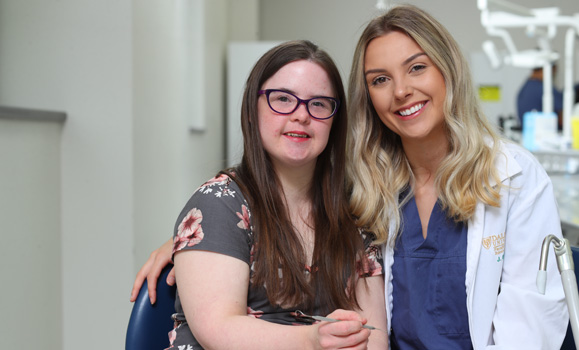 "Katie loves going to the dentist and has always felt comfortable there," says Jackie. "It's important because she had three holes in her heart and is much more prone to periodontal disease. Oral health care is super essential to her.

"I decided to go into health care so that I could somehow give back to the health field that has done so much to help Katie."

Long before she arrived at Dal, Jackie was already giving back to people with different abilities and their families. She is a volunteer with Special Olympics bowling, and Katie is a regular Special Olympics participant in bowling, basketball and track and field.

Jackie also provides respite care for families, often spending the time taking individuals with special needs on outings, such as swimming. For the past three years she has worked at a summer camp called The Club Inclusion, which offers programming to people who have different abilities.

So much more than cleaning teeth

Jackie went into dental hygiene with personal hopes and expectations of what it would enable her to do. Those expectations were more than fulfilled.

"Studying dental hygiene was way more rewarding than I could ever have imagined," says Jackie. "I was surprised at the close-knit relationships I was able to develop with my professors, who are so passionate about their jobs. And I never expected to develop such close relationships with my patients. But when you see them over the course of three or four appointments, you get to know them."

Through the Faculty's outreach clinics, Jackie had the opportunity to work in seniors' homes and with veterans, to treat children at the Harbour View Elementary School paediatric clinic, and to help underserved populations at the North End Community Health Centre and the Immigrant Oral Health Outreach Clinic.

"I learned that dental hygiene is so much more than 'cleaning' – a word dental hygienists hate!  We provide debridement, preventative care, and oral health care education. We also have an important role in making people feel comfortable about going to the dentist's office, including children and those with special needs. I really enjoy that side of the work."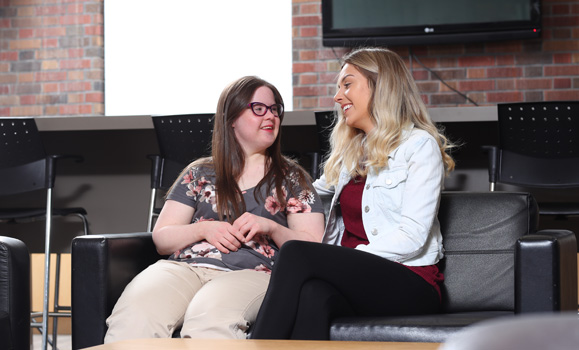 Jackie says that the Harbour View paediatric clinic was one of her favourite rotations because of the opportunity to care for children, and she also found working at the Immigrant Oral Health Outreach Clinic very rewarding.

"You are caring for a diverse group of people, some of whom have never seen a dentist before," she says, speaking of the Immigrant Oral Health Outreach Clinic. "When you hand them the mirror so that they can look at their teeth, many of them tear up. They are so thankful. Because we have to work with interpreters to be able talk with our patients, we learn a lot about communication. We also see how much of a difference we can make."

Focusing on abilities, rather than disabilities

In April, Jackie encouraged several of her Dental Hygiene classmates to volunteer at Sharing Smiles Day, an annual event that takes place in faculties of dentistry across Canada.

Sharing Smiles Day brings together people with physical and intellectual disabilities and dentistry and dental hygiene students for a day of games, crafts, and oral health education. The aim is to help both oral care providers and participants feel comfortable with each other.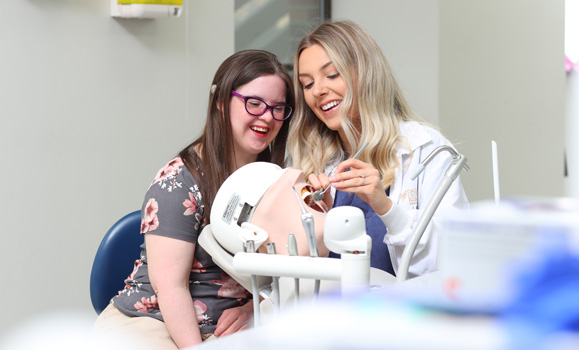 "I think we need to focus on abilities rather than disabilities," says Jackie about Sharing Smiles Day, at which Katie was a participant. "I believe we learn more from them than they do from us, particularly about kindness and compassion."

Jackie is sad that her studies have come to an end, but she is looking forward to what comes next. She is currently looking for a job in the Halifax area and hopes one day to have a clinic of her own where she can specialize in treating patients with intellectual and physical challenges.

"It's a fascinating population to work with," she says.