This article is part of a series highlighting the Dalhousie Class of 2018 — the graduates of Dal's 200th year. Read more of our Spring Convocation grad profiles.
When Zili Pan first arrived to Dalhousie in early 2016, she didn't quite know what she wanted to study. She's just spent two years in Toronto studying Pharmacy, coming to the conclusion that it wasn't the right fit for her. So she decided to move to Halifax and enroll in the Faculty of Arts and Social Sciences at Dal.

Requiring a language course as part of her degree, she chose German — mostly because her best friend in China was of both Chinese and German ethnicities and often spoke about life in Germany. One course that summer and Zili was hooked.

"After that, I finally found my interest, and realized what I really want to study," says Zili. "I love languages!"

The power of enthusiasm

She really threw herself into studying German, taking both language and literature courses. This wasn't always easy: Zili recalls the challenges of Professor Hans-Gunther Schwartz's German literature classes, which pushed her to ask a lot of questions and to communicate with him in German.

"To be honest, I could barely understand him at the beginning, but if I wanted to go to Heidelberg University for the exchange program, I had to take his introduction to German literature course. I studied really hard, [paid attention], and I tried my best to understand him as best as I could."

She picked it up, though, even being awarded the departmental book prize at the end of her first full year studying German. She credits her love of German in no small part to Brigid Garvey, senior instructor, undergraduate advisor and language coordinator for the Department of German. Zili describes Prof. Garvey as "very nice, friendly and patient. I would say she is more like a friend to me. She gave me a lot of advice and suggestions, especially when she encouraged me to go to Heildelberg in Germany for an exchange program."


Prof. Garvey attributes Zili's success to her hard work, her willingness to ask questions and her positive attitude.

"She always seemed to have fun with learning," says Prof. Garvey. "She really enjoyed it and you could tell. She would laugh easily with our in-class activities and liked interacting with the others in the class."

Overseas discovery

Zili had only been studying German for 10 months when she left for Heidelberg, Germany, where she completed the Summer Semester in German Philology (Literature and Language studies) at the Karl-Ruprechts Universität, as well as an intensive language course.


"The language barrier was really an issue for me, not only at school but also in the daily life," says Zili. "However, this challenge also encouraged me to study harder…. under this high pressure with five courses, my German really improved a lot."

"Zili is brave and ambitious," says Prof. Garvey. "She would probably deny the brave part, as she was pretty meticulous in her preparations for the summer of study at Heidelberg University. But even just daring to jump into a semester of immersive study after only 10 months of language learning takes an adventurous spirit."

When she returned to Dalhousie for the fall 2017 term, Zili took GERM 3015 — an advanced translation project course that offers unique experiential learning experiences.  She worked on the Franz Boas Papers project, transcribing and translating letters (many handwritten in old-fashioned scripts from around the turn of the 19th century) from German to English. These archival materials of the "Father of American Anthropology" are being made into an online database which will be used by scholars and researchers for years to come.

Given that neither German nor English are her first language, this was another challenge for Zili.

"The documents are from about a hundred years ago, so the words are not very clear to read. Sometimes, it takes a couple of hours to figure out just three sentences. I would try my best at first, such as looking into the context and comparing the handwriting of other notes. If it still didn't work, I asked for help from my friends in Germany. After the transcribing process, the translating process was another challenge!"

An accomplished student

Zili completed the requirements for her honours degree in German, with a minor in Economics, in just two and a half years — taking course overloads during the academic year, summer courses and the exchange program. Her achievements include an in-course scholarship for the 2016-17 school year, being named to the Dean's List, and being added as a member of the Golden Key International Honour Society.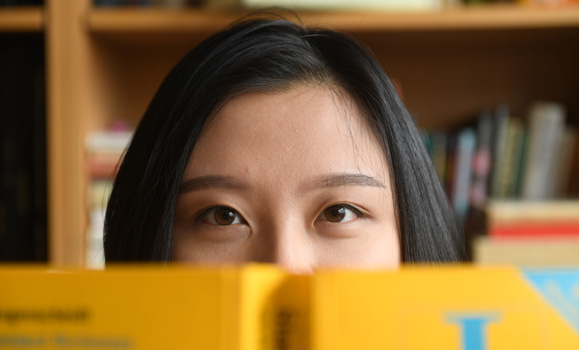 For two years she was also an important part of the German Student Society. And on June 2, she will walk across the stage of the Rebecca Cohn Auditorium to receive her degree as well as the University Medal for German.

Zili's next plan includes returning to Heidelberg University to pursue her Master's degree in German and then to return to Shanghai and use her English and German skills to work for a German company.