This article is part of a series highlighting the Dalhousie Class of 2018 — the graduates of Dal's 200th year. Read more of our Spring Convocation grad profiles.
It's not all that often a graduate student — or anyone — makes the switch from neuroscience to corporate banking, but that's exactly what Karah Lee did over the past two years.

Karah, originally from Ottawa, graduates Tuesday with an MBA. She earned a BSc in life sciences from Queen's University, an MSc in neuroscience from the University of Ottawa, and went straight into an MBA here at Dalhousie.

Karah spent time doing scientific research before deciding she wanted to try something different.
"The Dal MBA seemed like a really good option to open doors. It appealed to me because I didn't have work experience, and a lot of other programs require multiple years," she explains.

"I was open to trying out a new field, but I didn't know what that would be. For my eight-month residency, I ended up choosing corporate banking, and I enjoyed it." Karah's as surprised as anyone to find herself heading to Toronto this fall to take on a job in corporate banking at Scotiabank. "It's a great place to start my career."
Eye-opening experiences

Being part of the MBA program at the Rowe School of Business has opened Karah's eyes to lots of opportunities and experiences. Just before graduation, she spent two weeks in Chile and Argentina as part of the Doing Business in Emerging Markets course with Professor Valerie Trifts. Students will meet with trade commissioners, take part in site visits, and engage in economic and cultural analyses.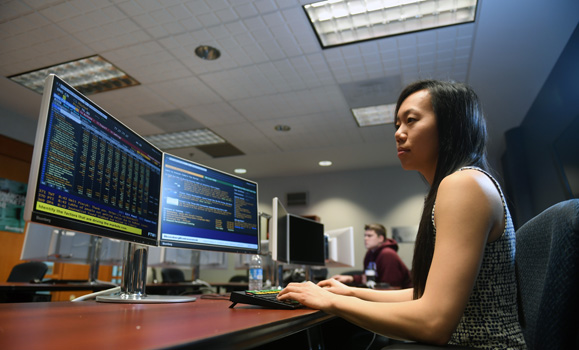 Karah also participated in the CFA Institute Research Challenge, an annual global competition that gives university students mentoring and training in equity research. She worked with a team of five to research and analyze a publicly traded company and then produce a report and presentation with a buy, sell or hold recommendation. "Our biggest competitor in Atlantic Canada was Saint Mary's, and they've won for the last couple of years. And we won this year. Our faculty advisor, Professor Jun Zhou, was ecstatic."

Winning meant Karah's team advanced to the Americas Regional in Boston in March along with dozens of other schools from across North and South America. It's the first time Dal has made it to this event, and the team placed second in their pool. "We were beaten by Tufts University," she says. "So you're competing against these amazing big American schools."

Karah reflects that her time at Dalhousie was full of experiences that led to new ways of thinking about her future. She was a research assistant for Dr. Dana Kabat-Farr, whose focus is workplace social experiences. She was also a TA, and participated in the Creative Destruction Lab where she worked alongside a startup based in Atlantic Canada.

"Most of my experience here at Dal has been about firsts, and trying new things. Keep an open mind. It's important to have goals and ideas about what you like and don't like, but it's super important to come in flexible and willing to try new things. Be open to anything happening!"