This article is part of a series highlighting the Dalhousie Class of 2018 — the graduates of Dal's 200th year. Read more of our Spring Convocation grad profiles.
When Johneen Manning decided to go to medical school, she had three daughters under the age of four. Not surprisingly, she was often asked, "How will you do it?"

"I studied during my 'night shift' after my children had gone to sleep, and in waiting areas outside my daughters' dance classes," says Johneen — one of six graduates of African descent from this year's Dalhousie Medical School class.
"I could not have gotten here without the enormous coordinated effort from my partner, our families, and the generosity of my children — who all prioritized my need to study and be away for rotations or electives."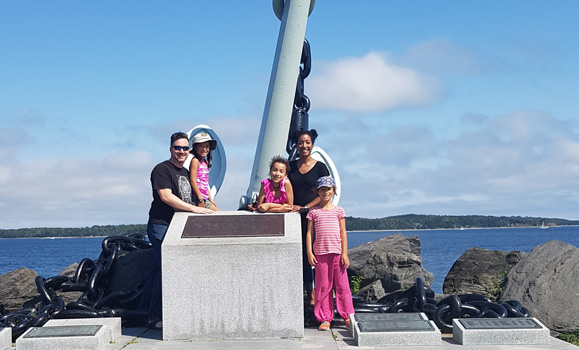 In working towards a career in family medicine, Johneen's personal experience as a parent and her untraditional path to medicine serve as an inspiration to achieve her goals. She came to Dalhousie Medical School with two degrees (Biology and Architecture) and a decade-long career in design and communication. After having children and talking to doctors and nurses in the community dance class she teaches, she began to wonder if a career in the health professions might be more fulfilling. She decided to volunteer one morning a week at the Halifax Sexual Health Centre to see if medicine was right for her.

"Witnessing the important care and support they provided to women and men from across the province... sold me on this path," she says.

A focus on women's health

After graduating this spring, Johneen will pursue residency training in family medicine at the University of Ottawa. Her goal is to practice family medicine in a community setting. She is particularly interested in learning more about health issues and social determinants of health specific to women.

"Since women make up more than half of the population and are often at the hearts of families and communities — caring for children and elders and playing an essential role in the economy, both visible and invisible — I believe that providing better care, support, and advocacy for the health and social rights of women and girls enhances the wellbeing of our society as a whole," she says. "It's a win-win."

While at Dalhousie Medical School, Johneen participated in the Research in Medicine program, where she explored the needs of women who breastfeed in the workplace — particularly women who breastfeed during their studies at Dalhousie. She was the catalyst in bringing together a group of at Dalhousie that included expertise in lactation, Human Rights and Human Resources and student accommodations. The group developed guidelines to help the university support faculty, staff and students to breastfeed on campus, including recommendations for accommodations and infrastructure to make breastfeeding easier and more comfortable.
Johneen hopes that as a family physician, she will play a role in building more supportive communities for the better health of all.
Read more profiles on this year's Medicine graduates at the Faculty of Medicine website.