This article is part of a series highlighting the Dalhousie Class of 2018 — the graduates of Dal's 200th year. Read more of our Spring Convocation grad profiles.
A small town potato farmer from Grand-Sault, NB, Keenan Kavanaugh is ready to set foot on the convocation stage. Not only will he be receiving a degree in plant science on May 11, he will be addressing his peers and representing the Class of 2018 as valedictorian.

"I'm obviously honoured and surprised," Keenan explains. "I never expected I would be voted valedictorian when I started my first year here, but it's certainly a nice way to finish."

On May 11, Keenan will be given the honour of representing all graduating students of the Faculty of Agriculture. As he prepares to address hundreds of fellow graduates, Keenan admits he doesn't have one particular message to convey to his peers in his valedictorian address.

"My speech won't be too serious, I'll put it that way," Keenan smiles.

Family connections

Keenan grew up in the French community of Grand-Sault, a small town close to the Quebec border. Despite French being his first language, Keenan was hesitant to pursue a secondary education at a French university, as he was more comfortable writing in English.

"At the risk of sounding cliché, I really liked the idea of a small campus," Keenan explains about his decision to study at Dal's Agricultural Campus. "Being from a small town myself, I liked the idea of easily having one-on-one time with professors. Also, you get to know almost everyone and since a lot of people are from rural communities, from farms, or want to work with animals, it's very easy to make friends since we all have common interests to start with."

As the son of a sixth-generation potato farmer, Keenan always knew he wanted to continue farming. The family farm, Thomas Kavanaugh and Sons, specializes in producing potatoes for table market.

"I always knew I wanted to farm potatoes for a living," Keenan explains. "But it wasn't until I began looking into different programs and universities that I decided I wanted to major in plant science."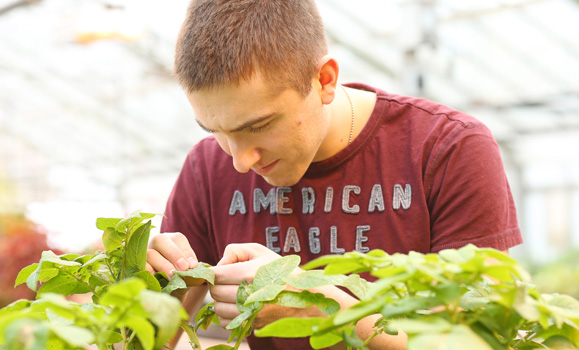 Keenan had begun operating the sprayer on their farm and although he understood the process of applying pesticides and fertilizers, he was curious about why these were being applied to the crops and how they helped to increase the yield. Torn between pursuing business or plant science, it was the longing to understand the scientific aspect of keeping crops disease free and prosperous that drew him to plant science.

"I was always interested in the complexity of how we grew potatoes," Keenan explains. "I just didn't know whether or not I should be taking a business course or a plant science course. When I started doing tasks on the farm related to growing the crop, I wanted to know more about it. I've always been good with numbers and budgeting but had little knowledge of how plants grow. I decided to major in plant science and minor in business."

From diploma to degree

Initially, Keenan had planned to pursue the two-year diploma program at Dal AC to reduce the cost of his post-secondary education. It wasn't until he learned that he was the recipient of a Harrison McCain Scholarship that he decided to pursue a four-year Plant Science degree.

Harrison McCain Scholarships and Bursaries are awarded annually to students entering university from a high school in Canada. Each award has a value of $16,000 payable over a four year course of study in the amount of $4,000 each year. Recipients are awarded based on high school grades, financial need, leadership qualities, and a recognized initiative in funding their own education. It was this financial support that allowed Keenan to pursue his full potential.

"The financial support of the scholarship encouraged me to obtain my Bachelor's degree, which offers both practical and theoretical learning," Keenan explains.

Looking ahead

Keenan's ultimate goal is to return to his family farm with the new knowledge he has acquired from his four years studying at Dal AC. Though he plans to return full-time to Thomas Kavanagh & Sons, Keenan's passion for learning will keep him enrolled at Dal AC a bit longer.

"I decided to do my master's first," Keenan proudly exclaims. "I'm designing my research around doing it in the winter where being away from the farm is a little easier. My master's will be done on campus and will be directed at trying to solve issues within the potato industry."

On top of his newfound expertise in plant science and business, Keenan has learned to seek the knowledge and ask for help from other professionals- something that is sure to make him a better farmer.

"I've realized over the years that it's okay to admit to myself and to others that I don't know or need to know everything related to my field of study," Keenan explains. "Experts exist for a reason and I've come to learn to not be afraid to ask for their help."