On the last Friday of every month a group of Indigenous students and staff gather in Dalhousie's Indigenous Student Centre (ISC) to participate in a Friday Feast. It's a time in their busy schedules for them to come together, share a home-cooked meal inspired by traditional Indigenous cuisine, and unwind.

As its new location on Edward Street undergoes renovations, the ISC has been temporarily relocated to 1399 Seymour Street, just behind the Dal Arts Centre. While the temporary spot is smaller, it provides a cozy place for the students to gather in a room filled with Indigenous art.

A place to gather

At a recent Friday Feast, the food on the menu was a moose meat minestrone soup and a crowd favourite, traditional Bannock bread.

"It's hard to cook and you can't get it anywhere else," says Angel Moore, an Indigenous student at King's College and writing tutor at the ISC. It illustrates one of the reasons why the Friday Feast is important to the people who attend: delicious food that gives Indigenous students a bit of a feeling of home but can't find anywhere else on campus (or in the city, often). Angel hadn't had Bannock since coming back to school last year as a mature student.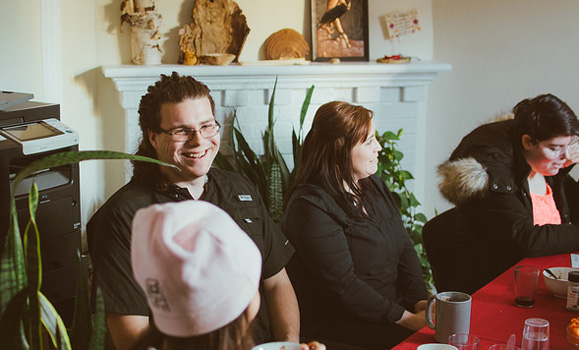 Michele Graveline, the Indigenous Student Advisor, says the Friday Feasts are generally reserved for Indigenous students, stressing the importance of them having a safe space to gather.

"Dalhousie is working to make more safe spaces for Indigenous persons, but we're still living in a colonialized time and Dalhousie is a colonial institution, so the Friday Feasts can be an important element for Indigenous students' well-being," she says.

Forging connections

The gatherings are also opportunities for the students to meet and talk with other Indigenous students. The conversations range from the simple day-to-day aspects of being students, to Indigenous knowledge and culture. With Cree, Métis, Inuit, and Mi'kmaq represented at a recent Friday Feast, it helps students discover shared experiences as well as unique perspectives.

"Michele is from a different area than myself," says Adeline Urban, from Horse Lake First Nation in Alberta. "She can share different [Indigenous] knowledge than I can."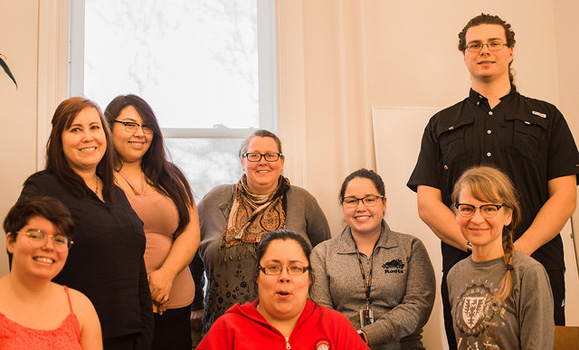 "Traditionally, feasting has been a way to share the bounty with others, to celebrate, to honour community members and ancestors, as part of ceremonies, and to take care of important business," says Michele. "It was a natural decision to begin hosting Friday Feasts at the ISC."

The Indigenous Student Centre, and the Friday Feasts in particular, act as a home away from home for the students there. They're able to find a support system—whether it's to help deal with university life, their personal lives, or connecting with their heritage.

"I don't feel as homesick when I'm there," says Angel. "It feels like I'm with family. It's comforting."

For more information on the Indigenous Student Centre and its Friday Feasts, join the centre's Facebook group.