Comedian Rick Mercer's 15-year run as the host of his namesake CBC show, The Rick Mercer Report, comes to an end next month. But before he wraps up, he made one final visit to Dalhousie — all in celebration of charity.
Mercer spent Tuesday morning (March 13) on campus this week, in large part to recognize Dalhousie's chapter of the international Golden Key Society. The chapter — which brings together high-achieving students around academics, leadership and service — won the university prize in the annual Spread the Net Student Challenge.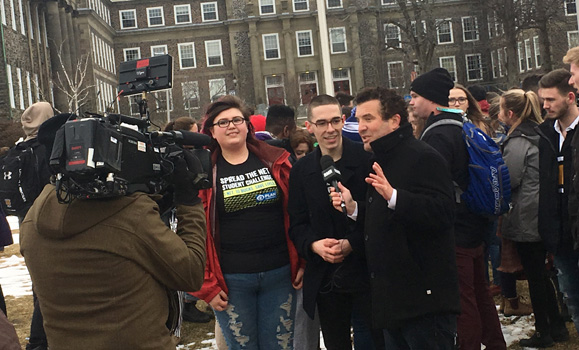 Mercer interviews members of the Golden Key society on the Studley Quad.

Started by Mercer and Belinda Stronach in 2006, the friendly competition between Canadian schools aims to raise funds for bed nets to fight the spread of malaria. Over the years the campaign has raised funds to deliver more than 19 million malaria-preventing bed nets to families in Africa.
In addition to meeting with members of the Golden Key Society on the Studley Quad, Mercer hung out at the Fountain School of Performing Arts, exploring the props department ahead of the late-March production of Drums and Organs. He also took to the Dalplex court with members of the Dal Tigers men's and women's basketball teams — and President Richard Florizone — for some fun with kids attending March Break sports camps.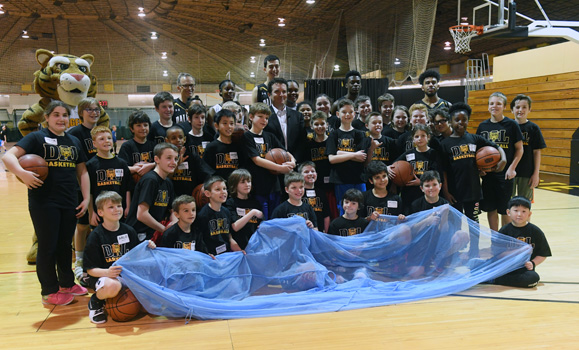 Look for more on Mercer's visit, and the Golden Key Society, here on Dal News closer to the episode's air date, currently scheduled for Tuesday, April 3.