Four Dalhousie undergrads are on top of the curling world this week.

Kaitlyn Jones (Arts), Kristin Clarke (Commerce co-op), Karlee Burgess (Kinesiology) and Lindsey Burgess (Engineering) are celebrating their gold medal win at the 2018 World Junior Curling Championships in Aberdeen, Scotland.

On Saturday, March 10 the team, representing Canada, defeated defending champions Sweden 7-4 in the gold medal match. The Nova Scotian team secured their spot at the World Championships back in January by winning the Canadian title, dominating the round robin with a 9-1 record before defeating the Quebec team 5-2.

"We started [Nationals] off strong and then had a tough second game against Quebec who we played in the final," said Kaitlyn, the team's skip, in an interview before heading off to Worlds. "I think that helped us to know we needed to be strong and that it was going to be a long-hard week — the first loss didn't matter. We needed to bounce back and we did."

The team displayed similar resilience during their week-long efforts at Worlds, overcoming losses to both Sweden and Scotland a prior to finals.

Teamwork makes the dream work

For the team, communication is key to success.

"It's a long week and its tiring but as a team we work really well together" said Karlee Burgess, team second.

While all of the team's members have been curling for years, this season is the first time any of them have curled as a unit — even cousins Karlee and Lindsey.

"We've been playing against each other for a really long time," said Karlee. "Nova Scotia doesn't have many teams so we'd play against one another at every junior competition."

Despite the fact the girls have been rivals in the past, their transition to teammates was natural.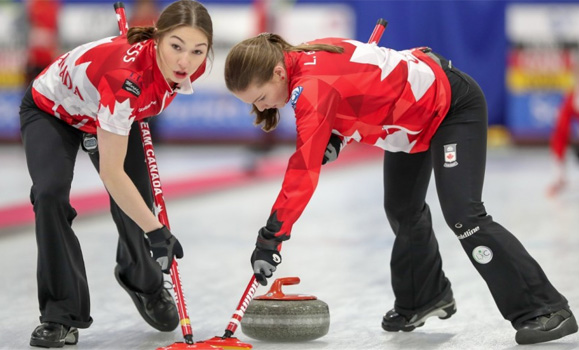 Lindsey (left) and Karlee Burgess.
"We had a bonding week at first where there was no curling just strictly getting to know each other — we jelled right away," said Lindsey. "Obviously on the ice there's things you need to work out as a team. Our sport psychologist helped us discuss what we needed, on and off the ice, and that helped us and played a big part in our success."  

Before each game the girls preform rituals: various games like "heads up" or cards to boost brain activity, and a dance as well. "We made up a dance to [AC/DC's] 'Thunderstruck,'" said Kaitlyn. "It's embarrassing but we do it before every game — we blast the speaker and jam."

Finding the right balance

Like most university students, the girls find balancing school, curling and life hard at times. The girls practice at least three times a week and, depending on whether there's a competition or not, on the weekends as well. In the case of a weekend competition, the team will often have to miss their Friday classes.

"I found the balance tough last year," said Karlee "I was overwhelmed and ended up dropping to three classes. Now in my second year I've gotten to know my profs better and I receive a lot of support from them. The workload is tough, especially when we're away — we eat, sleep and curl. Sometimes we minimize our sleep to do homework either before or after practice so we're at times exhausted, but it's all worth it."

When asked what advice they'd give to other students juggling athletics or extracurricular activities, the team said organization is the biggest life saver.

"Use your resources — go to extra help when you have the chance," said Lindsey. "If you miss lectures, ask your friends — make sure you know someone in all your classes…. And make sure you're open with your support systems. Without the support from our profs, friends and family we'd be failing."

World championship in-hand, the team now takes a short break from the ice before they look ahead to next season (typically beginning in late August).  

"We're now connected with the Canadian Sports Center Atlantic and they'll set up a training program for us — we're going to be in different provinces so it will be hard but we have to train by ourselves to be where we were this year," says Karlee.

They won't have to travel far if the team competes in the 2019 World Junior Curling Championships. The tournament will take place in Liverpool, Nova Scotia from February 17-24, 2019 at the Queens Place Emera Centre, bringing over 100 curlers from as many as 20 different countries.