The selection process for participation at this year's Lindau Nobel Laureate Meeting has been completed and award-winning Dalhousie PhD graduate Simon Gebremeskel has all but booked his flight.  

"I am deeply honoured to be invited to attend the Lindau Nobel Laureate meeting. This is a recognition of many years of hard work, not just by me, but by the Johnston lab team and our collaborators," says Gebremeskel who, as top-prize winner at last year's Canadian Student Health Research Forum, earned himself a coveted nomination to attend the 68th Lindau Nobel Laureate Meeting taking place in Lindau, Germany.

This week, that nomination was confirmed when the scientific review panel of the Council for the Lindau Nobel Laureate Meetings emailed Gebremeskel and offered him a seat at the table. A total of 600 outstanding students, doctoral candidates and post-docs under the age of 35 will come together from 24 to 29 June to meet the next generation of leading scientists.
Read also: Dal PhD candidate among elite young scientists nominated to attend Lindau Nobel Laureate Meeting (Dec. 2017)

Once every year, about 30 Nobel Laureates convene in Lindau to foster the exchange among scientists of different generations, cultures, and disciplines. In total, 500 to 600 undergraduates, PhD students, and post-doc researchers from all over the world are expected to attend.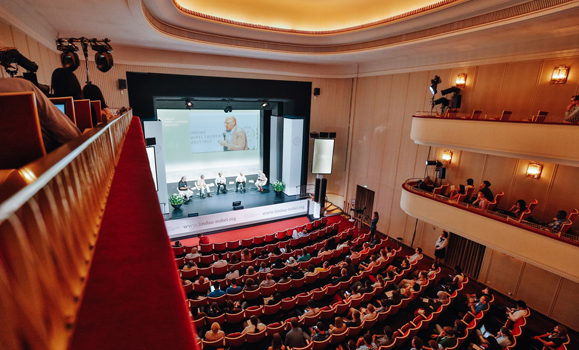 67th Lindau Nobel Laureate Meeting Panel discussion "Current and Future Game Changers in Chemistry" (Photo: Julia Nimke)

The meetings focus alternately on physiology and medicine, physics, and chemistry – the three natural science Nobel Prize disciplines. An interdisciplinary meeting revolving around all three natural sciences is held every five years. In addition, the Lindau Meeting on Economic Sciences is held every three years.

This year's meeting will set two records: 43 Nobel Laureates, – more than ever before at a medicine meeting, – will take part, and the field of participants has never been so diverse, with 84 countries of origin.

"It [will] be a great opportunity to meet other young scientists, build new networks of collaborations and mentorship, and showcase some of the great work that goes on at Dalhousie medical school," says Gebremeskel, a Kenyan-born scientist who did his undergraduate degree at Queen's University.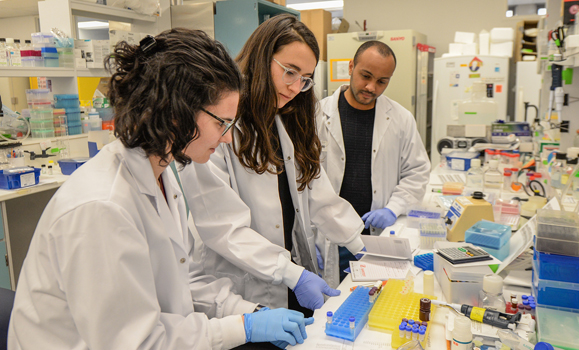 Gebremeskel with Tora Oliphant and Brynn Walker, undergraduate students in the Department of Microbiology & Immunology.

Gebremeskel has spent the last seven years working with Dr. Brent Johnston in Dalhousie Medical School's Department of Microbiology & Immunology to develop a cancer treatment that kills cancer cells by both activating the immune system and introducing viruses that kill cancer cells.

A specialist in immunology who first worked in autoimmune diseases in Toronto at St. Michael's Hospital, Gebremeskel was drawn to Dalhousie in 2011 by Dr. Brent Johnston and his work in cancer immunotherapy.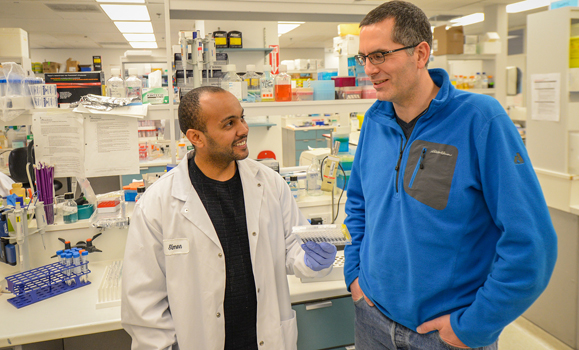 Simon Gebremeskel with Dr. Brent Johnston.

The scientific program of each Lindau Meeting is based on the principle of dialogue. The different sessions – lectures, discussions, master classes, and panel discussions – are designed to activate the exchange of knowledge, ideas and experience between and among Nobel Laureates and young scientists.

Gebremeskel, who defended his PhD thesis in February, will fit right in.

"He is outstanding," says Dr. Roger McLeod, associate dean of research at the medical school. "His work is absolutely groundbreaking. He's one of the best students we've ever had in our graduate studies program in no small measure due to his research skills and dedication to Dalhousie."