A well-defined vision is an essential aspect of any successful business and Heidelberg Engineering illustrates this on all fronts.  

A high-tech imaging solutions company that designs, manufactures, and distributes diagnostic instruments for eye care professionals, Heidelberg Engineering is headquartered in Germany, with offices around the globe.

Understanding the importance of healthy vision, Heidelberg Engineering's products are used by ophthalmologists and optometrists to scan patients' eyes for signs of disease and to assist in the management of patients found to have this disease. Early recognition of disease helps to delay and prevent the most common causes of blindness. This commitment to business excellence and visual wellness drove a steadfast desire to invest in ophthalmological research.  

A Dalhousie partnership

Recognizing the wealth of world-class ophthalmological research taking place at Dalhousie's Faculty of Medicine, Heidelberg Engineering began its partnership with Dalhousie Medical Research Foundation in 2010 through a donation in support of Dr. Balwantray Chauhan's leading-edge research in clinical and experimental glaucoma.  

Glaucoma is a pervasive eye disease that involves damage to the optic nerve. No one knows exactly what causes glaucoma, but pressure in the eye is proven to be a major risk factor. Glaucoma affects more than 400,000 Canadians and over 67 million people worldwide. Championed largely by co-founder, and Managing Director, the late Dr. Gerhard Zinser, a strong relationship between Heidelberg Engineering and Dr. Chauhan began.  

"I first came to know Heidelberg Engineering in 1991 when I was at the American Academy of Ophthalmology meeting, which is the largest eye meeting with 20 to 30 thousand delegates," explains Dr. Chauhan. "Heidelberg Engineering was established shortly before that and I was intrigued with the imaging device they had created at the time.  It was also the first time I met Gerhard."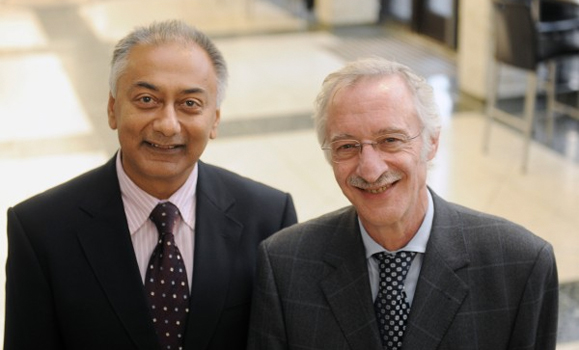 A pioneering scientist and inventor, Dr. Zinser was the driving force behind many of Heidelberg Engineering's groundbreaking technologies and products; a fast friendship and working relationship between Dr. Zinser and Dr. Chauhan (pictured above) began. 

Promoting better health for all

Heidelberg Engineering's initial two-year gift provided funding for a trainee to work in glaucoma research under Dr. Chauhan's supervision.

In 2012, Heidelberg Engineering continued its generous support with a significant pledge over five years. These investments bolstered Dr. Chauhan and his lab as they conducted research related to novel devices and clinically implementable tools for eye doctors to be able to detect glaucoma and its progression. There has been an explosion of new imaging devices and techniques in ophthalmology, and diseases such as glaucoma and macular degeneration benefit greatly from these advances.  

"Private support from donors like Heidelberg Engineering is tremendously important," explains Dr. Chauhan. "Such donations not only provide support for our research activities and trainees but more importantly, a pathway for collaboration that can ensure research discoveries are brought to the benefit of patients quickly."

Over the last seven years, Heidelberg Engineering has been a steadfast contributor to Dr. Chauhan's lab through the Dalhousie Medical research Foundation (DMRF). To further demonstrate their commitment to DMRF and Dr. Chauhan's work, they have pledged an additional five-years of support. This outstanding, transformational donation has strengthened the research continuity of Dr. Chauhan's lab. Private dollars help support researchers who are facing increasingly competitive environments when it comes to funding. 

Honouring Dr. Zinser

Heidelberg Engineering's next investment will support two major projects in Dr. Chauhan's lab. The first project is related to progression in glaucoma, while the second will be used to define phenotypes of the normal optic nerve head in a global multi-centre study.  

The funds for the first project will be used primarily for trainees, including both post-doctoral fellows and summer students.  These trainees will work on areas specific to the research objectives on progression in glaucoma and its measurement with indices derived from the optic nerve head and retinal nerve fibre layer.

The funds for the second project will be used to partially support a research coordinator who will oversee a large, global, multi-centre study on phenotypic the optic nerve head.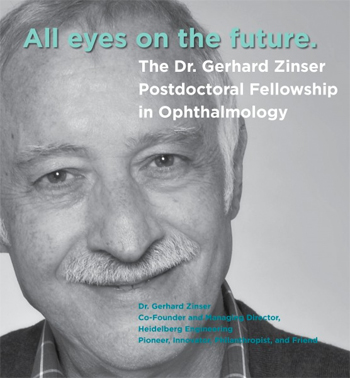 In honour of the role Dr. Zinser played in establishing and growing Heidelberg Engineering's relationship with DMRF and Dr. Chauhan's lab, a portion of this pledge will be used to create The Dr. Gerhard Zinser Postdoctoral Fellowship in Ophthalmology. This named fellowship honours Dr. Zinser's immense contributions to DMRF and the field of ophthalmology.
 
"Gerhard's contributions to our field are immense and will become more and more apparent with time," says Dr. Chauhan. "He has sincerely bettered the lives of thousands of patients by pioneering diagnostic devices for eye doctors through collaborations with experts all over the world."

Research and generosity that touches lives

Dr. Howard Dickson knows only too well the importance of ophthalmological research. The former associate dean of Dalhousie's Faculty of Medicine from 1986-1998 was also a professor in the Department of Anatomy and Neurobiology, with a particular interest in retinal cell biology.  

Upon his retirement in 2001, Dr. Dickson's achievements were vast and his contribution to medical research far-reaching. While his career was forged on a stellar work ethic and stalwart professional curiosity, Dr. Dickson has another reason for passionately caring about ophthalmological research – he has lived with glaucoma for decades.  

"When I came to Dalhousie in 1972, I knew that I had glaucoma – I was diagnosed as a graduate student in my 20s," explains Dr. Dickson. "I was looking for someone to look after my eye care needs when I got here and there was really only one ophthalmologist in Halifax that dealt specifically with glaucoma."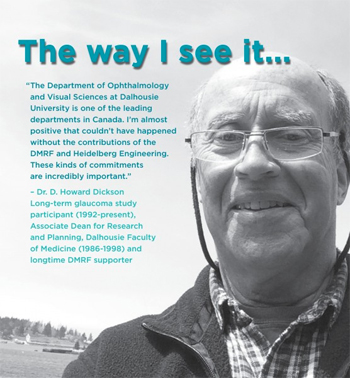 Eventually, a truly academic Department of Ophthalmology was developed at Dalhousie where clinical research and clinical care were balanced and went hand in hand. He began participating in a long-term glaucoma study at the university in 1992, and his involvement continues to this day. Over this period, Dr. Dickson says he has witnessed the phenomenal changes in the department due to the pioneering efforts of people such as Dr. Ray LeBlanc and Dr. Chauhan, but also thanks to donor support from the Dalhousie Medical Research Foundation.

"The DMRF has had a major influence in a lot of areas of research in the Faculty of Medicine," says Dr. Dickson. "It's extremely important to ophthalmology as well."

Dr. Dickson has seen Dalhousie's Department of Ophthalmology grow exponentially since his first visit.  Initially, there were no automated devices to determine visual field defects and he had to fly to Toronto to visit the St. Michael's Hospital where they had technology that didn't exist in Halifax.  Gradually, as the critical area of ophthalmology developed as an academic pursuit, equipment started to become available.

"I was in the eye centre last week having a couple of tests run, and I was absolutely astounded by the degree of the technological changes that have taken place within the Department of Ophthalmology," enthuses Dr. Dickson.  "To a large extent, this growth has taken place thanks to the support of private donors like Heidelberg Engineering."