Fifth-year player Sven Stamberger has been named an AUS first team all-star and honoured with the AUS Student-Athlete Community Service award.
A 6'6 forward, Stammberger averaged 18.4 points and 8.2 rebounds per game this season and shot 86.4 percent from the foul line.
The driving force behind the Tigers 16-4 regular season record to claim top spot in the AUS conference for the second consecutive year, Stammberger has been the model of consistency on both ends of the court.
The Halifax, N.S. native recently reached the 1000 career points milestone to finish his five-year regular season career with 1057. 
In the classroom, Stammberger is a U SPORTS academic all-Canadian with a 3.5 GPA. 
He is heavily involved in the community, volunteering his time with numerous initiatives both on and off the Dalhousie campus, including the Special Tigers program. 
Currently in its fifth year, the Special Tigers program connects children and teens with cognitive disabilities with Dalhousie student-athletes through sport. Events include basketball, soccer, mini-stick hockey, badminton and more. 
Stammberger has volunteered his time with several SAMHI (Student-Athlete Mental Health Initiative) events, as well as with IWK Activity Days events. He has also been a part of the Best Buddies program which works with individuals with intellectual or developmental disabilities. 
He has also been active with Tigers basketball camps, working with elementary, junior high and high school students.
A 6'5 guard, Alex Carson has also been named an AUS first team all-star. He averaged 17.0 points this season and boasts a league-leading three-point shooting percentage of 46.9, ranking him fifth in the country.
The Lower Sackville, N.S. native recently set a new Dalhousie record for three-point shots made in the regular season with 67.
A 6'4 guard, Keevan Veinot has been named to the AUS all-rookie team after doing an excellent job running the point and playing a solid all-round game in his first year with the Tigers.
The Port Williams, N.S. native had a solid 2.9 assist to turnover ratio this season. Veinot averaged 8.7 points, 4.1 rebounds and 3.5 assists per game, demonstrating his ability to direct the offence with efficiency and success.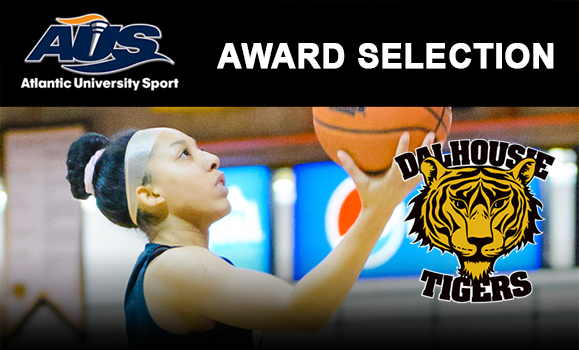 First-year guard Ariel Provo has been to the AUS all-rookie team.
A native of Lake Echo, N.S., Provo played in all 20 regular season games this season, starting in six. She averaged 5.1 points and 1.8 assists per game.
Ariel is currently enrolled in Dalhousie's medical sciences program.