Ding! Ding! Ding! Are you ready for a royal rumble of intellectual rigor?

Research-based graduate students from across the university are set to contend in the 3 Minute Thesis competition. It's a thought-provoking throw down of ideas, where the most convincing communicators come out on top.

Preliminary rounds take place earlier in the week, with the top 12 contenders squaring off in the last round of the competition on Thursday night (March 8). At the finals each student, narrowed from a field of 130, will be given just 180 seconds to present their research to a panel of high-profile alumni judges, including Halifax poet laureate Rebecca Thomas; MacArthur genius grant-winner Erik Demaine; and Kristan Hines, vice-president, NATIONAL Public Relations.

FB event: Tell us you're coming on Facebook

The panel decides who takes home prize money for first, second and third. But the audience picks the Peoples' Choice Award winner. From medicine to musicology, philosophy to physics, master's and PhD students present their research in the punchiest way possible.

At the moment, the road to the 3 Minute Thesis crown is completely clear, with researchers charting a path to victory from every corner of campus. We randomly selected four contenders to give a taste of the talent vying for the title.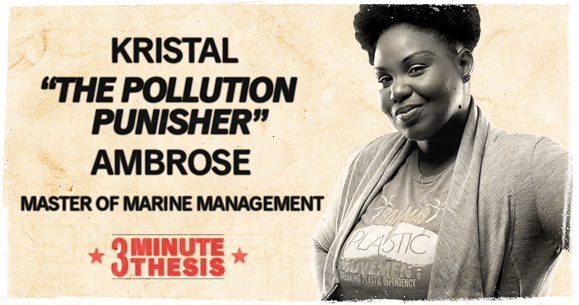 Talking Trash in Paradise


Describe your 3 Minute Thesis presentation
I'm from The Bahamas. Everyone has this vision of our islands as a flawless paradise. But the reality is that our paradise is polluted. Our shorelines are a destination for plastic debris generated around the world. I use predictive mapping to look at how plastic moves around our islands over space and time, and what the implications are for the health of our marine ecosystems and economy.

What's the takeaway you want the audience to leave with?
I want the audience to connect with the fact that single-use plastics they use can end up on the shores of small developing island states like The Bahamas, who then have to deal with them.
 
Why do you love your research?
I'm excited about creating a debris management plan for my country that doesn't yet exist. We're already effecting change and helping to guide policy, including a ban on plastic bags. The impact can be monumental.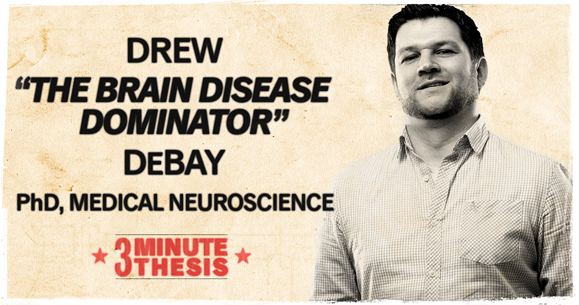 Making early Alzheimer's diagnosis a reality

Describe your 3 Minute Thesis presentation
There is currently no effective means to treat or definitively diagnose Alzheimer's disease during life. We're working to develop a brain scan targeting a specific protein which may enhance the accuracy and timely detection of the disease. This will provide us with the best opportunity to evaluate emerging Alzheimer's therapies as they become available.    
 
What's the takeaway you want the audience to leave with?
This work may have a significant impact on how we diagnose, manage and eventually treat the disease. We've been able to distinguish between an Alzheimer's brain and a healthy brain in an animal model and we hope to begin clinical trials in humans in the next 3 to 5 years. Things are moving in the right direction.
 
Why do you love your research?
When I think about why I do this, it's because I've enjoyed working with researchers across a very diverse range of expertise. I get to work with neurologists, radiologists, chemists, physicists and other engineers to develop research approaches, which is extremely humbling and rewarding.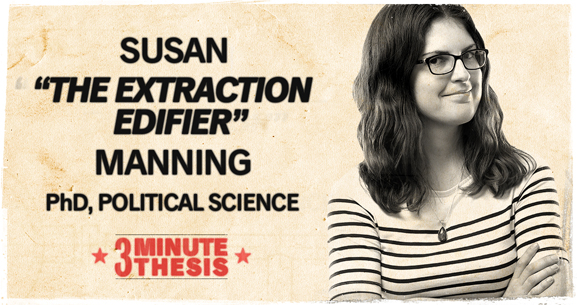 Putting community first for resource projects

Describe your 3 Minute Thesis presentation
I study how decision-making processes for extraction projects, such as mining, oil and gas and hydro-electric dams can better account for communities. Currently environmental effects are emphasized. But when projects take place near small communities, especially in the north, there are social and economic impacts that seriously effect marginalized people. My research considers how we can mitigate these impacts from the outset, instead of applying band aid solutions later.  
 
What's the takeaway you want the audience to leave with?
Communities matter. The negative impacts of large extraction projects disproportionally affect women and children, Indigenous people, people living on low incomes, and people with disabilities. At the same time, these groups typically derive the fewest benefits. We need to ensure they are heard early in the decision-making process.
 
Why do you love your research?
I'm interested in how research can promote positive social change. I don't want to do it just for the sake of understanding. I want to do research with the goal of making a difference in the world.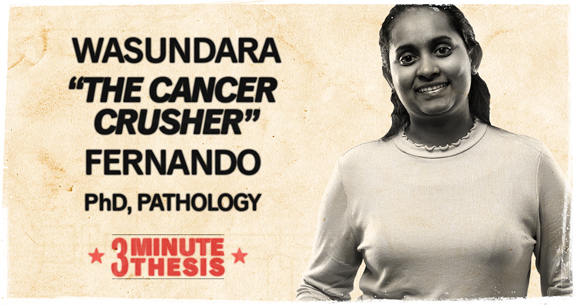 Mastering metastasis with apple and fish molecules

Describe your 3 Minute Thesis presentation
I'm looking at inhibiting breast cancer metastasis by using molecules derived from food components found in apple peels and fish oils. These compounds are known to have positive effects when related to cancer. However, when taken individually they have limitations. Apple peel flavonoids can't enter cells and omega 3 fatty acids are not very stable. My hypothesis is that if I combine the two they will overcome their limitations and have a much better effect.

What's the takeaway you want the audience to leave with?
The most important thing that I have seen is that this compound stops metastasis but doesn't touch normal cells. This is a major concern when you treat cancer, because killing normal cells creates side effects. There is a long way to go, but in preclinical trials the compound is very effective and safe.

Why do you love your research?
From the age of 17, doing cancer research was my dream. Now I'm living it. Doing breast cancer research is incredible because a lot of people are suffering, and I have the chance to do something to help them.