Music is a universally powerful thing that unites communities in halls, places of worship and kitchens worldwide. As comedian Mike Robinson said at Saturday night's African Nova Scotian Music Association  (ANSMA) Awards Show & Gala — the 20th annual event — hosted in Dal's Rebecca Cohn Auditorium, "some of the best music in the country is from Nova Scotia."

This was the first time the awards gala had been held on campus — one of many community events making their way to campus during the university's 200th anniversary year.

In his opening remarks, Dalhousie Senate Chair Kevin Hewitt expressed awe at the talent on display, noting the important link between music and community. "Dalhousie's 200th anniversary is about opening our doors to the community to connect," he said, "celebrating diversity and creating an even more inclusive environment both on our campus and in the communities in which we work, play and live."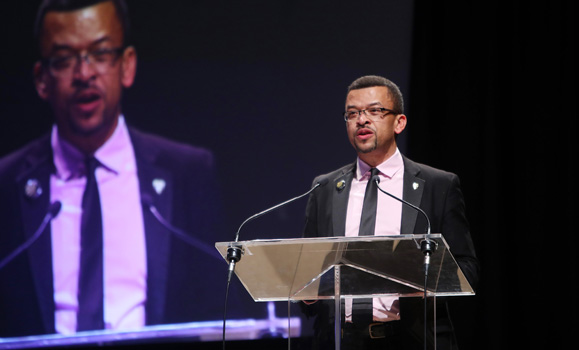 Senate Chair Kevin Hewitt.

The power of music to bring diverse communities together was emphasized throughout the night in pre-recorded video messages from Halifax Mayor Mike Savage and celebrated musical artists like Gary Beals, Dutch Robinson, Nelly Furtado and recent Grammy-winner Alessia Cara. In his address, Minister of African Nova Scotian Affairs Tony Ince linked the event with this year's African Heritage Month theme: educating, uniting and celebrating communities. He stressed the importance of acknowledging the giants on whose shoulders we stand.

"People like Portia White from Truro, who was the first Black Canadian concert singer to win international acclaim and is considered one of the best classical singers in the 20th century," he said. 

Celebrating the next generation


Michelle Patrick, the program manager of Dalhousie's Promoting Leadership in Health for African Nova Scotians initaitive, presented The Portia White Youth Award to 15-year-old Amariah Bernard-Washington and 16-year-old Zamani Bernard-Millar. The cousins are daughters of Four the Moment co-founders Delvina and Kim Bernard.

Patrick gave a long list of the duo's performance credits, adding, "These young women continue to stretch themselves and their vocal style, which incorporates jazz, soul, R&B and pop."

"We are so pleased to be receiving an award named after Portia White because she was such an accomplished singer and one of the best…of her time," Bernard-Washington said.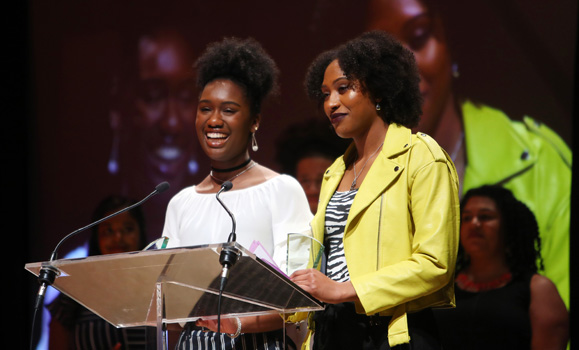 Zamani Bernard-Miller and Amariah Bernard-Washington accept their award.

Both thanked the community organizations that had taught, coached and given them opportunities, including the board and staff of ANSMA. The award, Bernard-Miller said, "Gives up-and-coming musicians like us something to aspire to and lets us know that ANSMA cares about developing their own musicians."

An even younger award recipient, 14-year-old pop singer Jody Upshaw, also gave props to the elders after receiving the ANSMA Rising Star Award. Upshaw thanked Reeny Smith, who received the Artist of the Year Award, for her mentorship, and her own father, who got her into music when she was only three.

Leaving a legacy

Family connections were made as often as community ones. A particularly touching moment came when the Delmore Buddy Daye Learning Institute presented its Lifetime Achievement Award posthumously to bluegrass singer, multi-instrumentalist and master of the community jam session, Donnie Cromwell. It was accepted by his grandchildren, who stressed that music is more about joy than profit.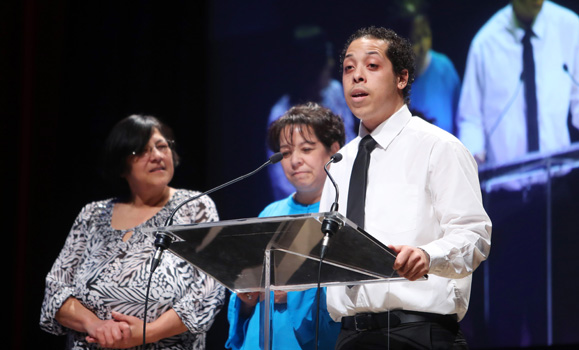 Donnie Cromwell's grandchildren aceept his award.
The evening's performances brought together a remarkably diverse group of artists, beginning with a the 13-member ANSMA Youth Choir's up-tempo hip hop-gospel funk piece, "Do You Want a Revolution?" and culminating when they took the stage again with soul singer Cyndi Cain, wearing "We Been Here" t-shirts and paying tribute to civil rights pioneer Viola Desmond and African Nova Scotian history.

Other award winners included: Nigerian Afro-fusion artist Arenye for Emerging Artist; Shawn Downey of Sharp 5 Productions for the Black Business Initiative Industry Development Award; Irma Pope (a founding member of ANSMA whose singing career has spanned folk, jazz, soul, R&B and pop) for the Craig Family Heritage Award; and JoJo Bowden and Dean Jarvis for Eastlink Pioneer Awards.