Singing ghosts, talking rats and corrupt politicians infest the small German town of Hameln, where the popcorn is never forgotten, but the children are.

In their first show, students in the Fountain School of Performing Arts' third-year Acting Program class enter the kaleidoscopic world of Canadian playwright Colleen Murphy's The Piper, and find themselves transformed into an ensemble of memorable, malevolent and misguided characters.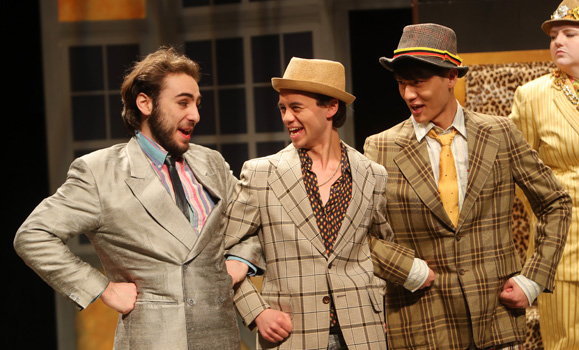 Members of the Council (Gregory Dimitri Mansour, Andrew Chen, Zilong Chen) have a cordial request for Mayor Pops (Rebekah Leon).
Director Pamela Halstead, herself a theatre graduate from Dalhousie (BA'88), says it's a fantastic show for university students.

"The students get to use a lot of different skills, whether [it be] their physical skills, singing skills, or their acting chops," she explains.

Halstead, who has worked in theatres from Newfoundland to British Columbia, says that when she saw the original production of The Piper in Toronto that she was, "transfixed by this statement on our society and [Colleen Murphy's] use of the rats as a subclass of society." 

Oh, rats

Dal's production, a number of years in the planning, has five actors taking up the roles of Hameln's resident rats, rising to the challenge of playing the anthropomorphic rodents who are adversaries integral to the tale of the Pied Piper. Despite their harsh appearance (thanks to John Pennoyer's astounding masks and costumes), some of the rats have deeper desires and drives than one might expect from historically plague-ridden vermin.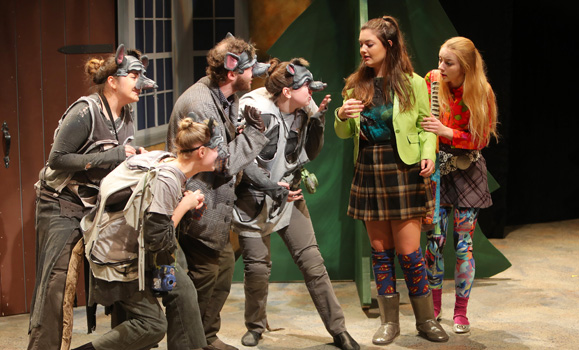 The Rats (Maegan Taverner, Kyla Fleming, Cody Musteffe, Stephanie Mah) invite Alvina and Hannelore (Frances Howlett and Katie Graham) to a photoshoot.
Cody Musteffe, who plays the role of Kingsley, depicts his character as "[a] philosophical rat who longs to be a human being." The play's author, Colleen Murphy, has said Kingsley is her favourite character, since he is just as likely to be found quoting Nietzsche as he is to be found eating fresh garbage.

"It is extremely difficult balancing human emotions and motions with animalistic ones," says Musteffe, discussing the dichotomy of acting as a different species on stage.

With choreography and movement training from Véronique MacKenzie, it is a visual and comedic delight watching the rats move across Danielle Wilson's gorgeously anachronistic set.

Riddled with darkly comical song and dance, The Piper exists in a unique realm somewhere between a full-blown musical and a smartly-written play. Musical Director Chuck Homewood describes the unique style of the show as "A mishmash [that] borrows from …blues, jazz, musical theatre, and Kurt Weill..."

The music is especially exciting aspect of the production, as Homewood and Halstead have been given free rein by the playwright to adapt and edit the score. Homewood believes that "it's because of the nature of the piece that it needs to reinvent itself and be reinterpreted."

Audiences can look forward to a distinctive spin on Don Horsburgh's original score that innovates while honouring the wonderfully eclectic source material.

Thoughtful themes

Distinctive not only in its style, but in its substance, The Piper is a play that delves into many unconventional themes, most strikingly a town's disregard for their children.

Julia MacVicar, who plays the headstrong 16-year-old Pink, feels that "these children don't know their place in this town" and that the parents, "by neglecting their children, [are] neglecting their future, which is quite sad."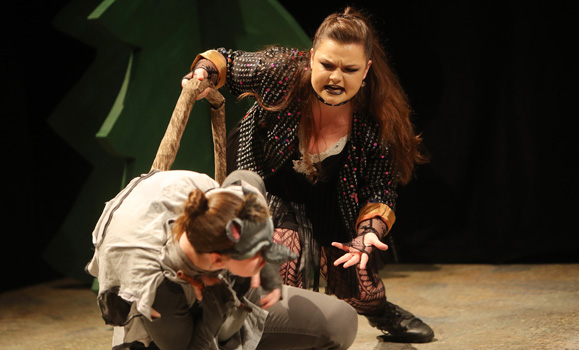 Pink (Julia MacVicar) is determined to retrieve stolen property from one of Hameln's rats (Stephanie Mah).
Rebekah Leon, who plays Pink's corporatist father, Mayor Poppenheimer, feels as though "with this show you peel back the layers… Behind the raunchy jokes and children's arms being ripped off, there's a warning."

"The more important story isn't about the adults, it's about the kids," says Dimitri Mansour, who plays Ludwig Theobald, the Deputy Mayor of Hameln. "It's about that fact that we are greedy, we are terrible, and we are willing to destroy the rats and neglect our children to 'make ourselves better.'"

The Piper is a play about the loss of children, both physically and emotionally, where the apathetic adults believe that "everything ever lost is found again in Hameln." Through the appealing songs and appalling characters, the play offers a sobering look at what is at stake when we hide ourselves behind the masks of corporation, politics, and self-pleasure. Colleen Murphy has managed to create a theatrical vision that flirts between deeply disturbing and sidesplittingly silly in such a manner that can only be described as "transformative."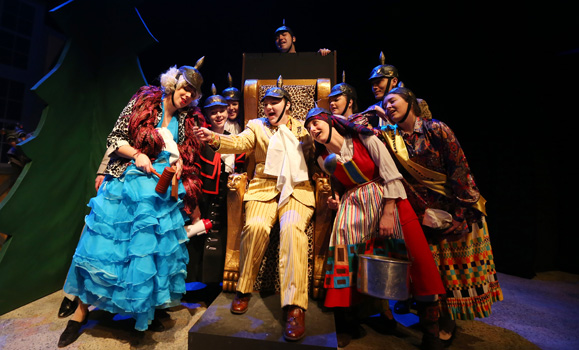 The Town Council fawns over a particularly entertaining Polaroid.
(Stephanie Mah, Jasmine Shenandoah Ashfield, Katie Graham, Emily Pratt, Rebekah Leon, Logan Robins, Kaylin Dean, Frances Howlett, Zilong Chen, Kyla Flemming)
The Piper runs from February 6 to 10 in the Dalhousie Arts Centre's David Mack. Murray Studio, with performances nightly at 7:30 p.m. and a 2 p.m. matinee on Saturday. For tickets, visit the Dalhousie Arts Centre Box Office.