Wetlands are one of Mother Nature's best kept secrets. With the help of Dalhousie Faculty of Agriculture engineering students and Alton Gas, an environmental group called IKANAWTIKET is trying to shed some light on wetlands with a new portable wetlands lab.

IKANAWTIKET Environmental Incorporated is a Canadian registered environmental charity and is an initiative of the Maritime Aboriginal Peoples Council, which is a collaboration of the Native Council of Nova Scotia, the New Brunswick Aboriginal Peoples Council and the Native Council of Prince Edward Island. IKANAWTIKET works to promote the preservation of the natural environment by educating and informing the public about environmental issues and biodiversity in the Maritimes as well as the aboriginal culture, world views and knowledge in relation to the environment.

"We're involved with a number of initiatives through youth outreach, educational program and projects involving species at risk," says Jessica Seward, project lead at IKANAWTIKET.

An ongoing focus at IKANAWTIKET is educating youth and the general public about wetlands. So it comes as no surprise that every February 2, IKANAWTIKET joins in the global celebration of World Wetlands Day. The date marks the day that the Convention on Wetlands was adopted in the Iranian city of Ramsar on the shores of the Caspian Sea in 1971.

To celebrate, IKANAWTIKET attends World Wetlands Day events hosted by the Nova Scotia Department of Natural Resources and Ducks Unlimited at the Shubenacadie Wildlife Park. The celebration helps to raise awareness on the importance of wetlands to the ecosystem and human well-being.

A portable education tool

This year, the team at IKANAWTIKET will introduce a new portable wetlands lab during the celebration.

"We are always trying to come up with innovative ways to get youth involved and to teach them about wetlands," Jessica explains. "About three years ago, we came up with the idea for an interactive wetlands lab. Last year, we decided to revamp the display to make it more manageable to move."

The current wetlands lab is made from solid wooden beams and thick plywood making it difficult to transport and assemble. Searching for a solution, the environmental group partnered with the Dal Faculty of Agriculture's engineering department to design the lab, while Alton Gas was approached to fund its development.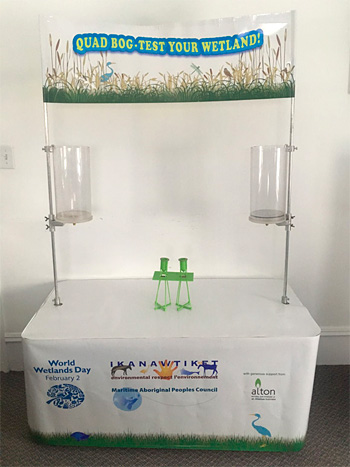 The new and improved lab has four modules and sits on a folding table with adjustable legs, making it easier to move and adjustable for different audiences. Clear cylinders atop the table allow participants to watch their wetland in action while a perforated bottom allows liquid to run out, teaching students about materials wetlands are able to filter out.

Rather than simply show students how a wetland works through demonstration, IKANAWTIKET offers students the opportunity to get their hands dirty creating their own wetland. Youth are given a number of different landscaping materials, such as gravel, sand, peat moss, and different sizes of woodchips. The different materials represent different layers underneath the surface of the soil called soil horizons. The youth pour their landscaping materials into clear cylinders suspended above the table and held with metal rods attached to the lab table. This gives them a better view of their wetland in action.

The students are then given the opportunity to use household products to represent a number of pollutants to the environment- salt to represent road salt, pepper to represent plastics, tires, industrial waste, etc., relish to represent nitrogen/phosphorous from agriculture runoff, dish soap to represent laundry soap, car wash, paint, etc., and more. The students pour the 'pollution' into their wetland and are able to watch, through the clear container, how each pollution was absorbed or filtered by the soil horizon. The bottom of the container is perforated so the filtered water can drain through and into a cup. Kids are encouraged to taste the filtered water to get a sense of what pollution might have made it through the wetland.

"The miniature wetlands that have been correctly built will see water that is relatively tasteless, except for being salty," Joshua McNeely, Executive Director at IKANAWTIKET explains. "The objective of the module is to show how good wetlands are at filtering some things, but not others."

Hands-on learning

IKANAWTIKET has offered this hands-on activity for the past two years and will continue this format with the current lab. The World Wetlands Day celebrations at the Shubenacadie Wildlife Park see Grade 6 and 9 students from a number of local schools. The activity has been so popular that schools and other local groups have expressed interest in having the display travel to them to teach students about wetlands ecosystems. Looking to seize this opportunity, IKANAWTIKET came up with the idea to develop the portable lab.

Dal AC became involved with the project when IKANAWTIKET contacted Chris Nelson, a senior instructor in the Department of Engineering at Dal AC, for assistance on developing the lab. Engineering students are required to complete a year-end design project to complete their studies. The wetland lab project was offered to seven engineering students who worked to design the lab as part of their year-end project. The students developed a prototype– dubbed, the QuadBog.

Pleased with the hard work of the Dal AC students, IKANAWTIKET adopted their initial concept to create the current lab. Although, the final fabricated product is not identical to what the students had developed, it is a direct result of their initial concept, which was completed by Engineering faculty once the students moved on with their studies. Alton Gas has generously funded the fabrication of the four modules.

"We certainly couldn't have developed the lab without the help of Dal AC and Alton Gas," Jessica explains. "It's exactly what we were looking for and will make our goal to extend our outreach and education much more attainable."

Ready to launch

World Wetlands Day on Feb. 2 will be the launch of the new portable wetlands lab. The lab's primary use will be for World Wetlands Day, but ideally the lab will be available for travel within the Maritimes.

"We really want to allow students to reconnect with the environment, rather than just see things on a computer screen," Jessica explains. "We want them to be able to teach their friends and families about how important wetlands are to our ecosystem."