Currently in her second year as a Medical Sciences student and guard on Dalhousie's varsity women's basketball team, Ashley Jackson can now add first-time Academic All-Canadian (AAC) to her growing list of accomplishments. The award is a testament not only to her involvement in the classroom and on the court, but also in the community.

The AACs are administered by USports, the national organization that governs varsity athletics in Canada, and are awarded to student-athletes who maintain an overall grade of at least 80% while playing on a varsity team.

"I'm super excited to be named an Academic All-Canadian," says Ashley. "I think it's a great accomplishment to say that you were able to balance the demands of playing a varsity sport while still achieving high standards in the classroom."

Balancing priorities, making an impact

Like many of Dalhousie's student-athletes, Ashley also balances extracurricular activities with her varsity and academic commitments. She is the vice-president of fundraising for Dal's chapter of Global Brigades, a student society that provides holistic health care to under-served populations around the world. Last April, Ashley travelled with the society (including about 15 other Dal students) to Honduras where, as a member of the Medical Brigade, she helped set up a mobile clinic and worked alongside health professionals to deliver high-quality health services to local communities.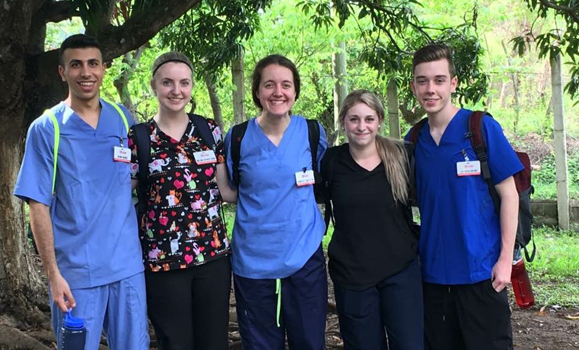 Ashley (centre) with Global Brigades.

"People there don't have access to public health care," she says. "Being able to work in a triage setting with other health professionals can really make a difference."

For the second half of the trip Ashley worked in a Public Health Brigade, building latrines for a community. "Our goal was to help prevent common diseases and ailments," she says. "There are a lot of water-borne diseases and building latrines can prevent water contamination. My experiences in Honduras showed me how fortunate I am to have access to adequate health care and to have the opportunity to attend such an incredible post-secondary institution like Dalhousie."

A global perspective

The trip was part of a continuous process that sees new Brigades constantly arriving from all over the world. "The end goal is for the communities to be self-sustainable," says Ashley. "Brigades go back every couple months. It's not just a one and done type of thing."

She plans to go back to Honduras again this April with over 30 other Dal students. The first half of the trip will be a Medical Brigade — shadowing doctors in a mobile clinic — and the second part will either be a Public Health or Water Brigade that will involve building infrastructure such as latrines and eco-stoves that help prevent common ailments.

Last year, apart from fundraising for Global Brigades, Ashley also organized a book drive through the African Library Project. She collected over 3,000 books by setting up boxes around campus — enough books to fill four libraries.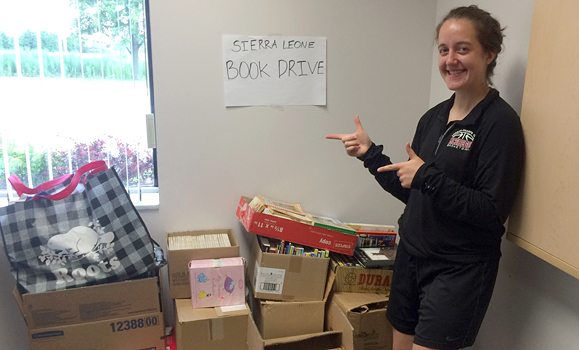 "I have to manage my time pretty well in order to balance my academics, my extracurriculars, and being a varsity athlete," she says. "Often that means that I don't get as much free time to hang out with my friends or do things like that, but I really enjoy all of the things that I'm involved in and that makes it all worthwhile.

Staying involved

Being involved in so many different aspects of student life isn't new to Ashley. While in high school in Chatham, Ont. she was the prime minister of the student council for two years, sat on the student athletic association executive committee, and was on the basketball, soccer, track and field, and cross-country teams.

"I helped coach our junior girls basketball team, was involved in my school's Me to We Club, and was the chair of my town's United Way Youth Committee," she adds. "It's always been very important to me to be involved and give back to the community."

That passion for keeping busy hasn't gone unnoticed: this year she was nominated by her basketball teammates to speak at the Women in Leadership Dinner about her community involvement. And the passion is influencing the path she hopes to follow through her undergrad years and into graduate studies. She wants to improve the lives of others and hopes to eventually go to medical school.

"For a long time, I didn't really know what I wanted to do," she says. "I knew I want to help people — that's my biggest thing. I'm such a try-hard. But right now I just have to focus on school."