An exhibit on now at the Dalhousie Art Gallery could be just the sustenance needed to carry people though these dark winter days.

The 64th annual Student, Staff, Faculty and Alumni exhibition, which opened last Thursday evening (January 11), features the work of dozens of individuals from the extended Dal and University of King's College communities.

"One thing I know for sure is [that] your creativity nourishes your work, it nourishes your community, and it nourishes this university," said Catherine Bagnell Styles, assistant vice-president of communications and marketing at Dal, in remarks at the opening.

Bagnell Styles shared her appreciation for the many creative minds represented at the exhibition, acknowledging the many hats each person wears in the Dal community and how the arts, through Dal's 200 years, have been an important part of the university and its history.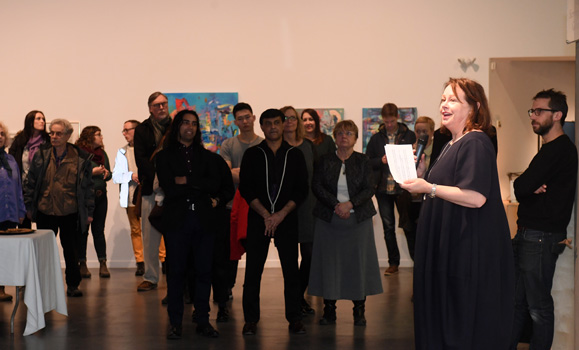 Walking around the gallery, there is a diversity of backgrounds represented and reflected in the unique works created from a variety of textures and media, all curated by gallery director Peter Dykhuis.

One of Bagnell Styles's own pieces — the smallest painting in the show, by size — was playfully arranged on a wall adjacent to the largest artwork on display.

Textures and layers

Making use of eggshells as her canvas, Maria Dlutek (staff, IT services) painted a Spring Mosaic with vibrant watercolours, whereas Costume Studies faculty member Nancy Price presented a cotton "cemetery dress" titled Absent from the Body.

Price drew her inspiration from the text and markings engraved into a gravestone she had stumbled upon and created her art piece as a way to commemorate her late muse. The process of how the hauntingly captivating cemetery dress came to be is complex, involving the initial dyeing of fabric into a rich dark hue, followed by the drafting and sewing of the dress pattern.

"[After that] I printed [the rubbings of the headstone markings] with a silk screen material that removes and deconstructs the cellulose [in the fabric]," Price says. "I wanted the imagery to be processes of removal as opposed to additive because I wanted to think about the idea of absence."

Embracing failure in creativity

Across the room, faculty member Carole Glasser Langille (Creative Writing, English department) beams as she speaks about art in all its forms and what it means to her.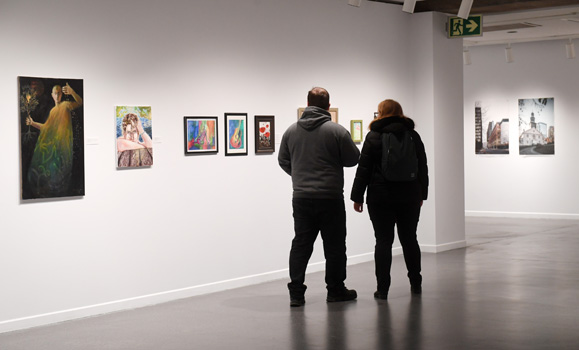 "[Art is] a way of connecting with happiness," she says, adding that failure is sometimes a part of the creative process. "There are so many things I try that don't work. It's just a matter of letting the joy come through and not worrying so much about the final product."

And indeed, joy radiates from Langille's two wooden sculptures, attracting the gazes and smiles of wandering art admirers. Using one piece of driftwood (and some twigs) gathered from Black Point, NS, Langille delicately crafted and painted Skate-board Guy and Man Walking Dog.

The 64th Student, Staff, Faculty and Alumni Exhibition runs until January 28 at the gallery, located in the basement of the Dalhousie Arts Centre (6101 University Ave). Hours of operation are Tuesdays to Fridays from 11am to 5pm, and noon to 5pm on weekends. Admission is free.

For more information, please visit artgallery.dal.ca