Seonaid MacDonell has always been an ambassador for agriculture. She grew up on a hobby farm in Enfield, with a milk cow, Clydesdale horses, chickens and blueberries.
"It was pretty cool," she says of the experience. "It definitely took up your summers."
Those summers, along with her membership in 4-H, a youth organization that builds leadership skills through agriculture, sparked a lifelong passion.
After an animal science undergraduate degree at Dal's Faculty of Agriculture (then Nova Scotia Agricultural College), she took some time to travel, volunteering with WWOOF (Willing Workers on Organic Farms) in Ireland and working as a farmhand in Australia. She knew she wanted to work in the agricultural world on something with an environmental component.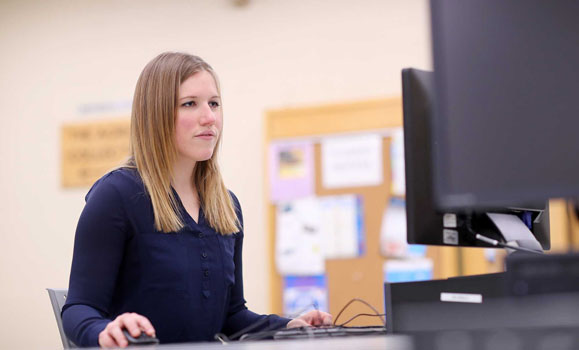 Dal's MREM (Master of Environmental Management) program is helping her narrow her focus. "The program is very flexible," she says. "You can direct yourself to what you're interested in." She's studying with students from a variety of backgrounds, and finding that it's easy for everyone to tailor the coursework to their goals.
"The professors are really there to help you succeed. For my biophysical dimensions course, I was able to focus one of my assignments on farm management planning."
New perspectives

This past summer Seonaid worked for Nova Scotia's Agricultural Awareness program, which educates the public about the role of agriculture in the province. Armed with an incubator and fertilized eggs, she and her colleagues visited school classrooms from grades 2-6, so that students could learn about the poultry industry. "It gives them some hands-on experience," she says. "Most of the classrooms had eggs that hatched."
She also helped coordinate an amazing race-style series of mini-workshops for grade 8 students, designed to get them thinking about careers in agriculture, and was on the road with a trailer full of resources for an Agricultural Awareness booth all summer.
"It's given me another perspective," she says about the job. "I've done a lot of travelling, volunteering and working in restaurants. My internship gave me a taste of a more professional environment and the government perspective, and is helping me be more well-rounded, which can only be an asset."
Looking ahead

Seonaid is still involved in 4-H, now as a volunteer leader for the biodiversity project of the Shu-Mil club. In July she travelled with Dean of Management Sylvain Charlebois and Dean of Agriculture David Gray to the Global 4-H Summit in Ottawa to help deliver a session called "Choosing Your Own Ag-venture."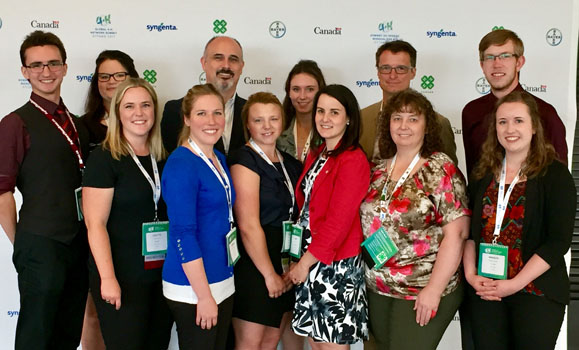 "It was a really great experience. Everyone was very engaged, we had a hot topic — A&W's choice to use meat without any added hormones — and we got great questions and very passionate opinions."
Seonaid isn't sure exactly what she'll do after she graduates in the spring. "I would like to do something in land use planning;" she muses, "agriculture is very tied in to environmental stewardship."
She's got lots of options, but keeps coming back to education, clearly her passion. Whether it's an official part of her job or not, she'll inspire those around her to appreciate agriculture and understand its importance.