The new calendar year at university rolls out slowly: staff return to work on January 2, residences open on the following Sunday and classes begin on Monday, January 8.
But a celebration as big as Dal's 200th anniversary isn't about to wait that long — especially when the whole community is invited.  
That's why Dal's anniversary year will start on January 1, 2018 with free community skates in both Halifax and Truro. Students, faculty, staff, alumni, families and community members are all invited to lace up their blades and hit the ice from 1-3 p.m. on the Emera Oval (Halifax Commons) and the Caldwell Roach/Kings Mutual Insurance Ice Surface (Truro Civic Centre), respectively.
Dal Tigers athletes connecting with community

The Halifax skate on the Emera Oval is hosted by the Dalhousie Tigers men's and women's hockey teams.
"We pride ourselves on having a positive connection with the community," says Tim Maloney, executive director of Dalhousie's Department of Athletics and Recreation.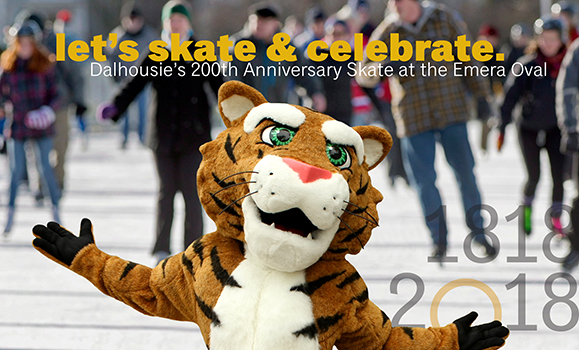 "Our student-athletes spent over 4,800 hours working with charities and local community groups last season. We believe in having an impact both on and off campus, thus we are pleased to be able to bring members of our surrounding community together for what is sure to be a fun event."
In addition to enjoying the afternoon on the ice, skaters will be treated to free hot chocolate, popcorn and cupcakes and the opportunity to skate with current members of the Tigers men's and women's hockey teams — and the Tiger himself. There will also be lots of Dalhousie swag, and other non-skating activities like face painting, balloon animals and hockey nets for anyone looking for target practice.
Join the celebration in Truro

Although the Faculty of Agriculture is a relatively new member of the Dalhousie community, it brings decades of world-class education and research to the university — and has been a vital part of its community for more than 100 years.
That's why it's also getting in the action on ice, hosting its New Year's Day skate on the Caldwell Roach/Kings Mutual Insurance Ice Surface right in front of Truro Civic Centre.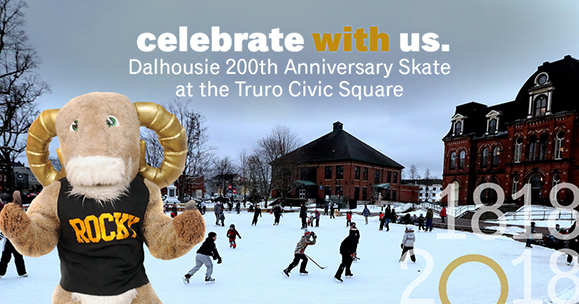 "The NSAC and now the Faculty of Agriculture has been a long-standing member of the Truro/Bible Hill community and this is a perfect opportunity for us to say thank you to the community that continually supports us and to officially launch Dalhousie's 200th year here with our local community," said Dean David Gray. "We cannot do what we do successfully without this support of our students, our programs and our research." he added.
Rocky will also be joining the activities on New Year's Day from 1-3 p.m. and there will be music, hot chocolate, cake and prizes.
Join Dalhousie for family fun on January 1, and look for more Dal 200 events and activities on dal200.ca
Dal 200 New Year's Day community skates

Halifax
January 1, 1-3 p.m.
Emera Oval (Halifax Commons)
Free hot chocolate, popcorn, cupcakes, face-painting and more.

Truro
January 1, 1-3 p.m.
Caldwell Roach/Kings Mutual Insurance Ice Surface (Truro Civic Centre)
Music, hot chocolate, cake, prizes and more.
In the case of inclement weather, the alternate date for both skates is Sunday, January 7.