Pursuing two master's degrees at once would be a daunting task for most, but it was the clear choice for Becky Shaw.

Concurrently completing a Master of Library & Information Studies (MLIS) and a Master of Arts (MA) in Musicology has allowed Becky to combine her two passions: information management and music. These interests were developed through teen jobs in a public library and municipal archives, and piano and guitar training from age six.

"My family is very musical," says Becky. "My father taught us guitar, my sister is now a classical guitarist, luthier and teacher, and I specialized in guitar during my Bachelor of Music studies. Information management and music were always career possibilities, but my original intent was to complete one degree at a time."

Finding the connections

Then in May 2016, when presenting at the Music Encoding Conference in Montreal, Becky fully realized for the first time how interconnected musicology and information management could be.
She also met Jennifer Bain (associate professor, Fountain School of Performing Arts), who invited Becky to be her research assistant on the Cantus Database while studying at Dalhousie. Cantus is a searchable digital archive of Latin chants found in over 140 manuscripts and early printed books. The archive holds primarily inventories of "antiphoners" (which incorporate responsive choral singing split into two parts) and "breviaries" (books of prayers, hymns, psalms and readings) from medieval Europe.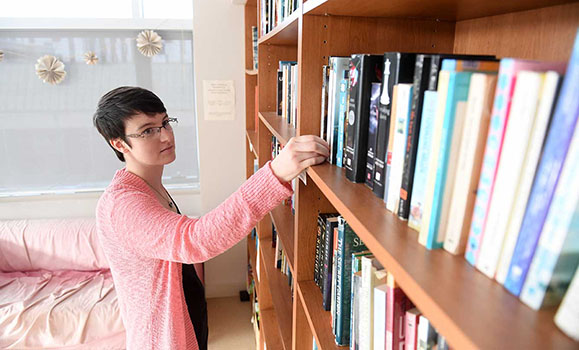 Becky's work consists primarily of standardizing a naming system for the "differentiae" in Cantus, which were previously unique to a single, or small group of manuscripts. Dr. Bain worked with Becky to devise a schedule that would allow her work on Cantus to feed into an MA thesis, to be completed at the same time as her MLIS.

The three-year schedule, with the degrees overlapped in year two, has allowed Becky to study "differentiae" in a scope that has not been done before because of the lack of a standardized indexing system. Becky considers her work on Cantus to be the highlight of her studies so far, since it crosses the boundary between the two programs.

"The practical application of skills I learned in classes such as INFO 6800: Archives [with Acting Provincial Archivist and Director Patti Bannister] and a reading course in Archiving Music [with Dalhousie Digital Archivist Creighton Barrett] have been most useful to me," Becky says.

She also worked on the descriptions for the music collections in the Dalhousie University Archives, travelled to Rochester, New York, to present her work at a symposium titled "Machine-Reading and Crowdsourcing Medieval Music Manuscripts," and completed her MLIS practicum in the music department of the National Library of Portugal.

Making time for it all

Completing two graduate degrees at once isn't for everyone. Becky says it's all about advanced planning and time management.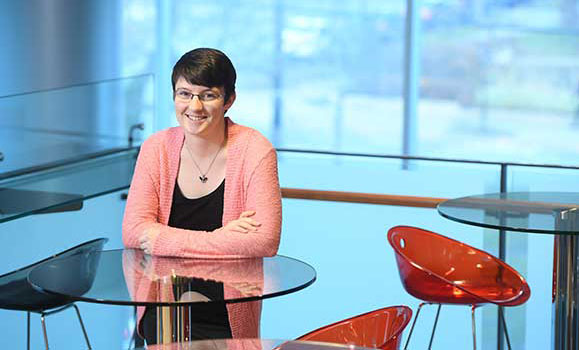 "Working on two master's degrees sometimes means you are pulled in many directions at the same time, so figure out how and when you will meet the requirements for each program from the outset. You should also be sure that you are passionate about both fields. Most would not do this just for the sake of it!"

Becky's story illustrates the breadth of possibilities graduate study at Dalhousie offers, even if you have multiple interests and career goals. She is now considering doctoral work to continue her research in musicology and digital humanities, with the eventual goal of working as a music subject librarian in an academic library or as a postdoctoral fellow.

"I would definitely advise anyone to keep an open mind about potential career paths and opportunities. Utilize internships and practicums and have conversations with people already in the field to assess the best path for you. You may not have a clear idea of the type of career you want to pursue, but if you take advantage of the opportunities to explore different options, it will come to you."