As the end of the semester approaches, students are focused on exams, final projects, and holiday plans. During such a busy time of year, many forget to take the time to care for themselves.
Self care is something Lisa Goldberg, associate professor in Dalhousie's School of Nursing, aims to encourage through her teaching.
"Students have busy, challenging lives," says Dr. Goldberg, who joined Dal in 2004. "I want to take that into account in the classroom."
Dr. Goldberg sees the classroom as an opportunity to leverage her privilege as an educator in a way that can alleviate some of that burden on students and create a sense of belonging.
Her efforts to create a positive learning space have not gone unnoticed by her students and colleagues. She was recently recognized with the Award for Excellence in Education for Diversity, one of Dalhousie's university-wide teaching awards.
Building compassion

In particular, Dr. Goldberg is being celebrated for her work enhancing Dal's Nursing curriculum by applying the "Caring Science" approach to teaching and mentorship that values authenticity, kindness, and equality to create a teaching environment rooted in care for the self and others.
These changes provide more opportunities for students to have exposure to important considerations in the health-care system, like the needs of LGBTQ+ individuals.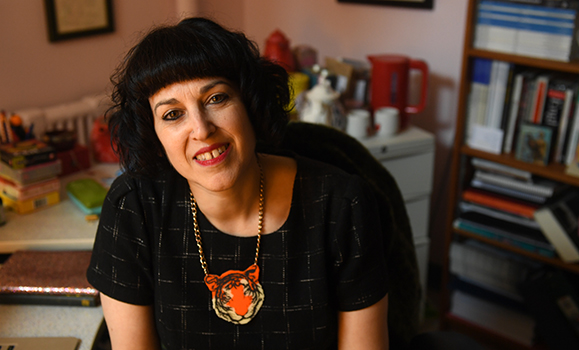 Dr. Goldberg, who identifies as a member of LGBTQ+ communities, has worked to make a difference in these struggles both through her research and by encouraging political thought among students. She says that nurses, who are crucial to health care in all stages, have the ability to impact health care as a whole, on both a personal and political level by promoting health, well being, and human rights.
"I want to infuse the idea that students can be nurses with a compassionate practice that can also be politicized," she says.
From philosophy to nursing

Dr. Goldberg's unconventional approach to nursing derives, in part, from the unconventional path she took to get to where she is today.
Before finding her passion in nursing, she attended a performing arts high school in the United States where she studied modern dance. She eventually returned home to Nova Scotia, completing a Baccalaureate of Arts in Philosophy at Cape Breton University and Masters degree in Philosophy at Dalhousie before obtaining a Diploma in Nursing from the Aberdeen School of Nursing.
She then worked in 12 different hospitals across the United States and Canada before delving into research, completing her PhD in Nursing at the University of Alberta.
"It took some time for me to figure out where I was going to fit," says Dr. Goldberg, reflecting on the relationship between nursing and philosophy. "I drew on my philosophy background, but that has been a challenge pedagogically. I realized I was teaching first as a philosopher and second as a nurse."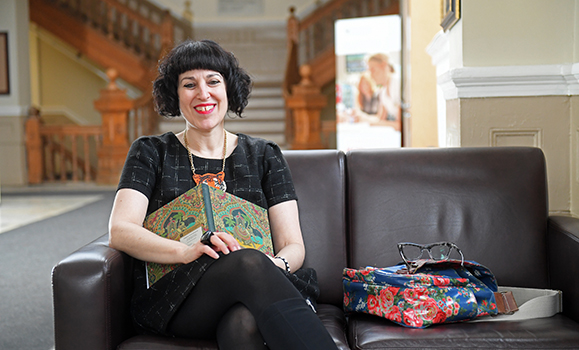 Limitless potential

Dr. Goldberg says she aims to be available to students and transparent in her approach to teaching.
"I try to think about the classroom as a place for collaboration," she says. "I'm not successful every day, sometimes I catch myself, and when that happens, I apologize to students. I'm inspired when students bring that to my attention, because it shows that they will have the confidence to do the same in their careers."
By integrating her passions with her teaching, Goldberg has been able to promote diversity in all levels of nursing.
"Nursing is a remarkable profession. The potential nursing has is limitless. I hope students learn to embody that."