Oluronke Taiwo, Dalhousie's Black Student Advisor and board member of the Imhotep's Legacy Academy, was recently named one of the Top 25 Immigrants in the Maritimes by myHalifaxExperience magazine, honouring "the trailblazers and leaders who have made a difference in their communities."
Taiwo has been the advisor at the Black Student Advising Centre since 2008, where she supports students with their academic, professional, and personal goals.
She grew up in a tight-knit family in Nigeria and credits her father for instilling the value of education and hard work. As the second oldest of seven children, she had to grow up quickly after losing her mother at age 12.  
"I learned very early that, no matter your obstacles in life, with hard work you can become whatever you want to be," she says.
Finding her path


Taiwo has embodied that sentiment in her professional life back in Nigeria as well as in Halifax, through multiple career paths that have led to her current position at Dalhousie. During her time as a laboratory technologist in Nigeria, Taiwo completed both her BSc in Biology for Education and a master's degree in Medical Biology at the University of Lagos. She then became a full-time professor at the College of Medicine University in Lagos teaching Pharmaceutical Microbiology to pharmacy students.
After spending a brief time in Canada in 1995, Taiwo came to Dalhousie as a research scholar on a United Nations Scholarship in 1998 where she conducted research on "Antibacterial Activities of Aqueous Extracts from Nigerian Chewing Sticks." Her published work can be found in the Phototherapy Journal.
Even while holding her degrees from Nigeria, Taiwo had to go back to school in Nova Scotia while working full-time and raising a family. "It was financially difficult because there was a time when my husband and three children and I were all in the university," she says.
She became interested in the realm of social work after working as a House Manager in a small option home, which provides support to 3-4 people with disabilities. So she pursued a diploma in Counselling Skills in 2000, before earning both a Bachelor's and Master's of Social Work at Dalhousie.
Support for students


Taiwo says her diverse background enables her to support Dalhousie and King's students through her work at the Black Student Advising Centre. "I am able to use my life experience both as an alumnus at Dalhousie and former professor in Nigeria to encourage students on how to navigate the university and be successful even when they face several odds in life," she says.
Taiwo hopes her recognition in the magazine will inspire others to continue supporting one another and their communities.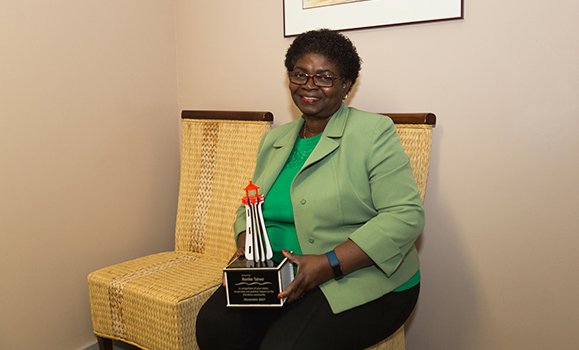 "As the adage goes in my home country, 'whatever you are going to do, ensure you do it well because you never know whose life you will affect.' "