Christmas has come early on the Dalhousie Agricultural Campus as the National Christmas Tree Research Centre (CRC) celebrates the first successful development and licensing of SMART Balsam Fir technologies.
The centre, funded in large part through the Atlantic Canada Opportunities Agency's Atlantic Innovation Fund, has licensed three commercial products and technologies to help sustain Atlantic Canada's Christmas tree and greenery industry.
"The commercialization of this new Christmas Tree research is proof that innovation truly is happening in every industry," said the Honourable Navdeep Bains (below), Minister of Innovation, Science and Economic Development and Minister responsible for the Atlantic Canada Opportunities Agency, who was on campus for the announcement Thursday.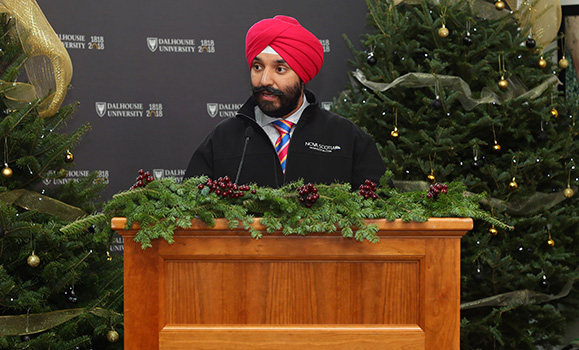 "These new products and technologies mean new opportunities to export SMART Christmas trees earlier in the season and to a wider range of international markets. That translates to more well-paying, middle class jobs in Atlantic Canada."
"The research happening at the Dalhousie Agricultural Campus supports the Canadian Christmas tree industry, which is particularly important to Nova Scotia and New Brunswick, two of our country's leading tree exporters," said Bill Casey, Member of Parliament for Cumberland-Colchester. "By preventing needle loss, more people can experience the special magic of real Christmas trees."
Making trees SMART-er

A true industry partnership, Raj Lada (Faculty of Agriculture professor and the CRC's director) and his team have developed products and technologies to enhance needle retention as well as produce what they call a "SMART Balsam," which epitomizes an ideal tree: full, sturdy architecture; unique fragrance; blue-green needles; and the ability to retain its needles for up to three months, if properly handled.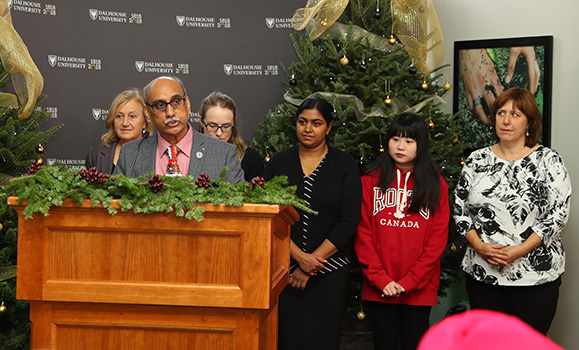 Raj Lada and members of the CRC team.

The primary technology developed in Dr. Lada's lab is being licensed to members of the Nova Scotia Christmas Tree Coop. Dr. Lada's research program developed embryos that are being used to grow SMART Christmas trees that lose fewer needles after harvest. This will benefit the industry by increasing the marketability of real Christmas trees, as needle loss is a major contributing factor to consumers choosing artificial trees over natural.  
Two additional pending technologies include a delaying agent or spray and a protocol for post-harvest storage and transport.
"The Christmas Tree Research Centre has worked hand-in-hand with the SMART Christmas Tree Research Cooperative Ltd., the body that represents the Atlantic Canadian Christmas Tree and Greenery Industry, to develop products and technologies that will enhance our industry, giving us the ability to manage the quality and freshness of our Christmas trees and greenery," said James DeLong, President of the SMART Christmas Tree Research Cooperative Limited.
"This opportunity has already begun to enhance the economic growth of the balsam fir industry with market growth. I believe the true potential of the Cooperatives' success and all that has been achieved, will only be truly realized by generations to come."
Researchers at the CRC study needle retention as their main focus to understand and intercept the hormone that triggers needle drop. Since its inception in 2011 the Centre has generated a wealth of new and improved knowledge and technologies for industry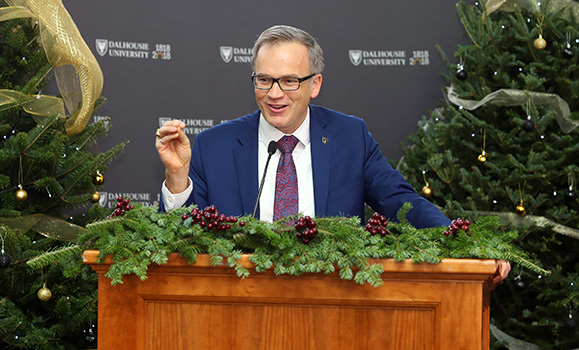 "Dalhousie University strongly supports collaboration between researchers, industry and government," said Richard Florizone, president of Dalhousie University (above). "The SMART Christmas Trees and Technologies Initiative Project and the Christmas Tree Research Centre is a great example of a successful partnership making a difference to an important industry in the Atlantic region."
The power of collaboration

Research is being conducted at Dalhousie Agricultural campus in partnership with the Christmas Tree Council of Nova Scotia, SMART Christmas Tree Research Cooperative, Christmas tree producers; NS Departments of Agriculture and Natural Resources, NB Department of Agriculture and Aquaculture; NL Department of Forestry and Agriculture; and University of New Brunswick, under the leadership and direction of Dr. Lada.
"The Smart Christmas trees and Technologies Initiative is a clear demonstration of true industry- university partnership and how small investments can transform industries through research, innovation and commercialization, said Dr. Raj Lada, Director of the Christmas tree Research Centre.  "The Christmas tree Research Centre, the only one in Canada, has responded to Atlantic Canada's Christmas tree industry needs and through the hard work of several of my students and researchers, provided new knowledge, innovative products and technologies which will transform the Christmas tree industry and propel it into the future."
The centre has provided a great wealth of new and improved knowledge and technologies for the industry, including 13 disclosures to the university; three commercial products and technologies; over 20 published, peer-reviewed original scientific articles; over 40 conference abstracts, posters and presentations; and the training of trained undergraduate students, graduate students, PhD students, post-doctoral fellows, research assistants and research associates — a total of more than 50 totaling person years of building human capacity for the region.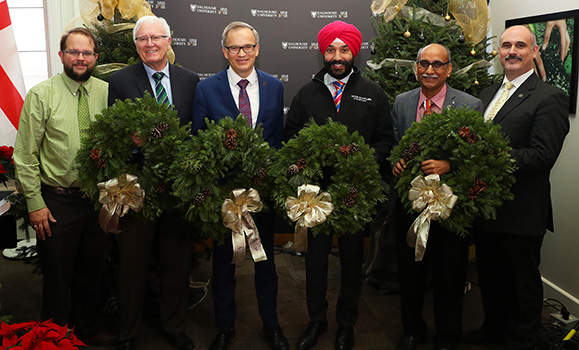 Left to right: Angus Bonneyman (executive director, Christmas tree Council of Nova Scotia), Bill Casey (Member of Parliament for Cumberland-Colchester), Richard Florizone (president, Dalhousie University), the Honourable Navdeep Bains (Minister of Innovation, Science and Economic Development, and Minister responsible for the Atlantic Canada Opportunities Agency); Raj Lada (director, Christmas Tree Reserach Centre); David Gray (Dean, Faculty of Agriculture)