Dal students interested in traditional Chinese calligraphy received a first-hand lesson Tuesday from a local master well versed in the art's many distinct styles.

Lei Jiang, a mechanical engineer in Halifax, was brought to campus by Dal Chinese Studies professor Shao-Pin Luo for the immersive event, which featured demos from Dr. Jiang, workshops and a skills competition for students.

Students and other attendees were introduced to four different types of script during the session, including the so-called sitting, walking, running, and flying styles.

"Most of the time people practice one particular style, but what is extraordinary about Dr. Jiang is that he can write in any style," said Dr. Luo, after the demonstration in the McCain Building's Fireside Lounge. "That is very unusual."

Dr. Jiang, who developed an interest in calligraphy from a young age, has studied with masters in China and exhibited his work across Canada. He explained a bit about the evolution of the different styles, noting that the more formal "sitting" script (also known as "seal" script) of 3,000 years ago was eventually superseded by the "walking" style in part because of the prevalence of war in China.

"At that time in China everywhere was at war, so if you used the seal style to write a document it's too slow, so people tried to speed it up," he said.

A hush descended each time Dr. Jiang dipped his brush in the ink and set to work with strokes on the rice paper, but by the time the workshops began the room was buzzing with students asking questions.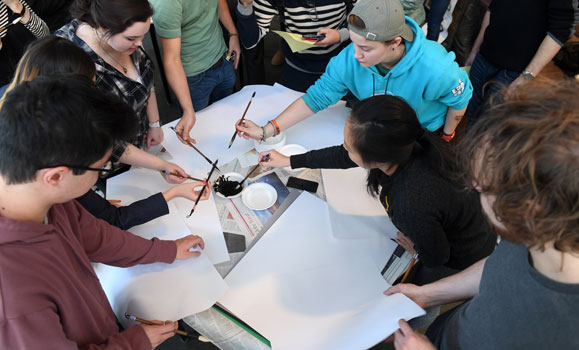 Many students stuck around to try their hand at the different techniques, including Cadence Doherty, a fourth-year double major in English and Spanish enrolled in a Chinese language class this year.

He said he'd always wanted to learn an Asian language and was impressed by Dr. Jiang's skills.

"I only recognized a few of the characters he wrote because they were in older styles," said Doherty, noting he recognized one that meant heart.

Following the workshops, students in the Chinese Studies program competed against each other to show off their brush skills by writing a character that means 'forever.'

Several walked away with prizes, which included a panda key ring, a prize-winning book about China and a poem by Dr. Jiang.