The future of the United States' leadership in global affairs, or lack thereof, loomed large during a public roundtable last Thursday that kicked off this year's Halifax International Security Forum.
Close to 150 people came out for the evening panel session co-hosted by Dalhousie and Saint Mary's University, and which featured a top North Atlantic Treaty Organization (NATO) official, a Nobel Peace Laureate, the editor of a leading foreign affairs magazine among other experts.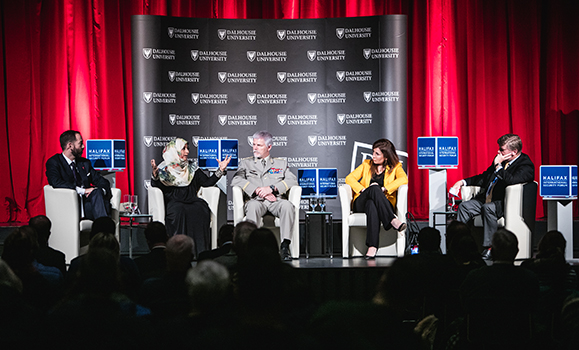 Moderated by award-winning Canadian journalist Tom Clark, now chair of public affairs and communications at consultancy Global Public Affairs, the panel discussion served as a preview of sorts for the larger three-day event — one of the top annual gatherings of its kind in the world.
A shift in U.S. global leadership

Panellists weighed in on a range of different topics throughout the evening from the Western exportation of democracy and the impact of gender on global affairs to how powerhouse countries such as the U.S. fit into the evolving state of the world.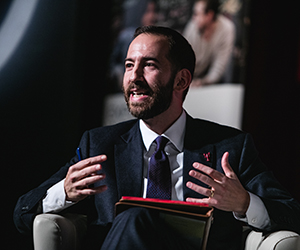 Jonathan Tepperman (left), editor-in-chief of Foreign Policy magazine, said that despite the "rolling Trump apocalypse," the U.S. remains the world's leading power and a capable and dominant player in an enormous web of treaties and alliances around the world.
"I remain sanguine about the future of the U.S. as a world leader," he said, "but it is important to start to think hard about whether global U.S. leadership . . . is on the wane, and I think the answer is yes."
Tepperman and others acknowledged that this has caused a shift in thinking and decision-making processes among U.S. allies and regional powers and there is a greater acknowledgement now of the dangers of blindly backing countries with unilateral tendencies such as Trump's U.S.
Instead, more questions are being asked around morality and human rights ramifications of global policies before action and, increasingly, more countries are seeking new international alliances that do not rely heavily on the U.S. to operate.
The importance of human rights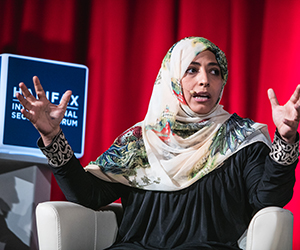 Panellist Tawakkol Karman (right), a 2011 Nobel Peace Laureate and activist for the non-violent struggle for the expression of rights and safety of women in peacebuilding work in Yemen, said it is essential to move away from policies and treaties (economic or otherwise) that are created at the expense of people's freedom and political reforms.
"Peace does not only mean to stop war — it also means to stop injustice, and this is a global affair," she said.
She shared insights from her extensive work and lived experiences in the Middle East and around the world, urging the need for leaders to see that democracy and human rights go hand-in-hand with global security.
"We need new world leaders who are committed to the human rights. Most [current leaders] are talking about security, but they don't talk [actively] about democracy. They talk about fighting terrorism, but not about fighting dictatorship," she said.
"What can we really do to make this world safe and secure if we make democracy and human rights our last priority?"
A broader view of counterterrorism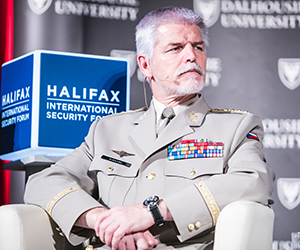 General Petr Pavel (left), chairman of the NATO's Military Committee, also spoke about the importance of institution building to global security. He noted that counterterrorism — one of the alliance's key priorities today — is about much more than physically killing those people committing atrocities.
"Counterterrorism is something much more . . . we are focused on institution building, on building global capacities, supporting development programs and advising. It's not about importing or imposing solutions," he said.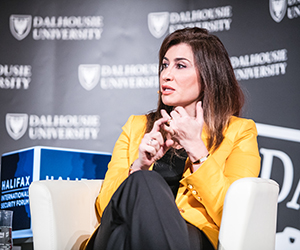 Panellist Bessma Momani (right), a professor of political science at the University of Waterloo, warned that the Western doctrine of the past — the export of democracy into developing countries — tends not to end well.
"A democracy needs to be organic and it needs to be bottom-up," she said. "This is not to say that Canadians and Americans should completely pull their hands away, but it's a matter of helping civil society and not assuming that it's going to be a top-down process."
She said leaders must also look to address other emerging threats, key among them cybersecurity, climate change and "fake news" — the last a trend many see as partly responsible for the leadership predicament the U.S. and the world finds itself in today.