When it comes to understanding challenges and opportunities in areas such as education, immigration and technology, collaborative research is essential.
On Wednesday, November 15, Andy Fillmore, Parliamentary Secretary to the Minister of Democratic Institutions and Member of Parliament for Halifax, was on campus to announce a $5.7 million investment by the Social Sciences and Humanities Research Council of Canada (SSHRC) through scholarships, fellowships, and grants for researchers at four Halifax post-secondary institutions, including Dalhousie.
A total of $4.8 million of the funding went to Dalhousie researchers. This included:
$2.5 million in Partnership Grants, which support formal partnerships between academic researchers, businesses and other partners that will advance knowledge and understanding on critical issues of intellectual, social, economic and cultural significance
$1.4 million in Insight Grants, which build knowledge and understanding about people, societies and the world by supporting research excellence in all subject areas eligible for funding from SSHRC
$914,500 in Talent Awards, which support students and postdoctoral researchers in order to develop the next generation of researchers and leaders across society, both within academia and across the public, private and not-for-profit sectors.
Other universities receiving funding included the NSCAD University, Saint Mary's University and University of Kings College.
"At our exceptional universities in Halifax, social science and humanities researchers are leading breakthroughs in our understanding of the challenges we face in an ever-evolving world," says Andy Fillmore. "Their work provides government with a depth of analysis and evidence upon which to build sound policy. In supporting their research, we are also strengthening our commitment to evidence-based decision-making."
Investing in innovative research
"This investment made by the Social Sciences and Humanities Research Council is a testament to Dalhousie's research strength in the social sciences and humanities," said Dal President Richard Florizone (below). "We are incredibly proud of the impact our researchers' work has on our community and our society."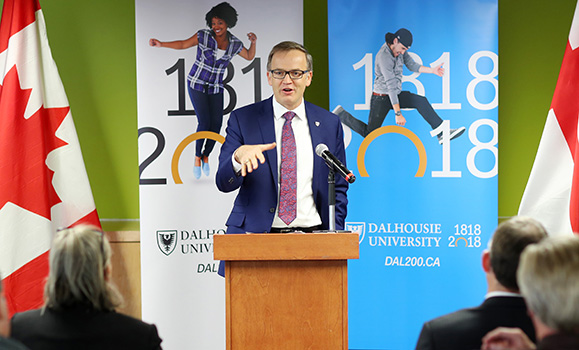 A total of 10 Dal researchers from five different faculties received funding. They include:
Lousie Carbert (Faculty of Arts and Social Sciences)
Sylvain Charlebois (Faculty of Management)
Meinhard Doelle (Schulich School of Law)
Amal Ghazal (Faculty of Arts and Social Sciences; now Director of Simon Fraser University's Centre for the Comparative Study of Muslim Societies and Cultures)
Krista Kesselring (Faculty of Arts and Social Sciences)
Gary Kynoch (Faculty of Arts and Social Sciences)
Yuri Leving (Faculty of Arts and Social Sciences)
Natalie Rosen (Faculty of Science)
Michael Ungar (Faculty of Health)
Yoko Yoshida (Faculty of Arts and Social Sciences)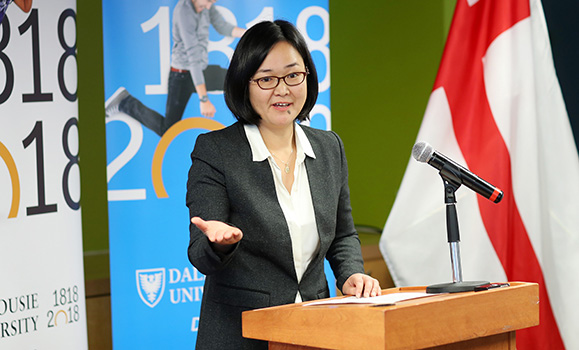 Yoko Yoshida (Sociology and Social Anthropology) speaks at Wednesday's event.
Their projects focus on a wide variety of topics, which range from learning more about long-term trajectories of political careers and making the transition to parenthood, to figuring out how to make Canada a model for effective resettlement for young people.
"These are people who go to work every day, to deepen our understanding of modern social, cultural, technological, environmental, and economic issues and their research raises profound questions about who we are as human beings and what we need in order to thrive in this increasingly complex and challenging world we live in," said Fillmore. "The SSHRC has a compliment of grants and scholarships that are designed to support and accelerate this very important work and by focusing on developing talent and generating insights and forging connections across campuses and across communities."
A number of master's, doctoral and postdoctoral students also received funding.
Wednesday's announcement was part of a larger $265 million investment in 3,300 projects across Canada, which was announced by the Honourable Kirsty Duncan, Minister of Science at Concordia University.
To learn more about SSHRC, visit its website.