On Tuesday night (November 7), nearly 300 donors and friends gathered for Dalhousie's donor recognition event in Halifax, celebrating philanthropy and the incredible impact it has on the university. And year's event included the unveiling of a new giving society that celebrates those whose commitment to giving spans decades.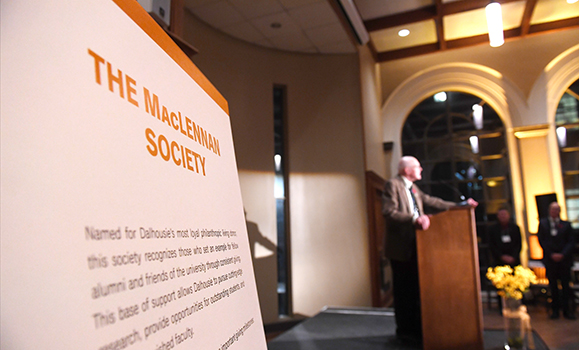 The MacLennan Society recognizes Dalhousie's most loyal donors and is aptly named after Rod MacLennan (BSc'60, LLD'98) – the first alumnus to reach 50 years of consecutive giving. The Truro native and former Scotsburn executive first began giving to Dal as a student and has continued throughout his life.

While MacLennan is the first to reach such a milestone, he was welcomed into the society along with some 6,500 other donors across three milestones: 50 years of giving (out of a 60-year span), 25 years (out of a 30-year span) and 10 years (out of a 15-year span).  As a group, they are consistent donors who continue to give to a cause they believe in.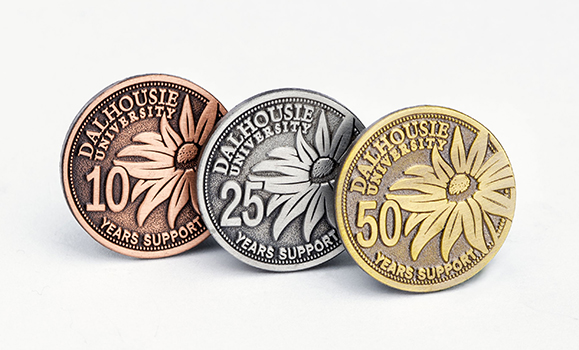 Dalhousie President and Vice-Chancellor Richard Florizone commended Dal donors' loyalty and generosity and highlighted the many ways in which they make a difference.

"Your partnership allows us to continue our history of inclusivity in higher education — from our humble beginnings as Canada's first non-denominational university to today's efforts to build learning environments in which everyone belongs," he said. "It is fueling innovation in science, technology, engineering, and business.  It is bringing opportunities and entrepreneurship to our region.

"We do this because we believe in our communities, and we are only able to do so because our communities — you — believe in us."

Honouring a half-century of support

As for the namesake of the society, his commitment is evident by his loyal and diverse giving.

Rod MacLennan's first gift to Dalhousie happened after his freshman year, when his strong marks had earned him a modest scholarship. His late father, Charles, a Dal graduate himself, encouraged him to donate the money back to someone else who can benefit.

Thus began MacLennan's legacy of giving back to his alma mater. Over the years, MacLennan has established scholarships and bursaries in Nursing, Theatre, Music and Science – each named after a family member or respected professor who had come to Dalhousie before him.  A Truro native, he has long supported the former Agricultural College (now Dal's Faculty of Agriculture).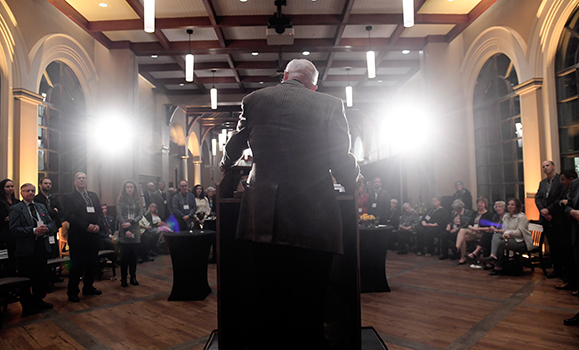 He continues to support the Dal Tigers, in particular the men's volleyball team — a tribute to his own volleyball days at Dal. And he has given generously to the Dalhousie Medical Research Foundation, both as philanthropist as well as volunteer, serving on its board from 1997-2016 and currently as a member of its Advisory Board.

A humble man, MacLennan spoke briefly but fondly at the event of his family's deep connection to the university and acknowledged donors, like himself, who are enriching Dalhousie through their generosity.

Student impact and the power of partnership

Tim Disher, (BSc'11, BSc'14), a PhD student in Nursing whose research focuses on neonatal care, was able to speak to the impact of philanthropy first-hand.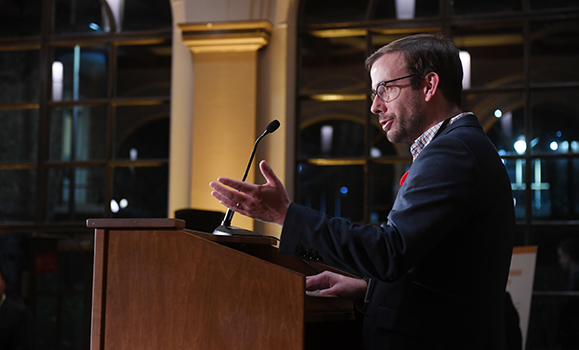 A recipient of the Electa MacLennan Memorial Scholarship, an award funded by Rod MacLennan in memory of his aunt who was the first director of Nursing at Dalhousie, Disher (pictured above) expressed the incredible impact that donor support has had on him and his studies and career: "I would not be who I am had you not all been who you are, so thank you for your support." 
Fittingly, the event was held at Shirreff Hall, itself a nod to philanthropy and its incredible impact on the university. In 1920, nurse Jennie Shirreff Eddy gave $300,000 to establish Dal's first women's residence.

"Mrs. Shirreff Eddy is just one example of donors who have shaped our history over the last 200 years through generosity and partnership," said Dr. Florizone.  Philanthropy has been an important part of our story…and so are all of you."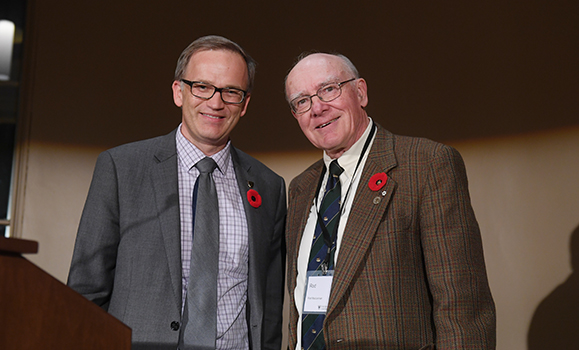 President Florizone with Rod MacLennan.