When Les Miller retired from the Canadian Armed Forces, he wasn't quite ready to put up his feet and relax.
So when he was offered funding to help him transition from the Forces to another career, he seized the opportunity and applied to the Home Inspection certificate program offered though Dal's College of Continuing Education. It was a strategic decision.
"I could have taken the course directly from Carson Dunlop [a Home Inspection company], but I wanted to have the endorsement, the accreditation, of a Dalhousie University certification," he says. "I'd also heard great things about the program — [that] it's easy to get in touch with someone if you have questions."
Making new connections

The Certificate in Home Inspection includes 10 courses that cover electrical, heating and cooling, insulation, plumbing, and structure inspection. There's also a course on communication and professional practice, which Les found useful with his transition to civilian life.
"In the military you learn to give direction, but as a home inspector I have to be able to explain the work that needs to be done in a way the customer will understand it. The course really helped to point out the things you might know but don't always think about — what you need to do to make a good impression."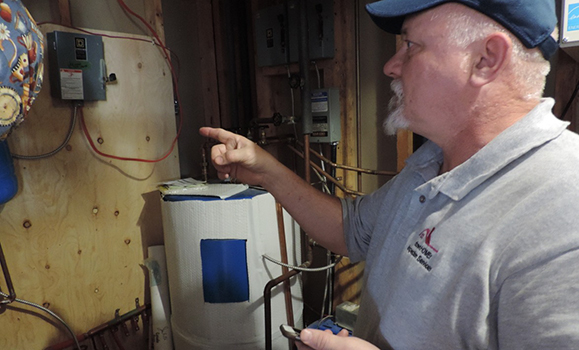 His choice to get into home inspection was a natural fit with his 35 years in the Forces as a supply technician. Though he didn't always do hands-on work — his role became more focused on supervision as he progressed through the ranks to chief warrant officer — he worked with many people in a variety of trades and had gained a working knowledge of construction and inspection. The certificate program helped him with making local connections.
"While all the courses were completed online, there were many assignments that gave me the opportunity to get out and work with the local tradespeople. That was very useful."
Getting down to business

Since completing the program and passing the home inspector's licensing exam, Les has started his own business. DownHOMEr Inspection Service offers services including comprehensive home inspections and reports, as well as Wood Energy Technology Transfer (W.E.T.T.) inspections and radon measurement.
As a business owner and operator, Les has worked with homebuyers from Pictou to Yarmouth to Lunenburg, preventing expensive surprises and providing peace of mind. It's a role he loves.
"I like that I'm able to help somebody decide whether to make what could be a lifelong decision on the most expensive purchase of their lives. They're often first-time home buyers and I give them the information they need to make the best decision for them."
Standing with fellow veterans

While he's proud of what he's accomplished in his new career, Les still has strong ties to the Armed Forces. He feels Veteran's Week and Remembrance Day are important reminders of the people who have laid their lives on the line for their country.
"For me, it's a solemn week — I've lost friends to the war and the after effects of war — but when you go to a celebration on the 11th, you see how many people show up for them and it fills your heart with warmth to know they still care."