If you've been on Studley campus lately, you've likely noticed a new addition to the quad.

A larger-than-life sculptural rendition of the 200th logo has recently been installed. It was put in place just in time for Open House on October 21.

"The prospective students who came to Open House will be joining us in the middle of our 200th anniversary celebrations," explains Hope McCallum, Dalhousie director of marketing. "So, it was a great way to tell them about the anniversary and get them excited to join in the fun."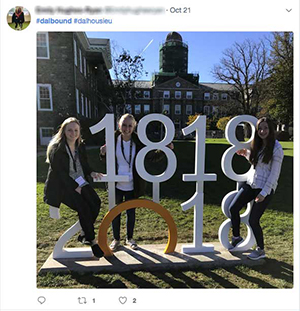 During Open House, anyone who posted photos on social media of themselves with the installation were awarded 200th anniversary t-shirts or water bottles. Many of the photos featured students sitting on or climbing through the numbers.

Inspired by enthusiasm

That's exactly what the designers were hoping for. The idea behind the installation was to create a fun representation of the 200th celebrations for students and the Dal community to interact with. It's a sort of live-action version of the 200th lamp post banners that are hanging throughout Dal's campuses.

The installation, which is five and a half feet tall and eight feet wide, is situated so you can snap a photo with it and have the Henry Hicks building and iconic clock tower in the background. To ensure accessibility for all, it's been placed next to a path.

"It's bound to be a popular spot for photos, especially for the class of 2018," says Danny Abriel, Dal photographer, "I think people will be lined up for photos during convocation."

On a smaller scale

A much smaller version of the 200th logo will soon be spotted on backpacks and lapels across campuses as part of the new collection of 200th anniversary buttons.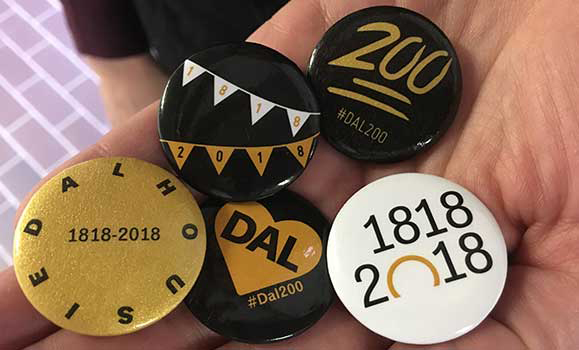 The collection includes five designs in Dalhousie's black and gold colours — one even has a glittery gold background. Each of the button designs is unique, so everyone is sure to find a favourite. Or maybe you'll want to collect them all!

Community effort

The buttons were manufactured by DASC (Dartmouth Adult Services Centre), a non-profit vocational day program for adults with an intellectual disability.

"The buttons were fun to design but I'm especially proud of this project because we were able to work with DASC to have them produced," says Dal designer Brenna MacNeil.

The buttons will be available at events across campus, starting with the Dal 200th Premieres in late November. In addition to the buttons, these sneak peek events will include event details and announcements, a photo booth and 200th anniversary coffee and treats. Look for more details in the near future.

In the meantime, when you're on Studley campus, take a moment to strike a pose with the logo installation and show your Dal pride.