The connections between race, place and the environment have been long overlooked, but a two-day symposium held last week in Halifax highlighted some of the many reasons it's time to have the conversation.
Over the Line brought experts from across Canada and the United States, as well as the local community, together on Thursday and Friday to discuss place-based inequalities and how they prevent marginalized populations from meeting their needs.
For Black studies professor George Lipsitz, who delivered a keynote as part of Friday's daylong symposium, examining issues of race and place requires looking to the roots of racism in the past.
"Racism is the collective, culminate process of history," said Dr. Lipsitz, a professor in the department of Black Studies at the University of California, Santa Barbara. "It is not a past event, but takes place in perpetuity."
He said recent racial killings in America such as Michael Brown's death in Ferguson and the shooting at Emmanuel Church in Charleston, South Carolina are examples of "fast violence", but that these pale in comparison to the "slow violence" of environmental and medical violence that have emerged over time.

George Lipsitz speaks at Over the Line.

Black people on average have lower life spans, more infant mortality, and higher rates of premature adult deaths, he said, noting that people often forget to consider the environmental factors for health problems.
The problem is "looking at genetic codes, but ignoring our postal codes," he said.
"The "forgotten places" to which people of colour have been relegated to, said Dr. Lipsitz, "show a greater crisis for all of humanity."
Inequalities breed vulnerabilities

Dal Nursing professor Dr. Ingrid Waldron, who helped organize the two-day event, also urged that understanding the relationship between race, place and space requires a historical, place-based, site specific, context specific analysis.
"We are products of where we live or play; the resources we do or do not have access to," said Dr. Waldron.
As government and social institutions relegate people to different environments, she said marginalized groups experience a disproportionate amount of state-sanctioned violence, including underemployment, over-policing, and gentrification.
Dr. Waldron said that Indigeneous and Black people face a web of inequalities — income insecurity, poverty, food insecurity— that leave them exposed to environmental health risks and more vulnerable to the effects of climate change.
She said it's time for environmental activists to make space for a deeper engagement with climate justice, rather than engaging in racial procrastination.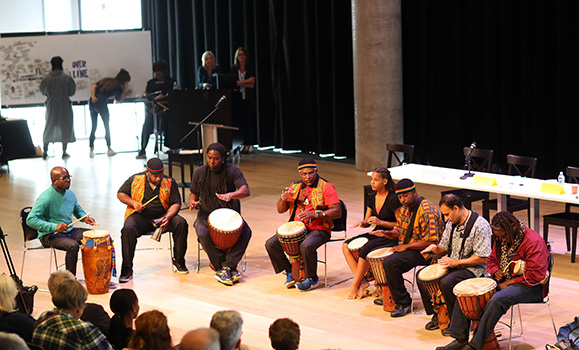 Umoja Cultural Diversity Drummers perform, led by Dr. Henry Bishop.
Panels throughout the day focused on ways to make change through research, policy and community activism.
Dr. Lipsitz presented his own call to action, saying solutions need to come from equity-oriented, collaborative, and community-based research that challenges dominant ideas and seeks to find platforms and publication venues for activists, as well as funding for groups in motion.
He said movements such as Black Lives Matter and Idle No More have mobilized on the front lines of these issues and are a manifestation of a greater awakening that is to come.
"There are difficult days ahead," said Dr. Lipsitz. "There's important work to be done, and it's up to us to do it."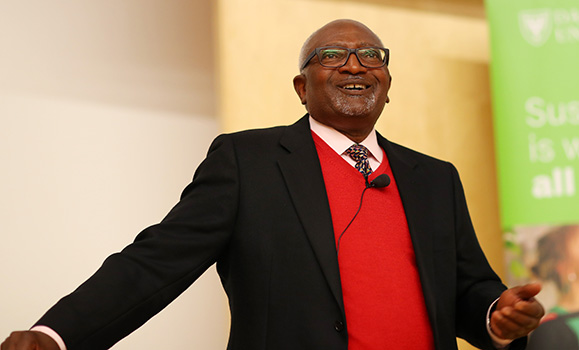 Dr. Robert Bullard, considered the father of the environmental justice movement, speaks at Thursday night's opening lecture.