A long and arduous process has finally concluded with a stellar result: Dalhousie Medical School's undergraduate medical education program (the MD program) has received accreditation for an eight-year term.

"We're very pleased with how the preparation process unfolded, and delighted by the results of the several years of hard work that our senior leaders, faculty, staff and students dedicated to ensuring our undergraduate program meets or exceeds the accreditation standards," says Dr. David Anderson, Dean of Medicine, adding, "It's not a low bar… every aspect of the program has to be excellent to meet the standard."
Canadian medical schools are obligated to undergo an accreditation review every eight years. The process involves:
a thorough self-examination, along with corrective action and evaluation to ensure any deficiencies
preparation of a comprehensive series of documents known as data collection instruments (DCIs) that provide detailed information about 94 distinct elements, across 12 broad standards
a student-led review of the curriculum, learning environment and student support services
an in-depth site visit by representatives of the accrediting bodies

Representatives of the Committee on Accreditation of Canadian Medical Schools (CACMS) and the Liaison Committee on Medical Education (LCME)  — the accrediting bodies for medical schools in North America — conducted their site visit to Dalhousie Medical School's facilities in Halifax and Saint John between February 26 and March 1, 2017.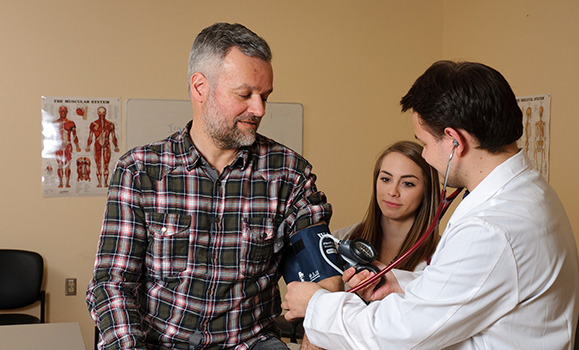 Medical students at work at Dalhousie Medicine New Brunswick.

"It was nerve-wracking preparing every last detail for the site visit, but the actual visit itself was a very positive experience," says Dr. Darrell White, senior associate dean. "The accreditors were particularly impressed by the level of engagement of leaders, faculty, students and staff across the Faculty of Medicine, the effectiveness of our distributed education model, and the degree of support provided by IT and human resources."
Highest rating across most elements

In the report it provided to the medical school in October, 2017, CACMS/LCME rated 85 of the 94 elements within the 12 standards as "satisfactory" — the highest rating. Of the remaining nine elements, the accreditors rated eight as "satisfactory with monitoring." The sole remaining element — to do with students' awareness of mistreatment policies and mechanisms for reporting incidents of mistreatment and reports of mistreatment — was rated as unsatisfactory.

"Because we had conducted a diligent self-study process to identify our strengths and weaknesses, these results weren't a surprise," remarks Dr. Anderson. "We had already identified the problem and begun work to improve students' awareness of those policies and procedures. We have also emphasized to students the importance of reporting any episodes of mistreatment, so that the medical school can take corrective action."

As Dr. Anderson notes, the accreditation process typically sheds light on at least a few areas that need to be fine-tuned.
"In essence, the accreditation process is an exercise in continuous quality improvement. It is an increasingly collegial effort to help all medical schools in Canada attain and maintain the highest possible standards across all of their education programs, from the MD level through residency training to continuing professional development."

Dalhousie Medical School's continuing professional development program was recently accredited by Committee on Accreditation of Continuing Medical Education, achieving the required standards of excellence across the board. And, on the tails of this most recent successful accreditation result for the undergraduate program, is ramping up efforts to prepare for the accreditation of its 57 postgraduate medical education (residency programs).

Medicine grads Cinera States and Stefan Allen.
"Accreditation impacts a medical school at all levels—it's the most important certification a medical school must maintain in order to continue to graduate top-notch physicians, offer residency programs, improve health care, and conduct relevant research," says Dr. White.
"We're very proud of the efforts and results of the two accreditation processes we've recently completed, and look forward to continued success with the postgraduate accreditation process."