Dalhousie Medical School has announced its leading research teams and strategic research priorities, following a months-long application and review process known as "The Wave."

"We put out a call for two levels, or waves, of applications from our research community," explains Dr. David Anderson, Dean of Medicine. "For Wave 1, we asked teams that see themselves as internationally competitive to come forward with proposals. For Wave 2, we were looking for proposals from teams with the potential to be internationally competitive within three to five years."

The goal of the process was to reveal the medical school's strongest research teams, uncover their aspirations, and identify what they need to take their work to the next level of productivity and impact.

"Across the board, we heard that our research teams need new faculty positions, scholarships for trainees, bridge funding, and matching funds," says Dr. Roger McLeod, the medical school's associate dean of research and executive lead on the Wave process. "Now that we have a firm grasp of our research strengths, the tremendous potential that we have, and what's needed to propel the work forward, we can confidently pursue the required funds from granting agencies and donors."

A total of 27 research teams, involving 275 researchers, submitted Wave applications in the spring; a panel of senior research, health care and development experts — chaired by Dr. Tom Marrie, former Dean of Medicine and Nova Scotia Health Authority's current VP of research — reviewed the applications over the summer and early fall. The medical school announced the results of the panel's deliberations at a celebration in October, identifying two Wave 1 and two Wave 2 teams.

Immune system, genomics on the crest of Wave 1

Two large research groups emerged as the Wave 1 leaders: Genomics in Medicine and I3V (Infection, Immunity, Inflammation & Vaccinology).

Each of these Wave 1 teams amalgamates several smaller groups with synergistic interests into a "super group" spanning the research spectrum from discovery science to preclinical and clinical research, as well as studies in health systems, epidemiology, policy, and ethics.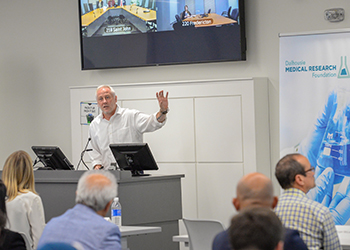 "One in fifteen babies is born with a genetic disease," notes Dr. Chris McMaster (left), Genomics in Medicine team member and head of the Department of Pharmacology. "About 90 per cent of these are life limiting, and 95 per cent have no known treatment. This will change with new technologies that are dramatically accelerating the pace of genetic and drug discovery."

The 70+ Genomics in Medicine researchers will not only advance the diagnosis and treatment of inherited genetic diseases—and unravel the genomes of disease-causing and health-promoting microbes—they will also identify and test targeted molecular treatments for the most prevalent genetic disease of all, cancer.

"We see the possibility of identifying the driver genes that are causing cancers and finding ways to turn them off," Dr. McMaster says. "We aim to be on the leading edge of a new era of targeted, personalized treatment."

The I3V team is also targeting cancer, by engineering viruses to selectively target and kill cancer cells. This is just one of many research streams underway through this large multidisciplinary group, involving 40 principle investigators, 9 departments, 100+ trainees and 80 long-term staff.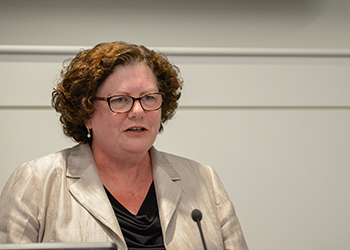 "We're learning how we can harness microbes and the immune system itself to both prevent and eradicate disease," says Dr. Jean Marshall, I3V team member and professor and former head of the Department of Microbiology & Immunology. "This includes everything from developing vaccines to prevent deadly infections, to exploring immune-modulating strategies for reversing chronic autoimmune diseases."

The I3V team has deep roots in established research strengths at Dalhousie Medical School, the QEII Health Sciences Centre and the IWK Health Centre, and longstanding national and international partnerships with industry and academia.

Regional health priorities the focus of Wave 2

Under the guidance of the expert review panel and senior research leaders at Dalhousie Medical School, nine research groups were strategically re-aligned to create the two Wave 2 teams: the Health Priorities Cluster and Cardiovascular Diseases in Vulnerable Populations.

The Health Priorities Cluster brings together a diverse array of research groups in collaborative primary health care, frailty and aging, pain and back pain, emergency medical services, musculoskeletal health, and child and youth health.

"Although we're addressing very different health issues, there are strong cross-cutting themes," says cluster member, Dr. Jill Hayden, Dalhousie Research Professor in Epidemiology. "For example, we share common interests in improving the management of complex chronic diseases and developing and testing novel models of health care delivery. We're aligning our strengths so we can work together in more powerful and effective ways to address really pressing issues in our population and health care system."

Cardiovascular Diseases in Vulnerable Populations joins strong cardiovascular research groups in Halifax and Saint John to form an integrated regional research network involving basic scientists, cardiologists, cardiovascular surgeons, a biomedical engineer and kinesiologist, and even a University of Guelph-based expert in human nutritional science.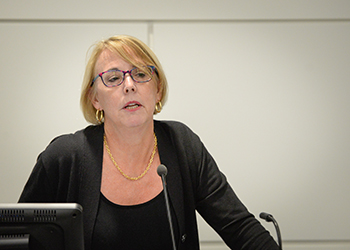 "We are focusing our efforts on helping the most vulnerable heart patients," says Dr. Susan Howlett (left), team member and professor in the Department of Pharmacology. "These include pregnant women and babies, frail and elderly patients, and those with complicating factors such as obesity or diabetes."

The group is working across the research spectrum from basic to applied science. For example, several researchers are exploring ways to prevent heart failure, through exercise, and by controlling inflammation and regenerating damaged heart tissues and electrical systems after a heart attack. Others are shedding light on the mechanics of heart valve function in pregnancy, studying biomarkers of frailty in heart disease, and translating scientific findings into clinical practice.

Forward momentum and focus

Waves on the ocean are an unstoppable groundswell of forward-moving energy — and it's this kind of energy the medical school is harnessing through its research Wave initiative.

"We are very excited about the results of the Wave process," Dean Anderson says. "We have identified and mobilized our strengths. This gives us a clear sense of direction and forward momentum to seize opportunities to enhance the international stature of our research while improving the health of people in the Maritimes and beyond."

Identifying and mobilizing four clearly defined research teams also provides Dalhousie Medical Research Foundation with a significant advantage in its approach to potential donors.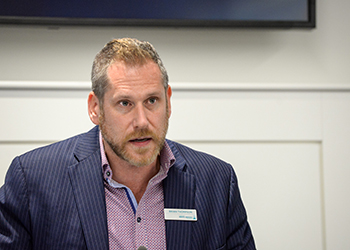 "Given the breadth of the Wave research collaborations, the strength of their partnerships with governments and health authorities, and the potential impact of the work, we have a much stronger case for support when we sit down with donors," says Brian Thompson, Dalhousie Medical Research Foundation's CEO. "Donors are savvy — they want their contributions to make a meaningful difference. Now we can more clearly show them how their gifts will help."

Those research teams whose applications were not chosen to be part of Wave 1 or Wave 2 will not be ignored going forward. "Now that we have a clearer sense of our strengths and how they fit together, we will be looking for new connections and opportunities to advance everyone's work," says Dr. Roger McLeod. "It's about growing the pie, not cutting it into smaller and smaller pieces. We see more possibilities for everyone."

As Dean Anderson said at the October announcement, "Now is the time to think and act big. With the high level of engagement, collaboration and success in our community, we have an unprecedented opportunity."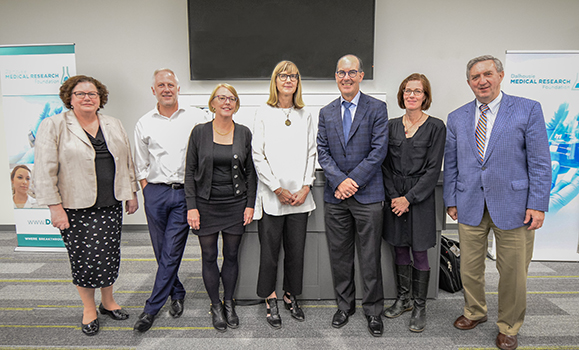 Left-to-right: Dr. Jean Marshall, I3V team; Dr. Chris MacMaster, Genomics in Medicine; Dr. Susan Howlett, Cardiovascular Diseases in Vulnerable Populations; Denise Perret, Deputy Minister, NS Department of Health and Wellness; Dr. David Anderson, Dean of Medicine; Dr. Jill Hayden, Health Priorities Cluster; Dr. Tom Marrie, Vice-President of Research, Nova Scotia Health Authority.