Originally from Kunming, Yunnan, a city in southern China, Junzhe "Young" Wang arrived in Halifax three years ago to study engineering at Dalhousie.

He had heard great things about the university and wanted to experience life in a coastal city, so it was an easy decision. But choosing a specific engineering discipline to pursue wasn't as simple.

Young knew he wanted to study engineering because of his passion for finding solutions for practical questions. But after completing two years in computer engineering, he realized that it wasn't the right program for him and switched to electrical engineering.

"Electrical engineering provides me with the opportunity to tackle a wide scope of challenges," he says. "Luckily switching programs wasn't too difficult because there are only a few courses different between computer and electrical engineering, as they are under the same department."

He suggests that other students considering switching programs ask their professors for advice first as they know the course offerings best.

Switching was a difficult decision for Young, but he is glad he made the change and is now in his first of two co-op placements at Nova Scotia Power (NSP) as a production and control engineering student.

"Every day I get a different assignment," he says.

He says he is surprised at the level of involvement he's had at NSP as a co-op student. He was worried about not being able to do a "real job," but has found the experience to be the complete opposite.

"I get invited to daily operation meetings and other important meetings with people who have been working for the company for 20 to 30 years," he says. "My co-workers and supervisor trust me with all the projects that I have been a part of. They are all patient and kind enough to teach me new stuff and then provide me with my own projects so I can sharpen my skills."
Getting involved in campus life

Moving here from China, Young knew he wanted to meet other people on campus and get involved in activities outside the classroom to take advantage of the full university experience.

 A fencing enthusiast, he was keen to keep up his skills in the competitive sport. Luckily, shortly after arriving at Dal, he discovered the Dal/Kings Fencing Club while checking out different student societies at the Society and Volunteer Expo.

After starting with introductory lessons through the club in his first year, Young has now advanced to competing with the Halifax Enguardians Fencing Club at the provincial and national levels.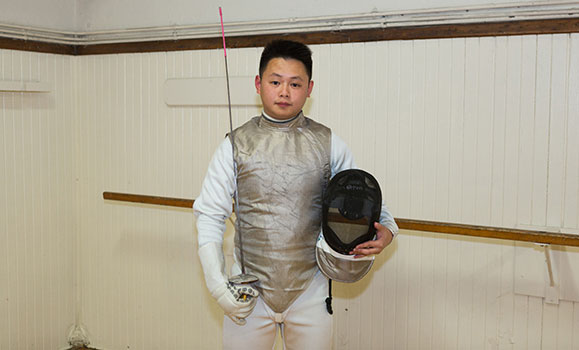 "I currently train with my coach at Enguardians once a week and I practice my footwork and blade skills by myself everyday at home or at the gym," he says.

Young attributes his progress and success to the positive and friendly nature of the fencing culture in the Maritimes.

"Getting involved in fencing helped me connect with new people and fencing is the only sport where you shake hands first and shake hands afterwards so it is always positive," he says. "It also helps me de-stress from studying."

Young also attended an Engineering Orientation at the start of his first year, where he first discovered the Dalhousie Supermileage team.

"It's a team that designs a fuel-efficient car every year for the annual Shell Eco Marathon competition," he says. "This year we created two cars for the competition in Detroit. One was a prototype of a car and the other one was an urban concept car."

Young and his teammates had to follow numerous requirements to develop the two fuel-efficient vehicles. The competition was against over 150 teams from across North America and the Dalhousie team finished in the top 10. The next competition takes place in California in 2018.

"It is a great opportunity to talk with other engineering students who have similar interests," says Young. "This group is also a practical way to apply what you have learned from school and how to work with other disciplines in engineering."

Young says every student should find ways to get involved with any group that interests them on campus — especially international students.

"If you're an international student, don't be shy because people are very genuine," he says. "But you need to first get out of your comfort zone."