Pounding drums and powerful choruses cascaded around Dalhousie's Studley Quad Monday afternoon as the campus was transformed into a powwow arena for the university's eighth-annual Mawio'mi.
Dozens of dancers and drummers converged on the upper portion of the quad to participate in the colourful celebration to mark Mi'kmaq History Month.
Dal alum Trevor Gould of Paqtnkek Mi'kmaw Nation served as MC for the afternoon's event, which attracted spectators of all ages from the Dal community and beyond.
"When we gather here, we give thanks to all our Elders and veterans for helping us protect and keep our traditions and culture going," said Gould, during an introductory portion of the event known as the Grand Entry.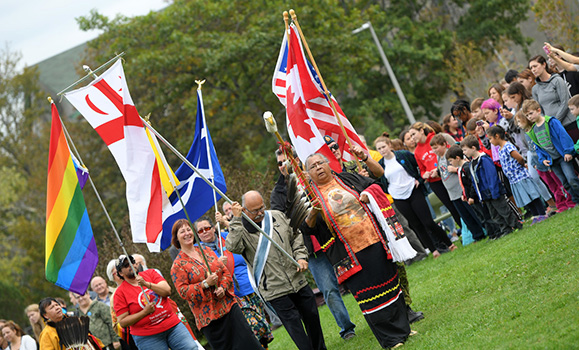 The Mawio'mi Grand Entry.

Mi'kmaq Elders, veterans, lead dancers and other dignitaries, including Confederacy of Mainland Mi'kmaq Director Don Julian, helped kick festivities off with a procession and with the presentation of flags and staffs near the perimeter of the quad.
Celebrating with song and dance

Members of the Stoney Bear and Smokey Point drum groups were on hand to provide musical accompaniment for the opening ceremonies and the three-hour powwow that followed.
Dancers both young and old were decked out in regalia, including stunning jingle dresses, shawls and other feather and bead-embroidered clothing.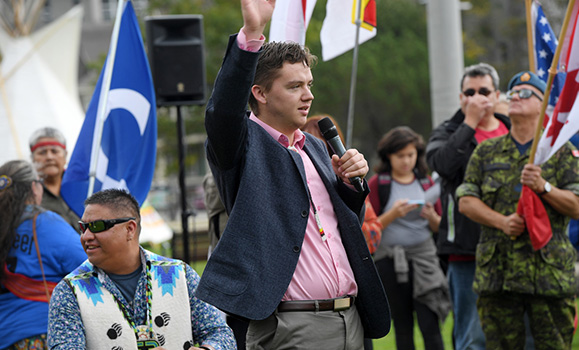 Dal student and arena director Aaron Prosper.  
Fourth-year Dal Medical Sciences student Aaron Prosper of Eskasoni First Nation in Cape Breton served as arena director for the day, managing request for songs and other responsibilities.
He introduced first-year Dal Science student Kalolin Johnson, also from Eskasoni, who performed a rendition of the Mi'kmaq Honour Song — a spiritual anthem.
"The words to this song ask us to honour ourselves as a nation and to honour other people," said Prosper. "This song is significant to us and it is a form of a national anthem."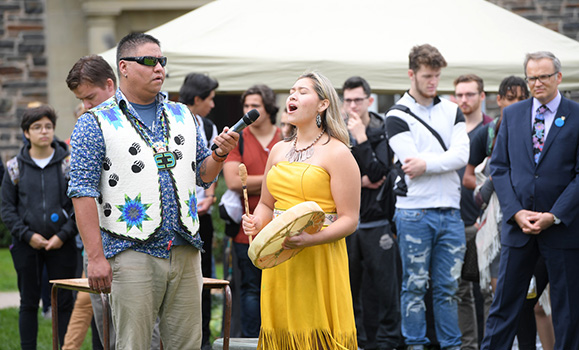 Student Kalolin Johnson performs.
A learning opportunity

Dal President Richard Florizone welcomed everyone to campus, which he noted is located on traditional Mi'kmaq territory, and urged all to use it as an opportunity to learn.
"The month offers a chance for celebration like this and for reflection and to talk about what we've done and what more we need to do to make Indigenous education, research and support even more central to Dal," he said.
He said Dal recently brought University of Saskatchewan author and educator Marie Ann Battiste to campus, as well as Michael DeGagné of Nippissing University, to advise on its emerging Indigenous Strategy and is offering its first-ever Mi'kmaq language course this year online through a partnership with Cape Breton University.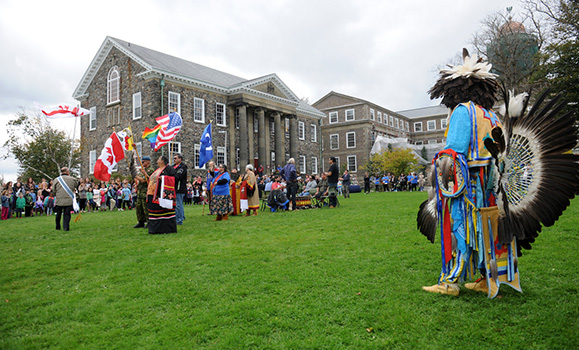 Mawio'mi on the Studley Quad.

The president also thanked the many people who helped make this year's Mawio'mi possible, including Indigenous Student Advisor Michele Graveline and academic administrator Courtney Sutton, as well as the many performers and others involved.
Several kiosks were set up around the quad with traditional clothing and handicrafts as well as educational materials. A traditional feast of chile, bread and blueberries was served.
"A great big thank you to all participants, drummers, dancers and artisans for bringing your talents to Dalhousie," said President Florizone. "It's wonderful to have you all here. Together we can work towards reconciliation and build a better Canada."