Nova Scotia's new Lieutenant Governor delivered his first Speech from the Throne last month to kick off the start of a new legislative session, all while wearing an extremely heavy coat.
Like many of his predecessors, the Honourable Arthur J. LeBlanc — installed as the province's 33rd Lieutenant Governor in late June — gave the speech clothed in the high-collared tailcoat that's part of an official civil uniform.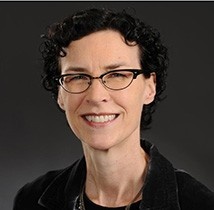 "It's a shockingly heavy piece of clothing," says Dalhousie Costume Studies professor Anneke Henderson, who altered the coat for the occasion. "It would be quite tiring to wear something that heavy."
The civil uniform also includes trousers, various decorations and medals, black shoes, a court sword, and a bicorn hat with ostrich feathers, which the Lieutenant Governor wore during the outdoor portion of the ceremony.  
Prof. Henderson says customizing the tailcoat sounds like minor alterations on paper, but the garment's intricacy meant she actually had to deconstruct it before making changes.
"It's all hand work and very exacting," says Prof. Henderson, who worked on the alterations for a couple weeks. "It's a really beautiful coat."
The high-collared tailcoat, which is filled with gold embroidery and other embellishments, was originally ordered by former Lieutenant Governor Victor de Bedia Oland in the late 1960s and made by renowned British tailors Gieves & Hawkes, who also serve as the Queen's official clothier and do custom alterations on military and formal wear for the royal family.
A fashionable contribution

Prof. Henderson, who is the head of wardrobe for the Fountain School of Performing Arts and teaches Dal's tailoring classes, says working with the piece felt very familiar.
"It was something I was happy to do," she says.
Written by the government, the Speech from the Throne serves as an occasion to state the government's program for the province and as a ceremonial opening of the House at the beginning of a new general assembly after a general election.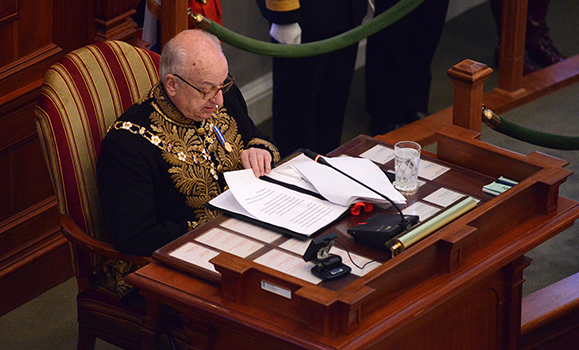 Naturally, practices such as the wearing of the civil uniform are an important part of the tradition.
"We have the longest unbroken tradition of wearing the uniform for Speeches from the Throne in Canada and possibly the Commonwealth," says Craig Walkington, a spokesperson for the Office of the Lieutenant Governor.
In addition to wearing the official civil uniform for Speeches from the Throne, the Lieutenant Governor also dons the outfit for the New Year's Day levee and other special events.
Now that the alterations of the ceremonial coat are complete, Henderson sees her work as a teachable experience for her classes, as her third year tailoring students will build a late-19th century tailcoat as an assignment. And next semester, she says her historical tailoring class will also hear about the intricacies of tailoring this special garment.