It's not just agriculture — it's "Aggie-culture."
Last Friday's College Royal celebrated not just the agriculture profession, but the people who live, study and work it each and every day. The event, the Faculty of Agriculture's annual celebration of agricultural education and animal showmanship, coincided with Homecoming and represented a kind of coming home for many of the participants.
"For students with showmanship experience from 4-H or the home farm, College Royal is a reminder of home," said College Royal Chair, Bri Carkner.
College Royal Grand-Champion Cora Sharp said "I am a long-time member of 4H and getting to do something that I know about amongst the craziness of fourth year is a real breath of fresh air!"
Varied backgrounds


But the event is certainly not only for students with experience. This year's event attracted more novice participants than experienced ones. Out of 100 participants each in the dairy and sheep classes, over 80 were novices. In the chicken showmanship class there was so much interest there were not enough chickens for all students who wanted to participate. Staff classes were also offered in poultry and sheep.
"College Royal is an awesome opportunity for students who don't come from farms to get some practical experience with animals," said Sharp.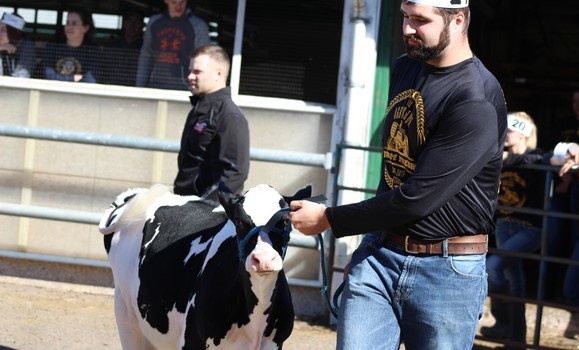 Participants had the opportunity to take part in workshops in preparation for the event. Workshops included calf clipping and sheep shearing and were intended to enhance the learning potential for those competing. Experienced showmen also acted as mentors for novice participants.
Students and staff were assigned their animals just two weeks before College Royal. In those two weeks leading up to the event the students learned to show and care for their animals, which also gave the animals an opportunity to form bonds and build trust with the participants.
"A lot of people surprise themselves with the progress they can make in two weeks," said Carkner. "The event can show students the value of hard work and make students realize what they are capable of with a bit of effort."    
A lasting tradition

This year's theme celebrates the heritage of College Royal at the Agricultural Campus.  The event has been a part of the campus culture since 1935 and continues to be a defining event each year. 

"I chose the theme this year because I wanted to tie the event back to its roots here on campus," said Carkner. "As Aggies, it's in our identity to be connected to animals, plants and to each other, so that's how I decided on the theme 'It's in Our Nature.'"
Carkner also felt the theme was fitting because of the expansion and innovation project on campus, which focuses on the environmental sustainability of the farm and campus. The renovations include an upgrade to the biomass system, which will strengthen the relationship that the campus has with nature.
The graduating classes of '72 and '67 both held reunions during College Royal weekend. The consensus amongst alumni present was that College Royal has always been a favourite at the AC and continues to be for current students as well.
"College Royal weekend is always one of my favourite times of the year at the AC," said Dalhousie Agricultural Students' Association President, Jeremy Stroud. "There's a real buzz and vibrancy on campus – it is something a person has to experience to truly appreciate."
College Royal 2017 champions
Overall Grand-Champion Showman: Cora Sharp (Experienced)
Overall Reserve-Grand Champion Showman: Elly Reid (Novice)
Overall Champion Dairy Showman: Cora Sharp (Experienced)
Overall Reserve Champion Dairy Showman: Elly Reid (Novice)
Overall Champion Sheep Showman: Morgan Johns (Novice)
Overall Reserve Champion Sheep Showman: Makenzie Rooney (Novice)
Overall Champion Poultry Showman: Bryanna Richardson (Experienced)
Overall Reserve Champion Poultry Showman: Lisa Clements (Experienced)
Staff Champion Poultry Showman: Sarah Gatti-York
Staff Champion Sheep Showman: Ashley Coffin