Established in 2014, the Invictus Games use the power of sport to inspire recovery, support rehabilitation, and generate a wider understanding and respect for those who serve their country. This year's games, taking place September 23-30 in Toronto, will see more than 550 ill, injured and wounded service members participate in 12 adaptive sports.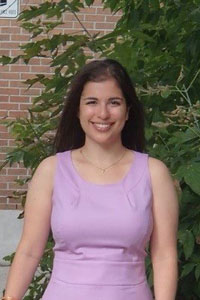 With little known about the long-term benefits of participating in adaptive sports for service members and veterans with illnesses and injuries, Dalhousie's own Celina Shirazipour (left), a postdoctoral scholar from Faculty of Health, and Alice Aiken, vice-president research, teamed up for an innovative study that will investigate the psychosocial impact of adaptive sport on military personnel and families.
Changing course

It was while she was in the middle of studying for her Ph.D. at Queens University that Dr. Shirazipour decided to completely change topics, and focus her research on sport for ill and injured veterans.
"If you think about it, our military personnel spend their lives training themselves physically to reach goals — and now that can continue after illness and injury on a sporting field," says Dr. Shirazipour. "When the games were first announced in London, that's what propelled me to want to do this research."
Her supervisor introduced her to Dr. Aiken, who was also at Queens at the time, and the co-head of the Canadian Institute for Veteran Health Research (CIMVHR). With her extensive expertise and experience in this area, Dr. Aiken was an ideal fit to help guide Dr. Shirazipour through the research.  
Courage, inspiration, respect, and recovery

Dr. Shirazipour and Dr. Aiken's research consists of three separate studies.
The first study focused on competitor experiences and outcomes. They conducted interviews with 25 former Invictus competitors from London 2014 and Orlando 2016, and 15 Toronto 2017 competitors have been recruited as well. All competitors took part in one interview prior to the Games, and the 2017 competitors will perform two follow up interviews after the Games and three months after the Games.
Current competitors are asked to complete questionnaires before and after the Games, measuring the quality of the Invictus experience, as well as their psychological and social well-being.
The second study will focus on better understanding the experiences of families and friends. Family and friends are a huge part of the Games as support systems and healing aids for the competitors, but no research has been conducted regarding their views on the Games and experience supporting sport participation. The research team is conducting interviews with family and friends who attended the London and Orlando Games, and when the 2017 Toronto Games conclude they will conduct interviews with family and friends who attended this years' Games.
This final study will shed light on Canadians' perceptions of service members and veterans and determine whether the Invictus Games and new awareness to the Invictus brand has positively shaped these perceptions. Three-hundred Canadians have been recruited for this study, and their views have been tracked since September 2016. The assessment will continue three months after the Toronto 2017 Invictus Games.
These innovative studies has led Dr. Shirazipour and Dr. Aiken to the 8th annual Canadian Institute for Military and Veteran Health Research (CIMVHR) Conference, which is being held from September 25-27 in partnership with the Invictus Games. Both researchers had significant roles.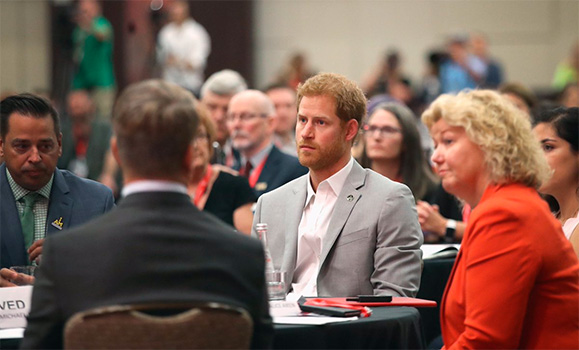 Dr. Aiken and Prince Harry at the conference. (via Twitter @KensingtonPalace)

Dr. Aiken provided welcoming remarks to all the delegates, and Dr. Shirazipour had the opportunity to present the preliminary results from their first study at the opening plenary session. Joining the audience full of thought leaders from academia, the military, Veterans, government and industry, was His Royal Highness, Prince Harry, who is the Patron of the Invictus Games.
Preliminary findings

On September 25, Dr. Shirazipour had the opportunity to present the preliminary results from their first study at the eighth-annual Canadian Institute for Military and Veteran Health Research (CIMVHR) Conference, in partnership with the Invictus Games.
The findings were broken down into three time frames: selection and training; the Games themselves; and life after Invictus.
Selection and Training
Life after illness and injury is not easy and can be marked by depression and isolation. Invictus competitors stated that after training began, so did change. Decreased pain and weight loss, improved confidence and focus, and a re-integration into the community and also leading a more social life.
The Games
Competitors got to feel a sense of camaraderie again during their time at the Games, instant connections with fellow competitors and the reconnection with their military family. They get to wear their country's uniform one last time and be in the spotlight to be appreciated and recognized for their service.
Life after Invictus
Participants shared a common sense of many key long-term outcomes as a result of the Games such as improved mental health, increased confidence and most importantly a sense of worth. With these benefits of the Games, participants are set up to take on new opportunities such as employment and education. The majority of competitors who felt depressed and isolated prior to the games have undergone what they describe as a complete transformation from their pre-Invictus struggles with society.
The overwhelming appreciation for the games and the transformative experiences provided have multiple participants describing the experience as "a gift from the heavens." Most notably, a Toronto 2017 competitor shared his belief that training for the Games had truly prevented him from committing suicide. It's safe to say that he probably wasn't the only competitor saved by the games.
It's evident that the games are just one stop on the road to recovery — the whole process is a journey. The training leading up to the event is often enough to make the athletes feel worth again, but putting on their nation's colors and fighting one last time for their country is great closure. Not all Invictus competitors left the battlefield on their own terms, so a second chance at representing their country means the world.
"Prince Harry and Invictus have an incredible platform to promote sport and recovery for service members and Veterans with illnesses and injuries," says Dr. Shirazipour. "We appreciate Prince Harry's support, and Invictus Toronto 2017's commitment to evidence based research to help promote recovery and improve the sport experiences of our military personnel and their families."
More information about the 2017 Invictus Games can be found on its website.