By the time they filtered into the Rebecca Cohn Auditorium for this year's Induction ceremonies Monday night, Dalhousie's newest students were well into their third day of Orientation activities.

Rather than showing signs of petering out, though, the hundreds of incoming students made it clear they had plenty of energy and enthusiasm left to spare — especially when it came to displaying their newfound school spirit.  

The room was a sea of black and gold as students waved their new Dal scarves, cheered, and at one point even danced when prompted by the student leaders, faculty and administrators who were there to give them their first official welcome into Dal's community of scholars.

"You have made a great choice in Dalhousie," said Dal President Richard Florizone, who began his remarks by giving the crowd a peek at his striped black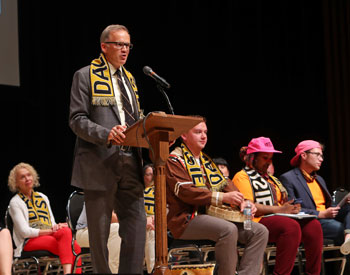 and gold socks. "Dal is full of committed and talented individuals who really want to see you succeed, not just academically but to have a great experience on our campus."

Dal held two back-to-back Induction ceremonies in Halifax this year in order to accommodate as many incoming students as possible for the popular O-week tradition. Each year during the ceremonies, Dal faculty and staff observe the new students taking the New Student Pledge and take a pledge of their own (called the Faculty Pledge) as a display of their commitment to helping the students succeed in the years ahead.

Induction on the Agricultural Campus in Truro took place on Saturday, with Faculty dean David Gray reassuring the new crop of "Aggies" (as students in that Faculty are called) as they embark on their post-secondary journey at Dal.

 "I will not lie to you. The next few years will undoubtedly be challenging at times," he said, "but our committed and dedicated team will be here to help you and support you when you need us."
From serious advice to selfies

Emceed by Cory Larsen, vice-president of student life with the Dalhousie Student Union (DSU), this year's Halifax ceremonies gave students plenty to ponder and aspire to.

Medicine student and outgoing president of Dalhousie's Indigenous Students Collective Aaron Prosper from Eskasoni Frist Nation kicked the proceedings off by sharing a bit of Mi'kmaq history with the students and asking that they work together with Dal to help fulfill some of the many calls to action laid out in the Truth and Reconiciliation Commission's final report.

Following that, students heard from Arig al Shaibah, Dal's vice-provost of Student Affairs, who encouraged the incoming class to show pride, curiosity and humility during their time at Dal. She challenged each student to get involved in at least one campus or local event by the end of the first year that would allow them to make a positive difference in the community.

"At Dalhousie, we believe that being a successful student includes not only being an excellent scholar, but also becoming a good citizen and human," she said.

DSU President Amina Abawajy shared a collection of advice she gathered from Orientation organizers, leaders and fellow students as well as some of her own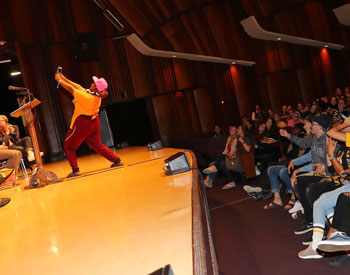 insights. She urged students to take time to care for themselves, get involved in activities outside the classroom, and to look out for each other.

She made good on the last bit herself when she instructed the crowd to "Get out your phones and save my number."

The move elicited much buzz throughout the auditorium and spurred a flurry of texts to her phone. She then turned her back to the crowd to snap a selfie with them.

Fifth-year Engineering student Bai Bintou Kaira, a 2017 Dal Governors' Award winner and 3M Student Fellow from The Gambia, shared stories about her own path to success in her academic and community pursuits, ending the ceremony on an inspiring note.

"Get involved and create your own unique story," she said. "Do not try to fit in. Rather, try to find your place because there is space for each and every one of us."
Induction pledges

New student pledge

I promise to uphold and protect the integrity, good character and scholarly legacy as well as the culture of respect and good citizenship at Dalhousie University.
Faculty pledge

Today, as each of you stand, you commit yourselves to the academic success of your students in the lifelong learning process. Will you, as Dalhousie University faculty and staff, promise to provide students with an enriched educational experience; with academic challenge through active and collaborative interactions; and with a supportive and engaging campus environment? (Answered with: I will.)