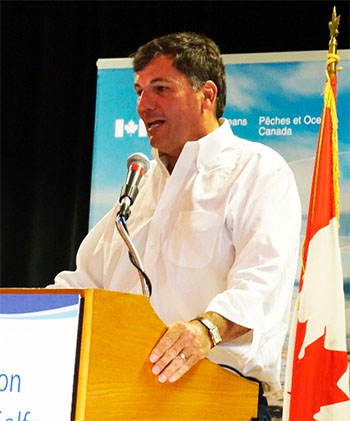 Dominic LeBlanc (left), Minister of Fisheries, Oceans and the Canadian Coast Guard, announced Monday, Aug. 21 that Ocean School – a joint initiative of Dalhousie University and the National Film Board of Canada – will collaborate on interpretive public spaces at two new DFO facilities to promote marine science and ocean literacy.
As part of the project, Ocean School will also develop online materials to advance ocean education in classrooms across the country.
Located at the newly-announced Atlantic Science Enterprise Centre in Moncton, NB and Pacific Science Enterprise Centre in Vancouver, BC, the exhibit spaces and related educational programming will establish thought-provoking and fun facilities that will introduce Canadians to cutting-edge ocean research.
Development of the spaces, as well as the related educational programs and resources, will be a joint effort between Ocean School, Ingenium (Canada's Museums of Science and Innovation) and DFO.
DFO has committed an initial investment of $1 million to begin planning the interpretive spaces and to develop the first round of Ocean School materials.
In making the announcement, Minister LeBlanc said the interpretive spaces will be a "remarkable educational tool that will increase ocean literacy in Canada and act as a magnet for what we hope to be the hundreds and thousands of students and visitors."
Learn more: Government of Canada news release