"Right outside the door, there's freedom. You get to walk in and out, but the prisoners are in there every day until they get out. And when they do, who knows?"

Tiffany Gordon is reflecting on her work as an advocate for the rights of incarcerated people, and how it drives home both the similarities to and differences between prisoners and people outside of the correctional system. "It gives you a sense of being humble about your life."

A PhD student in Philosophy at Dalhousie, Tiffany has a long history of exploring issues such as racism, inequality and justice in and out of academia. Born in Jamaica and raised in Canada from the age of nine, she came to Dalhousie to work with professor Chike Jeffers after earning her bachelor's degree at York University and her master's at McMaster University.

Considering responsibility

Her master's thesis examined the issue of collective versus individual responsibility for crime, with a particular focus on racial profiling and the controversial tactic of police card checks.

"My thesis was based on the idea that crime is a collective responsibility. In a society when certain people are usually poor or disadvantaged, you end up having that particular demographic being incarcerated," Tiffany explains. "If you're looking at racialized crimes, whose responsibility is it, how do we fix it, and is it okay to target a particular group because you think that they are responsible for these crimes.

"I argued that the collective does have a responsibility and that tactics like carding are completely unjust given the larger issues."

For her PhD thesis, Tiffany intends to dive into the broad topic of democracy. "I'm most interested in that weird space between formal and substantive equality. I'm interested in the way inequality is experienced by women, Indigenous people and people of colour in Canada."

The power of creative writing


When her work with Dr. Jeffers ramps up in September, Tiffany will bring more than just her scholastic experience to the table. This summer, she facilitated a creative writing workshop for female prisoners at the Central Nova Scotia Correctional Facility, on behalf of the advocacy group Books Beyond Bars. In July, she met two times a week with eight women, each of whom contributed poetry, essays and other writing to a zine.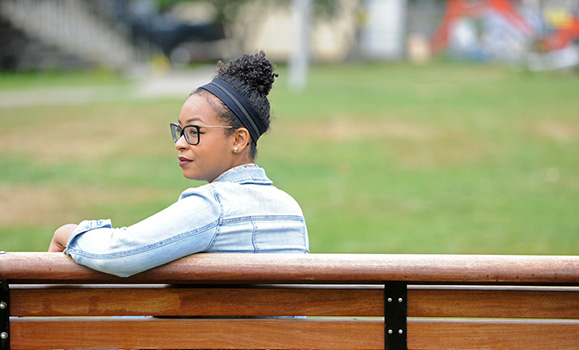 "They spoke about sexual assault, about abuse, about right and wrong. Some of the sessions were very heavy and these women are dealing with a lot," says Tiffany, who has also delivered philosophy lectures to male prisoners this summer. "There were moments that were a lot of fun, but there was a lot of vulnerability that I appreciate they were able to share. You can see it in the writing they did."

The collected works of the incarcerated female writers appear in the zine, which will be available at the Prisoners' Justice Day event Tiffany helped to organize. A joint project of Books Beyond Bars, the East Coast Prison Justice Society, Halifax North Memorial Library and the Nova Scotia Public Interest Research Group, the event takes place on Thursday, August 10 at the Halifax North Memorial Library.

Tiffany's responsibilities at the event include moderating a panel discussion on prison reform and abolition, featuring panelists Dr. Ardath Whynact, George Fagan, Rodney Small and a representative from Books Beyond Bars. Dr. Ivan Zinger, Correctional Investigator of Canada, will also deliver a presentation.

Human connection

This year's Prisoners' Justice Day event in Halifax continues an annual tradition that has grown across Canada since Edward Nalon, an inmate at Millhaven Penitentiary in Ontario, died by suicide while segregated from other inmates in 1974. Beginning the following year, inmates at the prison marked the day of Nalon's death, August 10, by refusing to eat or work. Over the years, Prisoners' Justice Day has evolved to become a nationwide day of remembrance and solidarity with incarcerated people.

Having studied aspects of the justice system from an academic perspective and worked directly with people living behind bars, Tiffany sees Prisoners' Justice Day — and all of her advocacy work — as a fundamentally human pursuit.

"I understand that when people do something wrong, we have to respond as a society," Tiffany says. "But these are human beings, and I think if people have a more nuanced look at the prison-industrial complex, they will find it a little more difficult to distance themselves from the subject."